s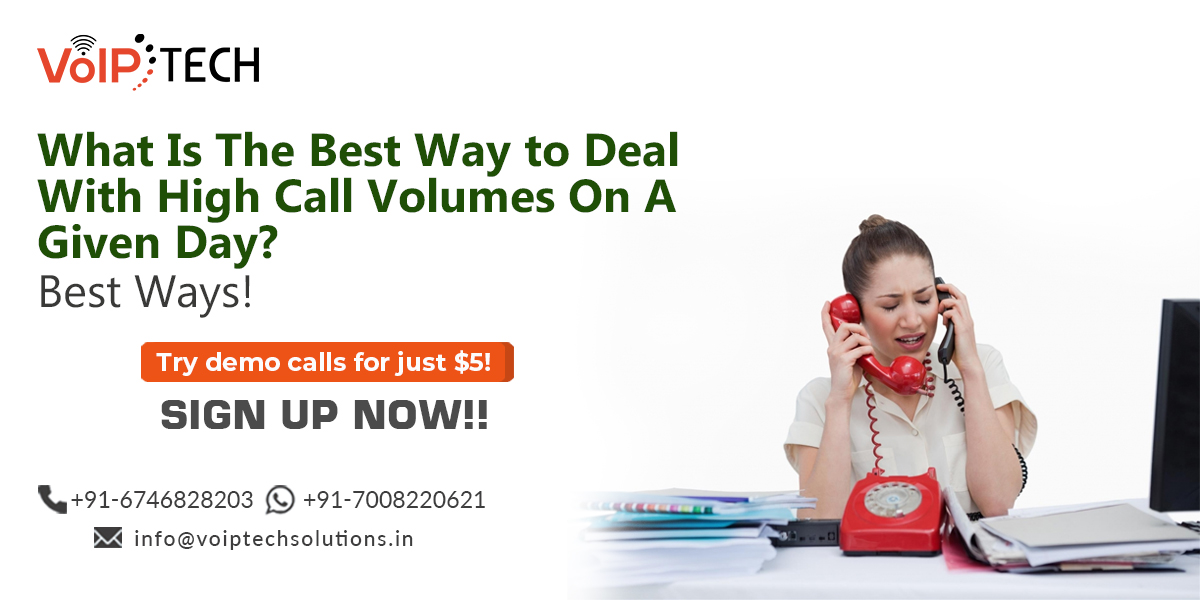 No matter the technology you use or the functionalities you have, when it comes to handling customer queries, the live agents involved in the support process do not have the features of a machine or software — especially handling calls. On some days, the call volumes are so high that synchronization between the dialing and answering mode is almost impossible. It spells trouble for both parties that involve the client and customer support executives. For call centers, it costs a ton for over-scheduling agents' shifts and allocation of more resources to handle the incoming call volume. So, how to deal with such unexpected bursts in call volumes in your call center? Need a real-time solution? Well, this blog will definitely help you get what you want.
So, what exactly causes the spike in call volume? What do you mean by high call volumes?
Be it for after-sales service or product inquiry, on a  given day the call volume heats the record high, that usually not the case with regular call center activities. The duration of these calls might be short-lived or can continue for several hours, depending on the matter of the subject. The process may continue for several days or even go past weeks. According to recent studies, the inbound calls that call centers generally receive are ten times higher than any other industry calling process.
What contributes to these call volumes variations?
Every call center would like to hear more from their customers. Don't you? Of course, you would like to. Callers are the heart of any call center solution and it's only them who are responsible for these call volume variations. Sometimes, they are predictable, and sometimes not.
The variance that is predictable: Real-time data analysis lets you well-predict the variance. 
Situation A: If you are dealing with online e-Commerce, then you are definitely going to get maximum purchasing orders during the holiday season. Previous years or months' data will help you get the things set and rotate your live agents' staff accordingly.
Situation B: Suppose you are dealing with providing support for a complex B2B

SaaS product, you can expect more calls during major upgrades. There will be 'n' of queries from the clients' end and you have to get along with them by providing necessary solutions. Put simply, high call volume is expected.

Situation C: There are times when you have received the orders and they are out for delivery but weren't able to make it on time due to bad weather conditions or due to some technical issues, you can expect a huge surge in incoming call volume.
The unpredictable ones: The time & situations will be there that won't be able to judge. A tropical storm or natural calamities can change everything overnight or when your logistics infrastructure meets an unfortunate situation. You are helpless. These circumstances can lead to unpredictable behavior of the audience. 
So, in these situations, what should you do in order to manage your live agents? What are the best practices to deal with these call spikes?
Well, call center technologies to come with a blessing in disguise for you. You can use them to deal with unexpected spikes in call volumes? With the clever management of resources, equipping them along with the right technology can do the wonders for you. 
By digging deep into the call center data available, we have come up with some valuable insights that can help you deal with unexpected situations. These are as follows: 
The probability of call volumes going higher than the normal rate is mostly anticipated at the start of every month. Yeh, why not! Put simply, most people like to shop after their salary credited to their account, don't you? You can take a clue from the same and manage your agents accordingly.

If you talk about the call abandonment rate, it goes high up the order on the late afternoon shift. Why? Studies suggest that the patience of callers is literally low at this point in time. So, you can expect a sudden rise in volume calls during this period and you need to staff up accordingly.

In the month of February, the call volume literally goes high. However, the average call time remains low — so staffing implications can't be on the higher side.

Post-answering-the-call, you can expect the admin on a significantly higher side of the taggers calls that are meant for a particular product line, right? In this situation, what can be done to streamline the process, in order to empower your live agents to answer these calls more quickly?

While promoting a highly profitable product, you can expect a spike in call abandonment rate. Now, you must be wondering why did that happen, despite increasing sales effort? You can handle this situation better with call center anticipation.
Communicating proactively with customers through other mediums eventually helps deal with the sudden rise in call volume. This way you never keep your clients waiting, while fulfilling your bottom line
You can use advanced

IVR systems

to help the callers out of the queue. You can solve common inquiries quickly in alternative ways.
You can augment your live agents to handle these unexpected call spikes, using call center software. They feel more comfortable and empowered, serving customers with better solutions.
Automating the process is also a great solution. As everybody likes to be taken care of or answered by live agents, having a system in place that answers the same as a human being without the knowledge of customers would be great. Isn't it? With the right

IVR system,

it is possible now.
You can set reminders that would help you deal with a sudden rise in call volume. Well,  2020 has already taught us to expect the unexpected, right?
Dealing with high call volumes can be really difficult, especially if you don't have numbers on your side that imply the available resources. If you want your call center to serve your customers better, unified communication can be a real help. It can help you handle a large volume of calls with a higher satisfaction rate, leaving a lasting impression on your brand. A high-end call center software lets your agents efficiently deal with the situation and build a positive association with present clients. VoIPTech Solutions is a leading call center software solution provider that offers you voicemail broadcasting software for all types of business. VoIPTech Solutions voicemail broadcasting software helps businesses to make their presence feel in the market and generates new leads.
Now you must have understood how to deal with sudden spikes in call columns, and the importance of the call center for customer support operations, and the ways it can benefit your business. So, what are you waiting for? Not necessarily every business does have the cloud. In that case, they need to opt for Indian VoIP providers to reap the immense benefits of going cloud that too for an affordable price. You can integrate your existing phone system with the latest software according to your business needs. The entire configuration and customization would be taken care of by the service providers themselves. Join your hands with the best Indian VoIP Service Providers & take your business to the next level.
Are you a high-volume call center or product-based support center, looking for reliable VoIP Providers that can provide you with advanced call center software? You couldn't have a better choice than VoIPTech Solutions. We offer you robust and fully functional contact center software that not only improves your call handling capacity but also brings a whole new dimension to your customer service. With us, you get international phone numbers in over 165 countries. Our paid VoIP MInutes plan starts at $10 per month and goes up to $20 per month. Our featured VoIP services come with an extensive range of features to meet your business requirements. Sign Up and get FREE $5 credit today! To get more information about our VoIP plans, you can contact us anytime at: +91-6746828203.