CAREER
Join the Industry Leader in IP Communications
Thousands of Business Community Members Trust on VoIPTech.
We are a leading Telecom service provider in Odisha to offer reliable services and career nourishment opportunities constantly. Our sole motto is to motivate this young generation to do something unique, innovative and great.

New employees at VoIPTech Telecom enter a dynamic working environment working in a refined, high-innovation industry. Essentially, our specialists are tested each day to grasp change and to improve.

As we grow, we continue to look for entrepreneurial, flexible, team-oriented, technically savvy individuals with an appetite for the excitement and constant challenge brought on by the communications industry. Please send us your resume at hr@voiptechsolutions.in

You'll be pleased with our reliable service and advanced VoIP features, guaranteed.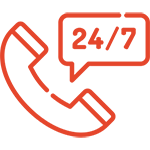 Call us with your service needs any time, any day, and we'll be there to help you.
Receive a personal consultation to discuss your current needs and optimal solutions.