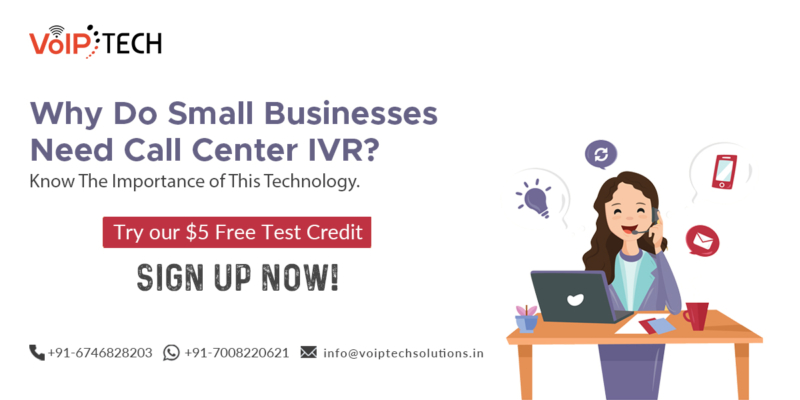 A Call Center IVR system comes with a sea of benefits that businesses can leverage to move forward to the next level. However, small call centers are the biggest gainer of this intelligent technology. With these kinds of advanced tools, you feel more empowered and proactive, when it comes to controlling your call volume. This is definitely a huge plus for organizations that are not big in size or not so financially viable. They may not be enjoying the higher bandwidth, but the call handling capacity they grow, especially those inbound calls prove to be a gamechanger. Thanks to Call Center IVR, small-scale businesses can operate at the highest level without having to bear the overwhelming phone bills that generally come with a larger workforce.
How an IVR system benefits your business? Why is this technology so important these days?
Let's start with the Call Center IVR itself. Have you heard of virtual receptionists before? Well, you must have come across the human version of receptionists, whereas the IVR is its virtual counterpart. It acts as a receptionist for businesses. They play an important role while interacting with the callers, through smartly customized interactive menus. They help you gather as much information they can, by understanding the callers intent. 
By drawing conclusive evidence from the information obtained, the IVR system intelligently connects the callers with the concerned people of the department that best suited for their queries. When it comes to leveraging the immense benefits of IVR technology, businesses certainly aren't divided into class, as all are under one roof. With the call volumes going high, call centers, looking for a technological realm that can solve most of their call burdens and IVR tools are the best suited for the job. With the integration of IVR software, the customer experience can be taken to the next level with a different taste. Gone are the days, callers had to wait for the agents to say something, today they feel more empowered with IVR's self-service options. The result is happier customers and fewer complexities.
Standard IVR vs IVR for Call Centers – Which is better?
Typically they might be sharing the same functionalities, but with a difference in terms of application and features. You can expect more from a dedicated call center IVR. What are they? Let's take a look at some of its amazing futurist features:
Built-in automatic speech recognition (ASR): This is definitely a technological wonder that can do a load of goods today, tomorrow. From the identification of speech to the recognition of words in search terms, gives smooth searchability to the customers in real-time. The speech obtained from the customers can be easily translated into text, creating a full & effective transcript of the entire interaction.

Queue Callback: This is definitely one of the best features a caller can truly enjoy. The callback option ensures a quick response to their call, once the agents are free to take the call. They can expect a quick callback on that number anytime sooner.

Intelligent Routing: How about callers getting to speak to the most knowledgeable person in that field? It's the specialty of this feature. 

Scripted Response: The way you script your response, the IVR system reacts exactly the same. You can have your own script.

Ring Groups: It lets you answer those incoming calls effortlessly on any

cloud telephony

within a specified group. 
The way you use your IVR systems certainly makes the difference between success and failure. Its call load management features allow agents to be more productive and smart thinkers, while at the same time empowering customers to be more independent with a solid self-service option. The use of IVRs might differ from business to business, but winners make the best out of them. 
What are the real-time uses of the IVR System? How can it help in omnichannel leveraging?
Automated Call Distribution: Callers do not have to wait long in order to connect to the right person. Thanks to its Automatic Call Distribution feature, that long wait is over. Callers also have the freedom to choose the language of their preference, time of day, or agents based on their industry knowledge. If a particular person is not available to take the call, the callers can reach his/her voicemail.
Adding a personal touch to the art of messaging: There is magic in messages sent with a personalized touch. It helps businesses literally connect to their target audience.  You can record messages and personalize them to respond to incoming calls. How does it help? Well, everybody likes to feel special, don't you? It contributes to winning your caller's heart that eventually results in enhanced

customer CX

. You can expect them to return back to your fold for their future requirements and stay loyal to your brand. 
The Power of Automation: By automating certain tasks, IVR systems typically clear the burden from the shoulder of agents. They don't necessarily have to perform regular tasks like activation of services, payment processing, troubleshooting problems, and answering the FAQs. By freeing your agents from repetitive tasks, you are going to make them more productive with some serious issue handling. As a result, complex issues can be given more importance & time, yielding the best out of their working hours.
Additional support options: With IVR, you are not restricted to the tile limits, operational hours, and geographical location. You can be available 24/7 for people spanning different countries, time zones, and ethnicity. It doesn't matter whether your agents are occupied or not, IVR is there to take care of your customers with its self-service options, giving quick assistance to find a solution to their issue without any human intervention
From knowing the account balance to what to do next, IVR menus help customers to continue the progress in the absence of the live agents. If connects callers from other countries and time zones to the available agents, working on that shift or location with its call forwarding feature. Is not that great?
Assisting During Busy Hours: Call volumes can go higher on certain days or business hours. IVR systems help handle the high influx of calls, with their truly innovative features. Agents now can breathe easily and focus on something serious.
As a not-so-big organization, chances are high that your agents are going to stretch it thin. No matter what happens to the market, your financial fiscal, the quality shouldn't be compromised at any cost. And, with the IVR system by your side, you are no less than a big enterprise in terms of call handling capacity, quality, and response time. So, investing in an IVR system is worth your money.  i
Above all, you should keep the long run in mind, and implementation of IVR tools can serve your best interest. If you really want to boost your organizational technical prowess, partnering with VoIPTech Solutions can take your business to the next level. 
VoIPTech's IVR capabilities certainly let you stretch your arm and get out of the comfort zone, getting better & better with each passing day. We provide virtual phone numbers to 165 countries around the globe. Our paid plan starts at $10 per month and goes up to $20 per month. Our VoIP services come with an extensive range of features to meet your business requirements. Sign Up and get FREE $5 credit today! For more info, call: +91-6746828203.