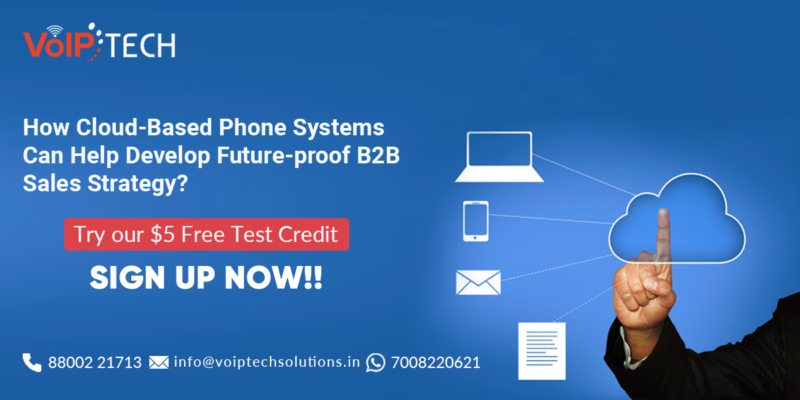 The pandemic has brought a lot of changes to everything that includes the way we eat, the way we communicate, the way we travel, and everything else, the world of sales is not an exception. Without a proper roadmap, out-of-the-box B2B sales strategy, businesses might find it very difficult to sustain and grow. If we talk about the B2B sales strategy, in particular, it has its own nuances — it's not that straightforward like B2C. And, cloud-based phone systems have a greater role play making B2B sales strategy more effective. How cloud-based phone systems can help, want to know? Keep Scrolling Down!
These days B2B customers are moving around with data at their fingertips – thanks to the technology. Now they can get access to any kind of information, which is good for self-learning and creates a lot of confusion & turmoil as well. The real challenge for B2B sellers is, how to keep it simple. Well, with proper research and using the advanced features of cloud-based phone systems, B2B service providers can get the best out of their sales strategies. You can ask your VoIP Service Provider to provide you with a cloud telephony system.
How to Evaluate Your B2B Sales Strategy?
Sale is a never-ending process – customers will come and go, but the business that makes the most of the sales will always stay ahead of others. And, B2B sales cycle is a very complex process, things may not always go in your favor. So, evaluation is a must to make further improvements.
Let's discuss the B2B sales cycle first, how the process goes? 
Lead generation: Listing out and reaching customers who have shown interest in your product or service.
Findings: Doing a proper website analysis to find out where they are lagging behind and how your solution can help solve their queries.
Pitching The Sale: Your ability to convince the client why your product is the best on the market and how your solutions can help fulfill their business needs.
Handling Queries: Answering customer queries and providing the appropriate solutions
Closing of Sale: Turning the leads into potential customers
Regular Follow-ups: After you close the deal, as a responsible salesperson you need to contact your clients and ask if they need any help or have queries that need to be addressed.
Checking in: Once they start trusting your brand, you can ask for referrals.
Why Cloud-Based Phone Systems are Important for your Sales Team?
Assigning your call agents to handle different parts of B2B sales has certain advantages. They become more proficient in their job, they can do multitasking, and help customers solve their queries in 100% precession. According to recent studies, B2B customers' buying decisions are not simple as B2C. They do a lot of research before making any decision. On the whole, converting a B2B client is a herculean task. 
To be a successful salesperson you have to be more proactive and responsive than ever. Modern-day customers like to be responded to faster, with real-time data. Just think of it as a customer, don't you? A cloud-based phone system offers a plethora of advanced calling features that can streamline your sales process, yielding better results.
Automatic call tags feature alert sales agents on time so that they can keep track of their leads and make well-informed decisions to help them.

The

IVR system

can easily route the calls to the concerned person or department, eliminating the long call waiting time. Happy customers are the real money.

You can instantly get toll-free numbers or international numbers for the ease of doing business. You can get local area numbers without having a physical office presence in that area.

It connects the callers with the live agents instantly, putting an end to the long queue.

With smart calling features like power dialing and click-to-call, a person can make calls in quick succession that too with greater efficiency.

With the integration of

CRM

with other software solutions, you agents can get customer info right on their screen.
Most B2B companies have started realizing that a call center is the most efficient way to deliver a customized and good customer experience while shortening the sales cycle to a minimum. With the right VoIP service providers, you can enjoy all the amazing benefits of cloud-based phone systems right at your place. 
Tips to Choose the Phone System for your Business
Switching to a cloud-based phone system from your traditional phone only requires two things; 1. What your business needs & 2. The features you want.
Here are the most important things to look for in a VoIP Phone System to improve your Call center experience:
What features it offers.   

Does it with your CRM and other software solutions seamlessly

Does it has remote working features

Does it has an uptime of 99% that you can rely on

Can you upgrade the phone system in future

Does it meets all the business security standards

Mobile app integration
Now you must have understood how the combination of Cloud-based Phone Systems and call center software can help excel in B2B sales and the features to look. So, what are you waiting for? Join your hands with the top-rated Indian VoIP Service Providers & strengthen your sales & support with state-of-the-art VoIP phone systems
Are you a company, looking for VoIP Providers that can provide you with reliable VoIP phone systems? You couldn't have a better choice than VoIPTech Solutions. Our cloud-based phones unify your business communications so that you can end up making more sales and enhance your customer experience. 
With us, you get international phone numbers in over 165 countries. Our paid VoIP Minutes plan starts at $10 per month and goes up to $20 per month. Our VoIP services come with an extensive range of features to meet your business requirements. Sign Up and get FREE $5 credit today! For more info, call: +91-8800221713.