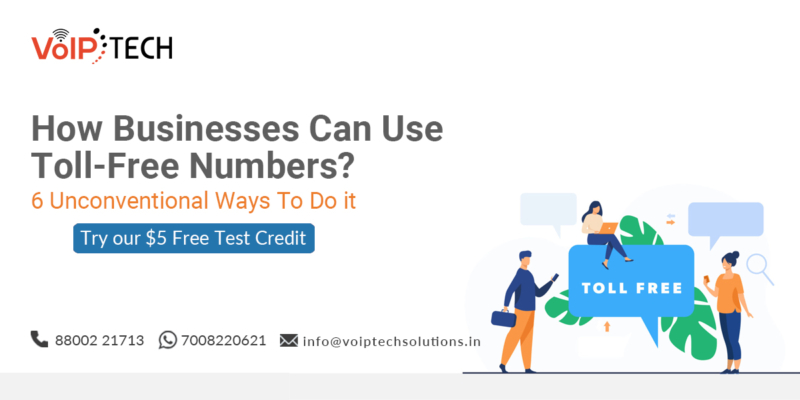 Don't you think to run a business successfully,  flawless communication is an essential factor? And to make it possible you really need Toll Free Numbers. Because always remember that the only smartest multichannel communication platform is Toll-Free Numbers which enables the customers to reach you without spending much time. However, regardless of the size and nature of your business, being available and connected always is imperative and you have to make it a priority. And through Toll-Free Number, customers will be more than happy about calling you when they can do it for free.      
Being able to connect without paying for the call is surely a motivating factor, whether it is a query about your product or an issue they want to be resolved, or any other reason. However, any organization can rely on being blindfolded that has made toll-free numbers a customer engagement tool. Isn't it great? Ultimately this service also has the potential to empower your marketing and branding initiatives beyond just letting you interact seamlessly with your customers. 
Below are some unconventional ways in which these numbers can serve your business apart from  these conventional uses: 
Marketing analytics:

However, to drive inbound leads and sales,

Toll-free numbers

undoubtedly serve as a traceable marketing tool. For individual campaigns such as those for television, print, billboards, or the web, they have specific toll-free numbers. And for tracking campaign-wise performance and narrowing down on the most effective campaign strategy amongst them all these numbers can be used amazingly as analytics tools. To get details such as which representatives are online and the call volume being handled at any point in time is being helped by a toll-free number provider which can also offer features such as live monitoring and real-time reports. However, the call recording feature helps them access the customer-agent conversations and use them for training and quality improvement while they can even listen to live conversations as well. 
Voting hotlines: Toll-free

 number solutions are widely being used as voting hotlines apart from the marketing and customer servicing applications. However, for empowering the participatory programming strategies a large number of television show producers are getting toll-free numbers in India. Now where the audience is given the opportunity to poll for their favorite contestants, the use of

toll-free numbers

in India has become a norm for reality shows, game shows, and talent hunts that run on viewer voting formats. However, to cast a single vote each participant is assigned a specific number that the viewers can call. 
Promotion via vanity numbers:

 The current marketing landscape lies in building a distinctive presence that the customers are able to remember is undoubtedly the biggest challenge for businesses. This is where a

Toll Free Number

can exactly help you out. Apart from that vanity numbers are just easy to remember and good-looking numbers. Always prefer eye-catching numbers which are easy to remember and recall for which investing is a wise move in a vanity number. However, based on the company name or the service it delivers these are special types of numbers that enable a business to include its brand name in an alpha-numeric form. And to generate higher sales,  the potential customers will be able to associate the number with your business and call more frequently. And yes, they yield a good ROI and serve as an effective promotional tool for the business though you may need to spend a little extra on vanity numbers.  
Non-profit helpline: 

However, to offer helpline services, accumulate donations and secure public pledges over the phone government and non-profit organizations usually leverage toll-free numbers. And organizations often put up

toll-free hotlines

for emergency relief and donations in the case of natural calamities such as earthquakes and floods. Even during the needed time, they also use them to deliver information, support, advice, and referrals to the callers. 
Government services:

 However, related to the basic public services citizens can access to get answers to their questions which provides a toll-free number solution by government agencies. And by calling a helpline number, people who want to apply or renew their driving licenses or passports, for example, can easily get all the required information. Apart from that to address queries regarding issues related to health, diseases, epidemics, first aid, lifestyle, directory services, health policies, programs, laws, and guidelines there are also specialized voice portals that offer this health-related information as well. 
Election campaigns: 

When it comes to political campaigns, toll-free numbers have become a vital part as well. Usually, in front of the voters, parties use them to build a professional image. As they have access to a free phone number that they can call without spending anything it engages the voter base which has become easier. It offers suggestions or provides feedback along supporters can easily call and connect with their favorite political candidates. To get insights about their strong and weak areas,  parties can track the location of the callers and use the data at the same time. With a focus on consolidating their strengths and addressing their weaknesses, they can align their political campaigns accordingly.  
Choosing a toll-free number provider – Must keep some specific things in mind!
Along with the Government agencies and non-profit organizations, it becomes evident that toll-free numbers make an asset for many businesses but the next big thing is choosing the right provider. 
Below are some points one must keep in mind before choosing a service provider:
Per month – Number of minutes you expect to use and receive per month

To make sure your business is never out of reach get assurance of uptime 

Catchy and easy availability of numbers to remember. 

Reliable customer support system upon which you can trust to stay up and running

In service packages competitive pricing and flexibility must be there. 

Call monitoring,

IVR integration

, call management, and many more add-on features
We are one of the Best VoIP Service providers in India that offer customized cloud call center solutions with Toll-Free Numbers to improve the efficiency of your agents & boost your business productivity. Switch to VoIP System, walk hand-in-hand with the future. Call: +91-7008220621. Our VoIP services come with an extensive range of features to meet your business requirements. Sign Up and get FREE $5 credit today! For more info, call: +91-7008220621.