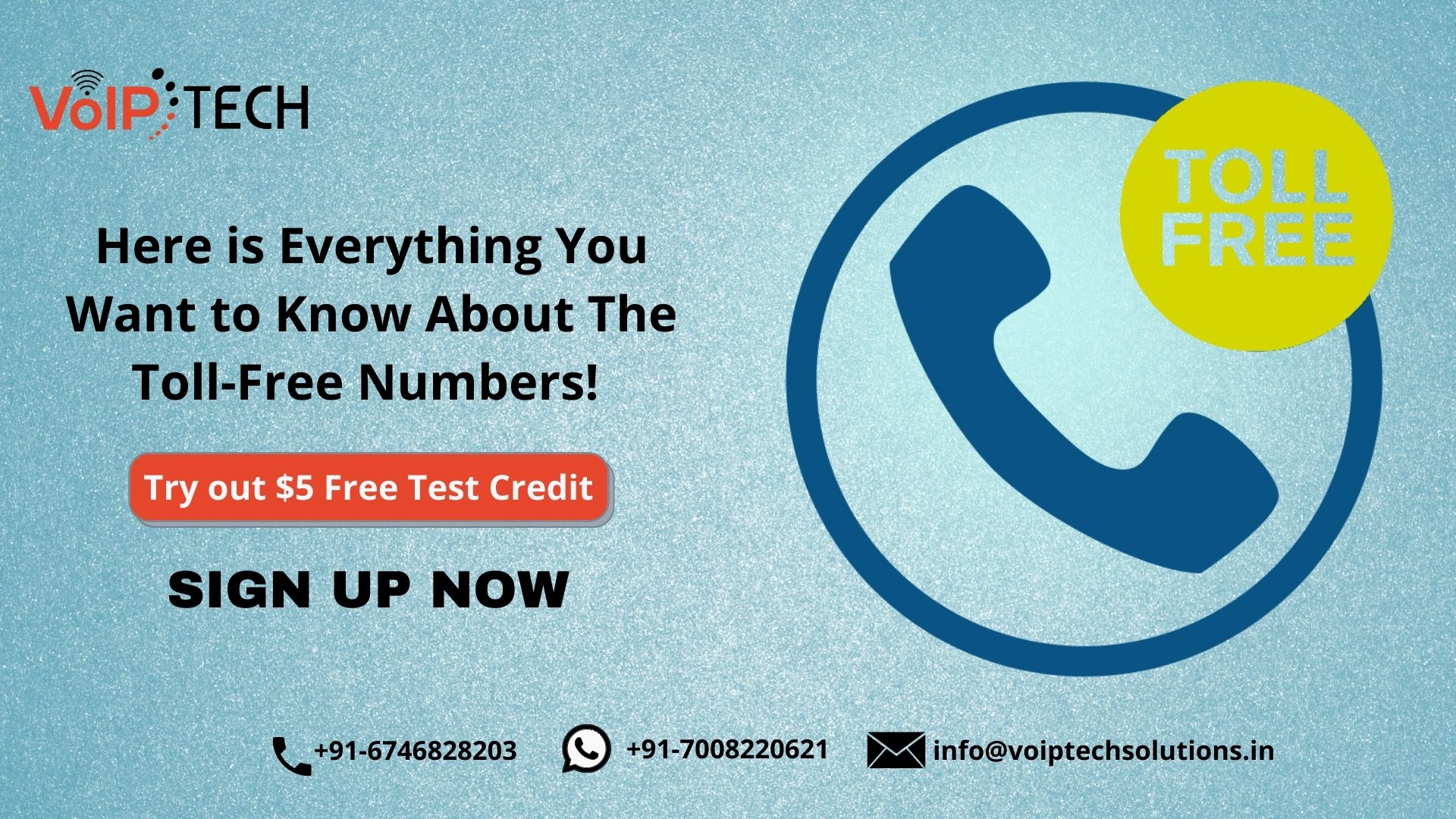 When it comes to toll-free numbers, you must have a set of questions in your mind that you would be resisting to ask, right? Well, it happens to most of the people – so, it is normal. However, if you are a business that is planning to invest in a toll-free number, then understanding all aspects of the new tool will pay in your best interest. Passing through the page with a lot of jargon and information that are of no use won't help you either. Let's get into the topic straight away and discover the things that will really help you get the best out of your toll-free number.
Can you introduce me to toll-free numbers?
Well, it is a phone number that businesses use to let their customers reach them anytime without having to pay a single penny as call chargers, the owners are charged per call received on that number instead. Put simply, here the business pays on behalf of its customers. It is an ideal solution for those long-distance calls that used to charge a hefty amount to customers otherwise. In India, the toll-free numbers start with 1800. These days, you can avail yourself of toll-free numbers with area codes that help win the trust of the local consumers. You can also customize them according to your brand name or business requirements.
How many types of toll-free numbers are available in the market?
Coming to its types, basically there are three:
The Universal International Freephone Number (UIFN): Multinational companies with branch offices all around the globe are the primary consumers of the UIFN. No matter where they currently operate, having a point of contact for all the areas that are coming under their servable jurisdiction always helps. In order to get the license for a UIFN, a business needs to possess registration documents as proof of its operation centers over two countries at least. The Universal International Freephone Number Corporations comes with a huge price tag.
International toll-free numbers: The International toll-free numbers are meant for maintaining the national presence of an individual organization. Charges applicable vary and it goes high if the request is coming from a mobile phone.
Domestic toll-free numbers: These numbers do not come with any additional charges for mobile callers.
Can you help me understand their billing system?
Again it all depends on the plan you have subscribed to. It is based on a monthly or yearly subscription plan, the calculation is done on a per-minute basis. The fixed monthly surcharges in India are the cheapest in the world, and generally, you end up paying a few thousand only, which is affordable.
The monthly bills exclude some of the additional charges such as; subscription fee for processing the request, a security deposit that is refundable, etc.
How long would it take to do the setup? What about the maintenance?
With a VoIP service provider, the entire process can be completed with a minimum possible time. Gone are the days of those physical phone lines and much delayed lengthy process. Now everything is light & quick with the cloud. By making a choice to go with the cloud-based numbers, you can successfully avoid those age-old infrastructure setups, costly maintenance, and repeated requests for service, by saving much of the office space while ensuring zero downtime.
Have they become too redundant today?
Well, you can just reverse the sentence! Toll-free numbers have become a benchmark for great customer service, and businesses from all walks of life already have them or pushing it hard to get as soon as possible. Businesses are now able to take advantage of the advanced features that come equipped with these cloud-based toll-free numbers. Their productive graph has gone higher with notable cloud features like call recording, call forwarding, and call routing. Now they are feeling more confident about dealing with Covid like situations in the near future. The IVR capabilities, adding more firepower to their customer handling by taking off the pressure from agents' shoulders.
Can you please tell me more about the vanity numbers, and the charges include?
They are nothing but the customized version of these toll-free numbers. Just like you customize the number plate of your car or bike to display your personality or to make it look attractive. The same is applicable for businesses having their toll-free numbers customized to market their brand or to make callers remember their brand name in the numbers.
You need to pay some additional amount in order to get a customized toll-free number since but guarantees a good ROI as a whole.
What sort of organizations prefers to invest in toll-free numbers? Am I one of them?
No matter how small or big the industries are in terms of size, financial stability, & branches, all are welcomed to have toll-free numbers and they equally benefit from the same. Be they belong to the private sector, public sector, or Govt., Toll-free numbers can be a part of any & every organization that values their audience.
Today, having a toll-free number is inevitable for any standard organization to answer customer queries and grievances. Businesses ranging from startups to mid-size can build a strong reputation among the peers by having a toll-free number on their contact page.
Can I purchase or possess more than one toll-free number at a time?
There are no limitations to the number of subscriptions. According to TRAI a business may purchase more than one toll-free number for their campaigns, and call it off after the campaign is over. That also indicates, businesses can not have excessive numbers at a single go, as they can be used to confuse or trouble the customers.
The new-age customers find Toll-free numbers more familiar that helps a brand win their trust and establish itself among the big players in the market. The number has become a benchmark for modern-day businesses to let their customers know that they are ready to go the extra mile to fulfill their needs by providing the highest standard of customer service.
If you would like to take your business to the next level by giving a more professional look to your contact support, then purchasing a toll-free number from VoIPTech Solutions can be your best bet. We can make it happen in a few minutes. You won't have to worry about the setup & all, as our technical team will do all the hard work and assist you during the process. Then what are you waiting for? Pick up your phone and dial: +91-6746828203 and get going by starting a new chapter in your business history. We will tell you what is suitable for you right at the moment and what are features should include in your current subscription. You can customize your toll-free number according to your brand name.