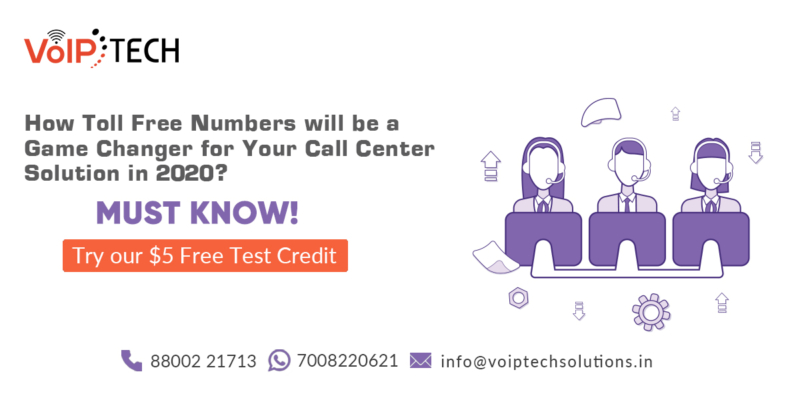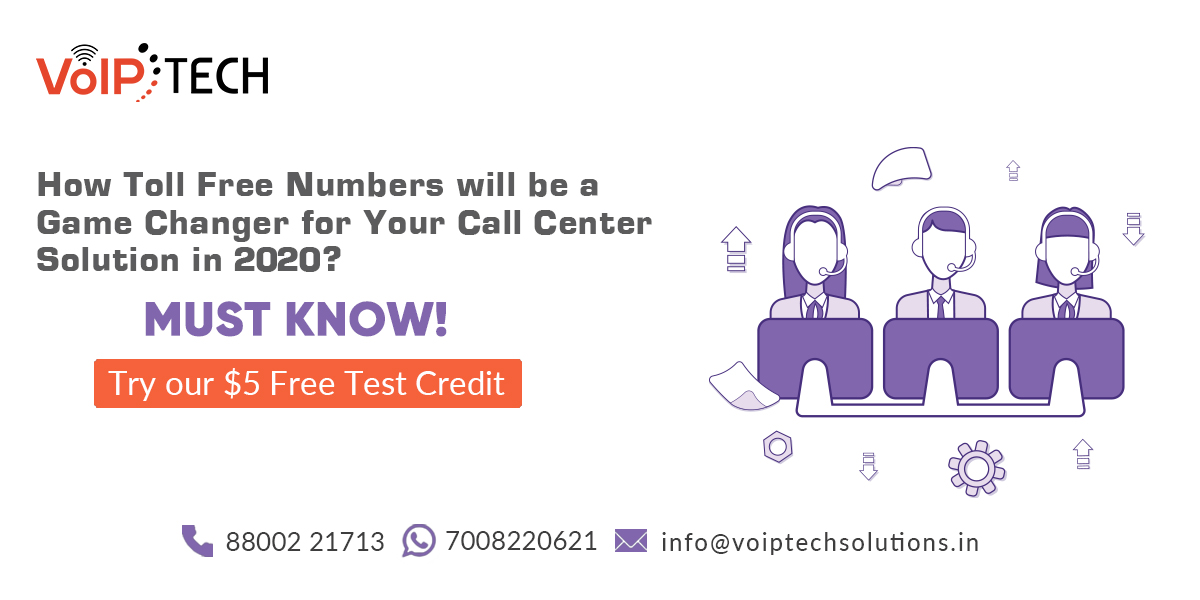 Don't you think integrating Toll-Free Numbers will be a great asset for your call center solution which really matters while connecting with the customers? Well, the answer is pretty obvious. It's a YES! Because Toll-Free Number is the only thing that creates a smooth path just at the initial stages of forming the bond with the customers. And to be very honest while all the brand call centers are focusing to stand apart, you really need to incorporate Toll-Free Numbers which would be a great help of being available to the customers. So for that always think out-of-the-box just to reach the maximum customers.  
Well, in that case, a Toll-Free Number is the best option for your call center to avail a greater reach without spending much. Isn't it great? Because connecting channels are more important than being available for the audience. Until and unless you have a great path for connectivity, the scope for creating a strong connection with the customers is just next to impossible. And being the best call center, you would definitely explore those clear connectivity platforms which ultimately adds equity to your call center. 
What exactly are toll-free numbers?
A Toll-Free Number is nothing but a phone number that is completely free of cost. Or you can simply say that for dialing and connecting with the Toll-Free Number, the caller will not be charged for a single penny. Rather than the caller, the call center bears the call cost. However, by proving this number you create a free path for your customers to connect smoothly. However, to get this number up and running, you will also have to invest in a technological framework as well besides paying up for the calls.  
Apart from that Toll-Free Numbers are implemented with some of the technologies as well such as Automatic Call Distribution, Interactive Voice Response, Intelligent Call Routing, and Ring groups. However, these technologies make sure that each call is being routed to the right place along with avoiding the missed calls. And you need to justify them by listing out their benefits by considering these expenses of the whole setup and the calling.  
Distinctive benefits of a toll-free number for your call center solution: 
Well, now the question arises: Why should you get a Toll Free Number for your call center at the very beginning? Will it be a resourceful investment for your contact center? 
Below are some of the benefits of Toll-Free Number before you choose to integrate them:
Enhancement of service delivery:

Before adopting a toll-free number for your growing

call center

, you must know that it empowers your whole organization with a complete call analysis and report data. However, according to this you can align your services as well as get the opportunity to understand the preferences of the target audience. Furthermore, for better interaction with specific audiences, you get the option for localization and routing preferences. 
Build customer relationships:

  However, they have the potential to strengthen their relationships only through these numbers which enable a business to connect and get up close with the customers instantly. while using a toll-free number the customers have to spend nothing which makes it even more enticing to them. Apart from that, you can also use it for various purposes such as improve offerings based on collective feedback, capture valuable feedback, and secure better business outcomes in the long run. 
Drive customer retention:

You can expect the customers to come back for repeat recurring purchases only if you build stronger relationships that will obviously translate into greater retention. And always remember that the retention completely values less for your

call center

because the initial stage period is when you need repeat customers the most. However, they are bound to be more satisfied and loyal towards your brand, once they reconnect with you effortlessly.  
Creating brand awareness:

When it comes to facing a new challenge that a toll-free number can resolve easily in nothing but the generation of brand awareness. However, this is the exact time you would want your customers to know more about your

call center

and recommend you to others as well. Without spending extra resources and efforts, free phone numbers serve as a branding initiative that can actually fetch significant results. Lastly from the business perspective, they give you a more professional image and boost your credibility. 
Boost inbound leads and sales:

It greatly enhances your marketing initiative besides toll-free numbers serving as branding too. However, it can easily drive the sales and leads for your call center because usually, the customers who connect on the number are actually willing to buy your offerings. To manage specific campaigns on the web, billboards, prints, etc, you can leverage specific toll-free numbers. To identify the most successful campaigns and access powerful marketing analytics tools, brings a great opportunity to identify the same.

Offer portability:

  Forgetting the business calls even after switching to another toll-free number provider,  the businesses can retain the old number which is the best benefit of portability offered by the toll-free number. However, it makes a great difference assuring that even if you change your location or provider there will not be any kind of disruption in customer's communications. 
Serve cost reduction:

 In terms of subscription rates, Toll-free numbers are very cost-effective. Apart from the regular call management feature, it offers various other features as well such as disaster recovery, message center, voicemail. However, to manage the calls it simply eliminates the need for having multiple call assistants. You can reduce the training cost and time and the remuneration offered to them as well as your call center will not be dependent on human call assistants. 
Ensures easy setup:

However, this communication service ultimately brings the benefit of easy setup. Without having much work, your toll-free number provider can have it up and running for your call center quite well. 
We are one of the Best VoIP Service providers in India that offer customized cloud call center solutions with Toll-Free Numbers to improve the efficiency of your agents & boost your business productivity. Switch to VoIP System, walk hand-in-hand with the future. Call: +91-7008220621. Our VoIP services come with an extensive range of features to meet your business requirements. Sign Up and get FREE $5 credit today! For more info, call: +91-7008220621.