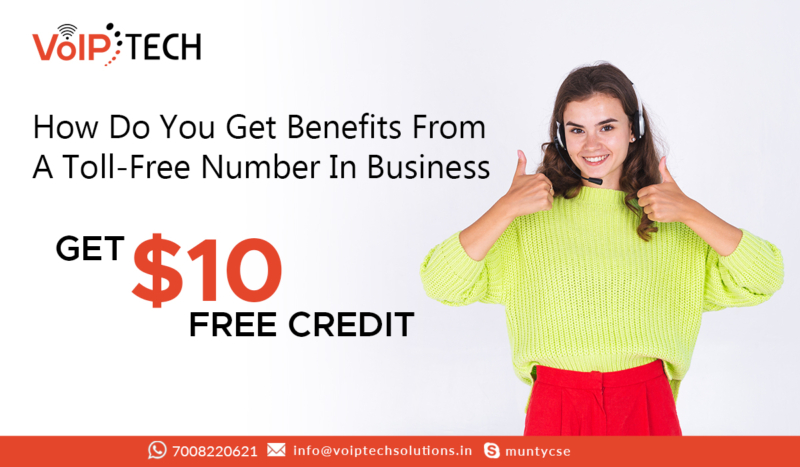 A toll-free number is also called a freephone number which is a telephone number that is billed for all arriving calls instead of incurring charges to the originating telephone subscriber. For the calling party, call another party free of cost. There is no charge for calling customers. If anything is free of cost then the customers are more attracted to it.
Your customer will be reached to you through a toll-free number free of cost and also Businesses can reach out to their customers, partners, and employees through our swift and easy toll-free services. Our VoIPTech solutions provide advanced call routing options and give flexibility to small businesses and large enterprises to route calls as per the business processes and rules.
 HOW TOLL-FREE NUMBER SERVICES WORKING
Get a toll-free number
Customize the call flow in the VoIPTech dashboard
Publish the toll-free number and start getting calls.
The toll-free number system used in businesses
BENEFITS OF TOLL-FREE NUMBER
Better brand identity: It gives a new identity to your brand and makes it more popular in the global market.
Enhances customer experience: Toll-free number increases customer experience.
Measurable marketing: It Increases the capacity of the business in the market. The Toll-free number increases the popularity of the brand.
Better analysis: It helps to grow business analysis capacity.
FEATURES OF A TOLL-FREE NUMBER
Call recording: Call recording helps to record your customers' demands and what they need.
Call tracking: tracking a call where it is from to get better orders from costumes and easily deliver what they need.
Simple IVR: IVR is an automated phone system with call routing capabilities, which allow customers to interact with a computer or system before being connected to a representative.
Detailed reporting: It gives more detailed information about the customer or the client's data.
Unlimited channels: Toll-free number is more effective to connect unlimited channels to it.
CRM integration: Customer relationship management is an act of interacting with a customer, and simply it means that a business's customer data can be seamlessly integrated with a third-party system.
Sticky agent: sticky agent allows customers to connect automatically with the same agent with whom they had the conversation before. This saves time in explaining the same question again and again with a different agent which reduces lead mismanagement.
Black listing: If you don't want to receive calls and messages from someone there is a facility to block them.
Email/SMS alerts: If a customer wants an email alert then they can allow email alerts.
Daily and lifetimes call limits: There is no time limit for toll-free numbers and it's free of cost.
Live call monitoring: Live call monitoring is very easy.
WHY ONLY US VoIPTech Solutions
Our company VoIPTech solution's main mission and vision square measure solely fulfilling customers' desires and providing them with happy and full solutions for their business.
We are always available for you when you need our help. Whether it's late on a Sunday night, or early on a Monday morning, you can speak with a real VoIPTech Employee in our offices who is eagerly awaiting the chance to help you in 24*7 hours.