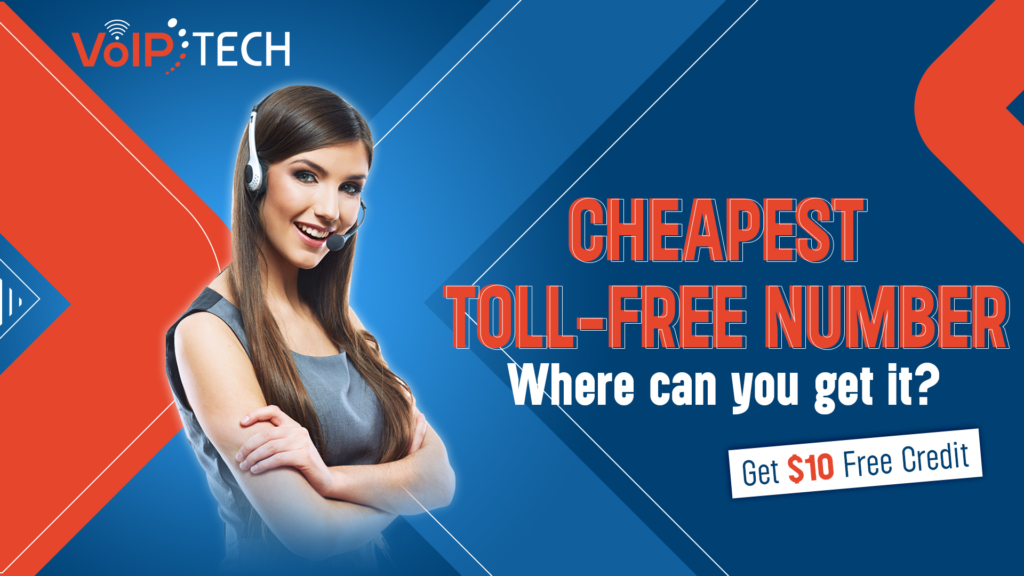 The cheapest toll-free number also improves your brand's identity and customer service. Toll-free numbers (TFN) can easily engage with clients.
What is the meaning of the cheapest toll-free number?
The cheapest toll-free number is often an 1800 series number that may be dialed for free from any location in India. The company that owns the toll-free number is responsible for both incoming and outgoing calls. Toll-free numbers have prefixes such as 860, 855, and 888 and are utilized by enterprises to improve their customers' experiences.
The cheapest TFN is a virtual phone number that can be associated with several phone numbers.
The caller's call is automatically transferred to the agent's number and is free of charge to the caller. Free numbers cannot be used to make outgoing calls.
Your customers will be able to contact you for free by dialing a special low-cost TFN number. Our toll-free number services enable businesses to communicate with their customers, business partners, and workers quickly and easily. Our intelligent network offers extensive call routing options, giving businesses the ability to route calls according to their business procedures and policies.
Getting the cheapest TFN doesn't mean you'll get low-quality service.
At no additional cost, VoIPTech Solutions provides the toll-free number service with all the bells and whistles you need to stay connected and sound professional. How can we offer the toll-free number service while still providing excellent call quality and business phone system features to our customers? The cloud is the solution.
Calls had to be carried over real copper wire lines back in the day, and business PBX systems had to be hosted locally in your company's phone closet. There were also just a few phone carriers that gave businesses with 1800 numbers back in the day, such as AT & T or Verizon. Then everything changed. The main telecommunications companies were divided up. Competition and innovation propelled technology ahead, resulting in VoIPTech solutions. The freephone number services and company phone systems are now hosted in the cloud and may be accessed via a smartphone app.
What is the best way to get the cheapest toll-free number?
There are numerous methods available when it comes to getting toll-free numbers. The trick is to find a VoIP company (like VoIPTech Solutions) that offers free toll-free numbers with low-priced toll-free service. Some businesses can sell you the mobile number, but you'll need to find a toll-free service provider to host it for a monthly fee. VoIPTech solutions give you the ability to pick a free phone number and then choose a cheap plan for ongoing service.
Why are VoIPTech solutions' toll-free numbers so cheap?
Due to the competition, small businesses were able to obtain an affordable toll-free number at a considerably reduced rate once phone providers were compelled to compete in the 800 toll-free number market. Small businesses were able to get not only cheap 800 numbers, but also toll-free service plans with all the quality and features they needed from traditional business phone systems baked right into their plans as voice over internet protocols advanced and locally hosted business phone systems moved to the cloud.
What is the best way to get an inexpensive vanity 800 number?
The 1800 toll-free number is a virtual phone number that may be used as a marketing tool for small and large enterprises alike. These are three-digit codes that can be phoned from a landline or a mobile phone without incurring any charges to the caller. For customer support calls, toll-free numbers are especially popular. Thanks to the cheapest toll-free service, customers and others have had a free and convenient way to contact businesses to process their needs. A reliable mode of communication is crucial for a successful firm. VoIPTech offers a low-cost virtual 800 toll-free number for businesses.
What Is the Difference Between the Cheapest Toll-Free Number and a Local Number?
When you want customers to phone or text your business without having to pay for the call or text, you get an 800 toll-free number or an equivalent 3-digit code toll-free number. Customers, on the other hand, pay for calls to local numbers. As a result, a growing number of businesses are opting for toll-free lines.
What Are the Different Toll-Free Number Prefixes?
Since its inception in the 1960s, the 1-800 toll-free number prefix has held the title of being the oldest toll-free number prefix. Since then, the majority of toll-free 800 prefixes have been depleted. There are millions of cheap toll-free number lines in use today, and there are millions more available for businesses to purchase.
What is the best way to get a toll-free phone number for my cell phone?
Perhaps you've just started your company or launched a new website and don't want to waste time setting up a complicated or expensive business phone system. You can get a toll-free number from VoIPTech Solutions by signing up online and having it forwarded to your cell phone right away. There's no need to rush. We're also here to assist you in getting things set up if you need them.
Is it possible to pay a one-time fee for my phone number and have it transferred to my cell phone service provider?
The cheap toll-free numbers require toll-free service to function. Your cell phone company does not offer a toll-free service. If you already have a toll-free or free phone service provider, however, you can buy a number from VoIPTech Solutions and transfer it. If you have a complicated bespoke phone system and don't need VoIPTech service, or if you are currently under contract with a phone carrier, this may make sense. However, you'll often find that VoIPTech solutions are the cheapest toll-free number service option available.
Why choose US VoIPTech solutions?
VoIPTech solutions ease any worries you may have about security with their highly encrypted networks and different levels of authentication. Our team makes sure communication remains secure over the entire transmission journey. Let VoIPTech solutions show you customer support that is second to none. Our team is available 24/7, which means you have access to technical support and consultation services any time of day or night. Get a single, all-inclusive bill with no hidden costs. The VoIPTech solution provides your call centers with a powerful cloud communications system for one affordable price.