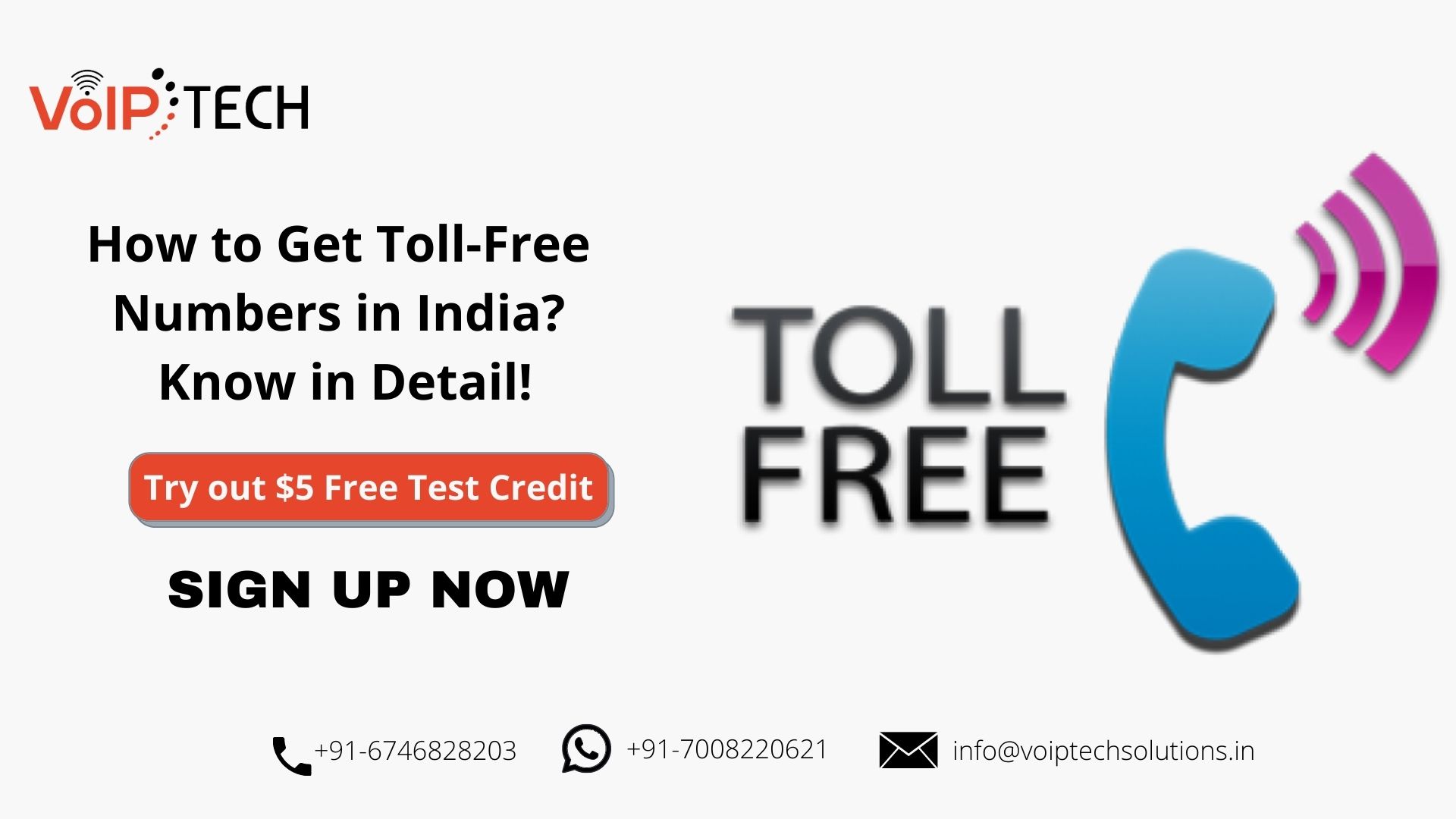 There has been a dramatic shift in marketing strategy over the last five years, though businesses from all walks of life found it challenging, there was a sea of opportunities to grow at a faster pace. The rising competition and need to bring innovation into the current business strategies have compelled organizations to think out-of-the-box. And, they are leaving no stone unturned in order to live up to the customer expectations and stay ahead in the race. The new-age customers are more intelligent than you think and they stay up-to-date as well. Those old tactics won't be working to capture customers' mindsets and persuade their buying decisions. However, with the legitimate Toll-Free Numbers organizations' can give a more professional touch to their business contact and create a solid impression in front of their audience. So, what do you mean by these Toll-Free Numbers?
What is a Toll-Free Number?
By dialing a Toll-Free number, callers can easily connect with the business or any organization without having to pay any call charges that people generally pay for calls or monthly packs. Here, in this case, the party you are calling is charged with the premeditated amount for the duration of calls made.
In India, generally, it starts with 1800 followed by the code assigned by the operator that is again followed by digits that are issued by the telecom service providers.  
How do they work with Cloud Telephony?
You can get Toll Free Numbers from your VoIP Service Providers that come equipped with IVR capabilities, saving lakhs of rupees on monthly phone bills that in general get wasted on handling the call redundancy. Now you must be thinking, can my mobile operator provide IVR-enabled toll-free numbers? The answer is a big 'NO'. You are not going to avail of IVR by using their services. In addition to this, you will be asked to install the PRI & advanced EPABX system in order to take the inbound calls, which is again not good for your financial framework.
With the Indian VoIP Service Providers like VoIPTech Solutions, you can raise the bar of your customer service and make your team more with the intelligent feature of an IVR system. It introduces automation to your current communication architecture and saves those valuable hours from going in vain, repeating the same task time again. What it does instead is, let the system take care of it and free the live agents to do something productive that eventually results in more output for fewer resources.
For example, the IVR will guide the users to connect to the right person by asking them to press numbers for their queries. The benefit? This way callers can listen to the answers to their common queries that they can help themselves out with the help of the IVR, if no, then IVR will connect them to the concerned person. Instead of keeping them waiting if an agent is busy, IVR connects them to the next available person. The result is enhanced customer experience and less busy tones.
What are the major benefits of Toll-Free IVR Number?
You can save lakhs or thousand of rupees from getting wasted and that is for nothing. No hidden charges, no hardware expenses, no overhead cost – the control will be on your hands and your agents feel more empowered attaining better productivity.
You stay assured to have 99% uptime with better transferring of calls 24/7. 
On short notice, businesses can increase their number of channels in peak hours to a maximum, depending on the plans.
No server maintenance cost, no database headache, no cost attached to EPABX or network – that means more savings in your account and less manpower requirement.
Why buy Toll-Free Numbers from the VoIP Providers?
You can get them from the telecom service providers such as; Jio, Airtel, BSNL, VI – but the paperwork involved in those unnecessary expenses can drain your financial stability and energy as well.
In addition to this, the process won't end with obtaining a Toll-free number, as it is not enough to handle modern-day business communications. You will need the IVR features to infrastructure to handle those high volume calls, and of course getting new leads that might cost you a ton with the likes of EPABX and PRI, etc. 
How to purchase toll-free numbers from a VoIP service provider?
Well, the process is pretty simple. You can follow these steps to purchase a toll-free number from your service provider:
Step 1: Logon to the website https://voiptechsolutions.in/
Step 2: Go to the service section
Step 3: Choose a Toll-Free Number plan (VoIP minutes plan)
Step 4: Make secure online payment and purchase a plan
Step 5: Fill the KYC and provide a supporting document
Step 6: Upload your business IVR script on VoIPTech Solution's server
Step 7: Enter the name of your live agents to whom the calls will be forwarded
Step 8: Thank You
The entire process may take 4 to 5 minutes max, and you can make and take calls on your new toll-free number. Isn't it?
How much do you need to pay for a Toll-Free Number?
Again it depends on your business requirements. Basically, four factors decide the pricing of a toll-free number:
The number of simultaneous calls you want to receive on it

The number of agents that will be handling the calls

The number of calls to be made on a monthly basis

The cloud telephony features you would like to include in your plan
Most VoIP service providers charge the same price for toll-free numbers, the all-inclusive cost varies with different service demands. 
Why should one purchase Toll-Free Numbers from VoIPTech Solutions?
24/7 Customer Support: VoIPTech technical team is available round the clock
Call Recordings: You can record conversations and keep them for future reference
Quick Notification: It sends a mobile notification to the  agents regarding any Missed & Received calls
Access to Call Logs: Managers can check and get real-time call analytics

IVR Menu: Intelligent IVR menu for self-service

Third-party CRM Integration: Can integrate the CRM with any third-party apps
Cost Management: You can put certain numbers on the blacklist & set the operational hours for the effective management of cost
If you want to unlock the true potential of your business and give a more professional look to your contact, then getting a toll-free number from VoIPTech Solutions will help you achieve your business goals. Do you need a new toll-free number? It can be done in minutes with the help of our technical team. What are you waiting for? Get started by choosing your favorite toll-free number or else you can customize it according to your brand name and calling needs. For more info, please speak to our experts at: +91-6746828203. They will tell you what is suitable for you right at the moment and what are features should include in your current subscription.
[/fusion_text][/fusion_builder_column][/fusion_builder_row][/fusion_builder_container]