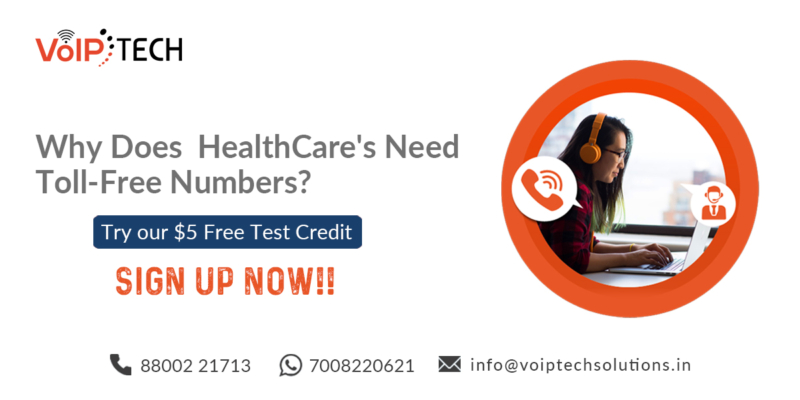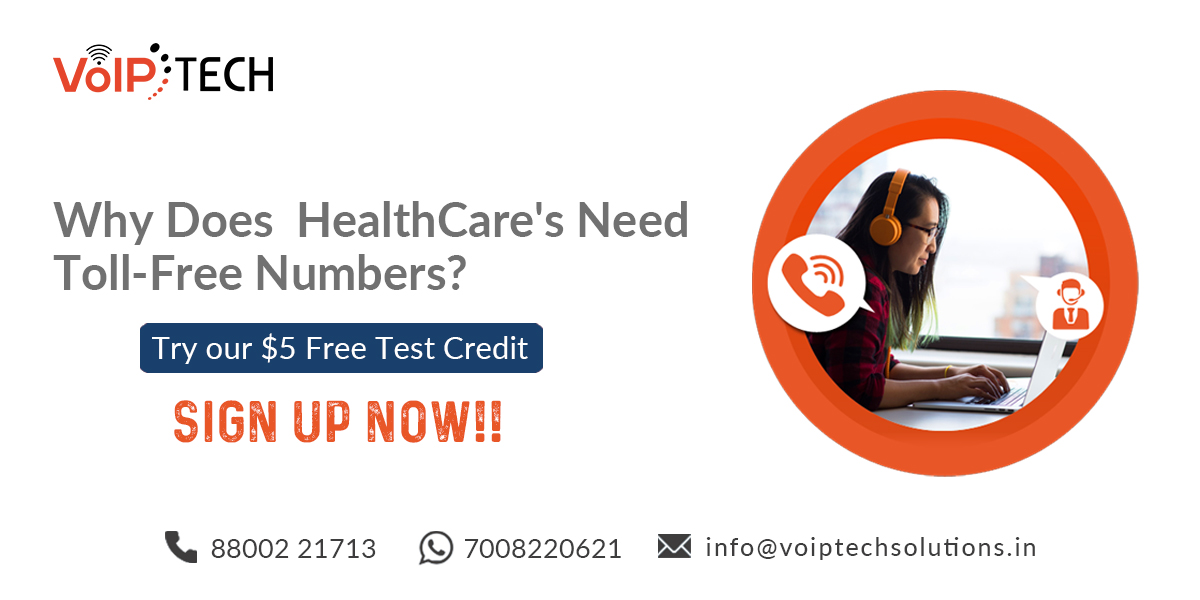 Have you ever thought about integrating Toll-Free Numbers for the healthcare industry? And how Toll-Free Number can be proved to be a great asset to book the appointments without waiting over the long line of people. Isn't it great? Well, YES! Because one can book their flights, get their food, buy clothes and get more done, merely by placing a call, but fulfill the basic amenity of visiting a doctor one still struggles through long queues in the hospitals. To avoid this mere situation, Toll-Free Numbers are great options to go.  And to be very honest while all the healthcare sectors are focusing to stand apart, you really need to incorporate Toll-Free Numbers which would be a great help of being available to the patients at the time of medical emergency. 
However, in that case, integrate Toll-Free Numbers for your healthcare industry only to make things easier for the patients. Because always remember that being available for the patient is the second choice over connecting channels. And the scope for creating a strong connection with the patients is just next to impossible if you do not have a great path for connectivity. 
Below are the problems listed faced by the healthcare sector and how Toll-Free Numbers could help a lot in solving this:
Eliminate Manual Administrative Tasks:

  Always remember that unbalanced administration is the biggest issue in the healthcare industry. And the lack of organized administration is observed most when long queues for appointments are there. So booking an appointment is always the prime step in the healthcare journey. The rest of the journey becomes a drag while this is where maximum frustration is faced. However, a hospital needs to acquire toll-free number services only just to avoid such tussles. Because a  hospital can easily book multiple appointments simultaneously on the same number with a

toll-free solution

. To book an appointment, the patients will not have to be physically present inside the hospital premises. 
And with a mere phone call, the same can happen as well. Along with the toll-free solution, most of the vendors also provide IVR services. However, the requirement for administrative personnel is greatly reduced with IVR.  Book appointments automatically, check the availability of a doctor, handle most calls, provide immediate ambulance assistance among other things that are being handled by IVR. However, a lot of time is being saved for both the hospital and patients. To get to the right department, patients no longer have to wait in queues or languish between operators
Higher Client Engagement:

Where it is not required, the reliance on manpower for administrative tasks leads to a substantial expenditure of both time and money. However, IVR can handle most queries by itself rather than only appointments. And when state-of-the-art equipment can be used to treat patients, then why should manpower be invested in everyday repetitive tasks which is undoubtedly a great question.   
Patient Management:

Patient management can be easily handled when your system is integrated with

CRM

, though administrative tasks can be easily handled with IVR. However, maintaining a patient's history makes it quite easy for hospitals. Their previous medical conditions can be easily identified upon a call from a patient. And this is vital, as a patient's history can be identified as soon as the call is received in case of any emergencies. However, without worrying about the reaction this empowers the doctor at the scene of an emergency to administer drugs. And at times, it helps in critical life and death situations. 
When a hospital can send customer reminders, deliver reports, provide updates on existing reports, and schedule appointments when needed, with CRM in place. And this can be done without any human indulgence. Furthermore, the manpower can be utilized in the more critical areas by saving time as well as money. It provides fast assistance by helping in terms of contacting the nearest ambulance, sending advance notification to a hospital to arrange a doctor along with Toll-free integration with outbound IVR an emergency alert. 
The emergence of Medical Tourism:

 Now the toll-free solution is inevitable, with India's medical tourism aiming to share some percentage of the world's market capital surely by 2020. However, in medical tourism, India is having a cut-throat competition. Because every company wants to provide trouble-free service to their clients. On the other hand, clients are looking for fast medical support. However, to receive and manage multiple calls simultaneously is allowed by a

Toll-free number

incorporated with IVR. However, hassle-free personalized IVR is appealing to the client with a single wastage of manpower. 
Last but not least the most integral part of such a system is the toll-free number.  To increase the extent of medical tourism in India, Toll-free numbers in themselves play a vital role. It eliminates the administrative burden when integrated with IVR. And for patient management, it is integrated with CRM. Lastly, it forms the basis of the life-saving phenomenon only when it is integrated with apps. However, a toll-free solution will be the requirement every time as the healthcare industry is getting advanced day by day. 
We are one of the Best VoIP Service providers in India that offer customized cloud call center solutions with Toll-Free Numbers to improve the efficiency of your agents & boost your business productivity. Switch to VoIP System, walk hand-in-hand with the future. Call: +91-7008220621. Our VoIP services come with an extensive range of features to meet your business requirements. Sign Up and get FREE $5 credit today! For more info, call: +91-7008220621.