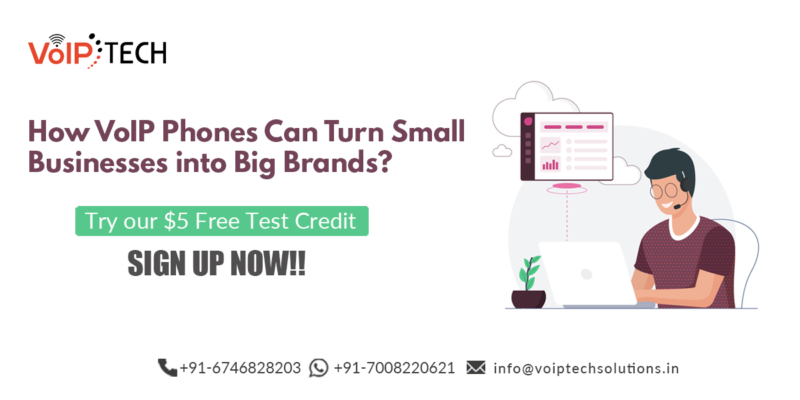 Every business has potential, be it small or big. Because every big brand once was a startup – don't you agree? Every great beginning starts with small things, and VoIP Phone Systems might be a small piece of equipment but it can help you make it big. Are you a small business looking for advanced phone systems for small businesses? Keeping future goals in mind, how do you rate your current phone system for small businesses? Well, your current traditional phone system may be fulfilling your needs right now, but limiting your growth potential. So, what's the solution? A VoIP phone system for small business would be definitely a wise decision to increase your profitability and provide a great customer experience 24*7. The best part is, a VoIP phone system for small business makes your call center agents' life a bit easy with ease of use features. 
The thing is, recent updates in VoIP business phone systems have evolved significantly in recent years. You might be sharing a great comfort level with your current phone system, but it's worth considering the number of advantages & features you might be missing out on by not switching to VoIP phone systems for small businesses.            
How to pick the best phone system for your business:
You will come across various types of business phone systems in the market, each having its own set of advantages & drawbacks. 
You can easily upgrade your existing office phone system with VoIP and enjoy all the benefits that the technology brings to the floor. The features it offers and the flexibility you get always pay in your business interest, ultimately resulting in a fast-paced business module that always keeps you ahead of your competition. High-end contact center software solutions empower your sales & support team to speed up their operations that eventually results in increased revenue and better customer experience. Still, need a strong reason to switch to VoIP Phone Systems? Well, why would customers turn to you, if you are not available for them in the need of the hour? Not being at par with your competition can force your customers to shift their loyalty to another brand. 
Why are Cloud-based solutions a must?
With cloud-based solutions, you can quickly set up a call center for inbound calls, outbound calls, or both without any hassle. Having a proper VoIP infrastructure in place can turn the tides in your favor, and this is the right time to make a wise move.
If you are a startup or an organization with not so large big numbers and you don't have any existing cables, contracts, or equipment to contend with, the clear choice is to implement a cloud-based phone system, which enables the use of VoIP Technology with your other business tools. This will help enhance the efficiency of your team while reducing the margin of error to a great extent.
However, before you reach a decision on selecting the solution type, you need to keep a variety of factors in mind, such as; current system architecture, budget, monthly/yearly plans, and internet speed. 
Phone Systems Available In The Market:
Having a bit of knowledge about the phone systems for small scale businesses will help you in decision making, especially when it comes to choosing the right one.        
 Below listed are 4 types of phone systems available in the market and their working principle: 
Analog: It uses copper wires for the transmission of voice signals

Private Branch Exchange (PBX):

It involves multiple cabled phones with individual phone lines.

IP PBX:

Very much similar to a PBX system, but with a difference. Here the voice signals travel over the internet, no physical cables required.

VoIP: VoIP uses data packets to transmit voice signals over the internet. With the help of a VoIP system and it's out-of-the-box features, you can unify your communication channels, making the best out of your business communications.
Why VoIP Phone systems are quickly becoming the most favored communication choice for small scale businesses? Well, the reasons are obvious! They not only come with an array of advanced features and functionalities but also make remote working more easy & productive and enhance contact center capabilities to a great extent. Those who are working from remote locations, just need a high-speed internet connection, perhaps, a headset and they are on. According to recent studies – companies providing a perfect work from home setting and utilizing the full potential of remote workers, in general, have 14% higher revenue as compared to those who don't provide the same facilities.
As your business achieves new milestones, your needs also change over a period of time, there comes the VoIP Phone System which gives your business a competitive edge over your competitors. 
How to Choose a Business Phone that Works With Other Business Tools Available?
With new technologies knocking at your door every day, finding a reliable system that actually fits your growing business needs can be a herculean task. And, if all your tools operate in isolation from one another, your employees have to update each system separately. Taking extra steps can cost you time and money. By having a system that can unify all of your business communication channels can save you a ton and boost your productivity to a great extent.
How? It's only possible when all data is automatically centralized in a single tool. With a cloud-based VoIP phone system and the right kind of software in place, you can enhance your business performance like the way you want.
Below listed are some of the great ways a cloud-based phone system can help enhance your business communication:
Integration of

CRM

with other necessary software solutions

Internal information sharing

Setting up an omnichannel communication

Boost productivity

Making the best out of both inbound & outbound calls

Training new agents during calls using the call whispering feature

Process automation eliminates task repetitions, thus saves time

Provide real-time data that's worth every penny
The Features that a Cloud-based VoIP Phone System offers:
It's quite difficult to figure out a specific one from an array of advanced features, but still here is a list of features that you can count on:
Systeme automation according to the business hours

Call recording.

Auto call routing 

Virtual call center

setup

Task manager

Real-time data

Call queuing

Call restriction

Power dialer

Call forwarding

Follow-up calls

Call whispering

Call monitoring
With a little thought process and some serious planning, you can have the best VoIP Phone System for a small business that is both affordable and accessible. With the right business phone in place, you can enhance your customer experience to a great extent while adding more to your bottom line. After all, when people make communicate with your business, they should feel like having an interaction with a real human being, not a robot. And, small scale businesses with advanced VoIP phones are said to be 60% more capable of converting visitors into potential customers and are set to earn more profit than that of those that aren't. As consumers always can't take a walk or drive miles to connect with businesses. They are looking for a communication channel that they can relate with or already having — and VoIP business phones possess all those features that can turn the tides in your favor. 
Are you a call center or an emerging business, looking for VoIP Providers that can provide the best VoIP Phone System for small business? You couldn't have a better choice than VoIPTech Solutions. We offer you robust and fully-functional AI-based VoIP Solutions that work on any device. With us, you get international phone numbers from over 165 countries. Our paid plan starts at $10 per month and goes up to $20 per month. Our VoIP services come with an extensive range of features to meet your business requirements. Sign Up and get FREE $5 credit today! For more info, call: +91-6746828203.