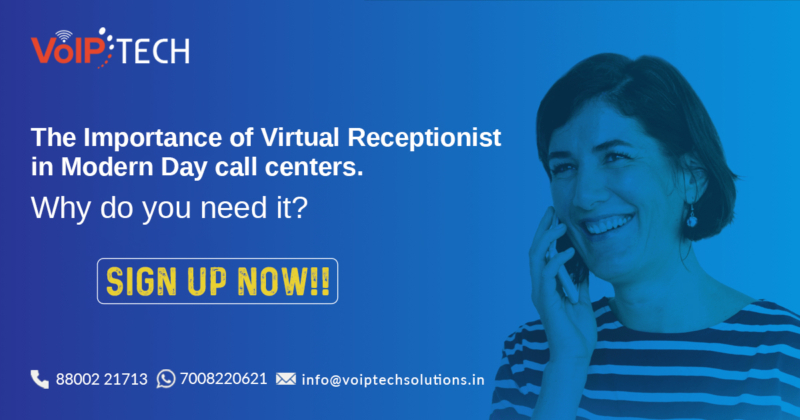 Do you ever think to deploy a Virtual Receptionist for your call center solution? And how a Virtual Receptionist can help to reduce the human workflow and can increase the productivity of your call center? Well, YES! Because now as the work culture has totally changed, you really need to focus on growth and success to occur. And for that, you need a Virtual Receptionist to make your business more flexible, available, and capable enough to meet the customer's demand and expectations. 
However, if you are a small call center solution then keeping many employees is not possible So for that a Virtual Receptionist is the only possible solution to manage calls through which you can spend more time on the tasks that can generate revenue that helps grow your call center. 
What Exactly is a Virtual Receptionist?
A person who answers incoming phone calls from another location is none other than a virtual receptionist. However, generally, some of them work from their home. And to handle these calls, you can also work with an outside contact center as well. 
Below are some roles listed performed by the virtual reception for which you can depend on them blindfolded:
Take messages and answer calls.

Calls are being transferred to the respective department or specific persons.

Resolves customer queries and disputes

by

scheduling appointments

Customer service is available 24*7 and pursues new leads.

Carry out the personal or professional errands along with that manages the mailboxes.
Distinctive Benefits of a Virtual Receptionist For Your Call Center:
Always remember that for businesses, hiring a virtual receptionist is an effective strategy. However, seven benefits are listed below: 
Less expensive than you think:

You really must have researched a lot before hiring a virtual receptionist as a full-timer demands much less per year in addition to paid time off and benefits. And you can expect to pay less for their services than the cost of a salary, taxes, and benefits by working with a call center to fill your call answering needs. 
Available more hours of the day: 

However, to meet your needs you can customize the hours, days, and frequency a virtual receptionist answers phone calls. And if you really wanted your calls to be answered after normal business hours which are available in addition to regular business hours. Along with that, you are concerned about calls being answered while you are on a vacation, to make sure no call goes unanswered then

virtual receptionists

are a great option.  
Ability to help more customers: 

Remember that virtual receptionists can help while managing more calls than an in-house receptionist only because in addition to answering calls during off-hours. And when a customer contacts you who doesn't speak your native language then you must have agents who can speak more than one language which is very beneficial only when you are in favor of working with a call center. So if you want a positive reputation for customer service then always have a way to assist more clients which ultimately helps grow your business. 
No training costs:

You won't have to worry about taking the time or investing in training when you have a contract with a call center. You can easily save your substantial time and financial resources only if your call center covers training expenses which is a part of your agreement. 
Automatic coverage:

Never forget that a negative experience for a customer who waits on hold will be created because an in-house receptionist can only answer one call at a time. As each and every customer is important so you need to focus if one is on a call, another one is ready and able to take the next call which ultimately makes a customer feel more important. 
No need to worry about vacations:

Generally full-time employees take at least one vacation per year. You are left to answer the calls when a receptionist goes on vacation. However, to eliminate the concern utilize virtual receptionist services through a call center. And there is always another receptionist available so you don't have to worry about who will fill in. 
   7. You gain your time back: And gaining your time back is the biggest benefit of hiring a virtual receptionist. However, you can focus on growing your business instead of managing time-consuming phone calls and returning messages. You can spend evenings and weekends doing the things you enjoy like spending time with friends and family instead of playing catch up from the week which is also another way of spending time.
Being the stakeholder in this industry, VoIPTech Solutions incorporates a dynamic service which is the Virtual Receptionist. We believe in providing the best Virtual Receptionist at the most economical price. Or we can say that providing a Virtual Receptionist for customer ease. For more info, please call: +91-7008220621. For more info, please visit our website: https://voiptechsolutions.in/.