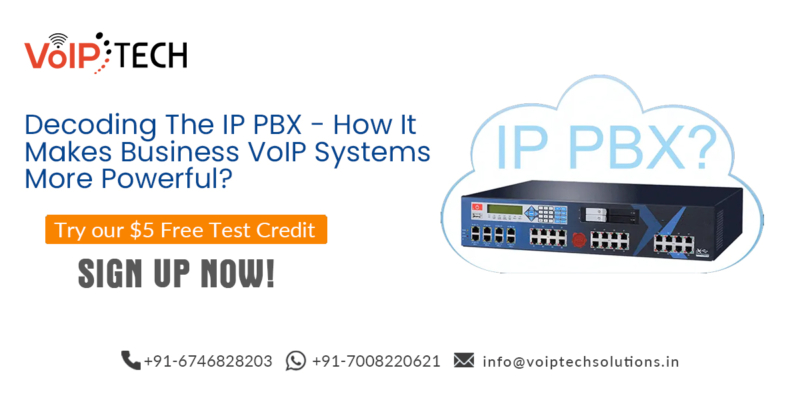 Are you planning to revamp your entire business communication structure? What would be the best phone system for your business? Well, you may have many options in your kitty, but you couldn't have found a better choice than the IP PBX Systems. Why so? Do you already have a Private Branch Exchange (PBX) ? Then, switching to the cloud-based trunking service would be a variable option for you, especially for the PSTN setting. The thing is not going to be as you imagine. After all, who would like to indulge new burdens with the inbound calls? What exactly is IP PBX?
Decoding the IP PBX Systems:
It is a highly scalable telecommunication device that is specially designed order to provide superior quality voice connectivity to on-premise desk phones. An Internet connection is all that you need to make or take calls across the telephone networks.
To make it easy to understand, we can break down the IP PBX systems into two parts:
IP: IP stands for the Internet Protocol for smooth data transmission between servers.  Calls are being made, and here the internet is the medium.

PBX: PBX stands for Private Branch Exchange that is basically the internal telephone network. In general for on-premise uses, or else can be hosted from the cloud securely.
Using the IP PBX phone system businesses can continue their calling operations using the existing internet connection, at the same time the analog phone connection is established in the office. There are a number of available open-source solutions that you can use to configure the PBX. Though a basic or little knowledge of call routing and Asterisk-based solutions may be needed.
How does an IP PBX work?
The internet here plays the main source of communication. Analog to digital conversion of voice signals holds the key to PBX's working principle. This is where all the calls are directed to the service providers and they know how to start the process and VoIP termination of calls made on a daily basis.
If you go to the core, you will find SIP (Session Initiation Protocol) for all the Intent Protocol-based voice services. It has become the universal standard for VoIP protocols. When SIP trunking is used with a PBX system, you avail multiple channels for voice calls. Everything else of a PBX system remains unchanged on the inner side. As a user, you can place calls to "n"' of people on your dial list, check the voicemails, and add numbers to group calling.
Things are even better with the VoIP providers. You are given credentials to set up multiple accounts using the SIP trunking. Once the authentication part is over, PBX will allow inbound calls. And the best part is, you can easily connect to an external phone line automatically, with the help of the SIP trunk. It is the PBX that determines the validity of the calls, whether to handle them internally or shall use the PSTN instead. 
What are the benefits of IP PBX systems?
If we talk about the benefits of IP PBX Systems, then the list will go on. Here are a few reasons why it's worth an investment.
Lower communication costs: You compare the cost of IP PBX with other sources of communication, then you can marginally see the difference in cost. With world-class VoIP service providers like VoIPTech Solutions, you are available with next-gen trunking services. 

The reliability of Cloud-based solutions: The proven reliability of the cloud has a lot to offer of PBX functionality. With a dependable VoIP service provider, businesses can have multiple data centers, ensuring reliable performance 24/7. The call routing can be done in case of PBX server downtime.

No additional hardware required: No on-premise hardware required to make it functional and enhance productivity. You can use the existing ones to achieve the same result. All that you news us, is a valid address for SIP, a strong password, and the domain name – you are now live!

No changes or the minimal one required: Changes are a part and parcel of businesses and sometimes they can give a lot of stress as well. With SIP trunking, you can use the VoIP phone system and run to its highest potential. With the business growing and moving to the next level, a number of voice channels can be added as per your requirement and for that minimal changes might be needed.
You must have created your Email ID, right? Did you ever find it difficult to get the address from Google? No, right? Here the business phone provider is Google and IP PBX is like getting the email address – this is as simple as it is. And, when you have a trusted VoIP provider like VoIPTech Solutions, then things look even better. Having said that, it's far better than the analog-based landlines, in terms of technology, features, pricing, reliability, and ease of use.
With cloud-based PBX systems, you are definitely an advantage as you can empower your customer support team and enhance their capabilities to a great extent. We can deliver a full-featured voice solution that simply upgrades your business communication system to #1. The result is more power to your support system and a better customer experience.
Thanks to the VoIP Providers in India. They offer business IP PBX solutions with a number of other benefits, starting from cloud data protection & CRM integration to different software solutions, ensuring the highest network security measures. To operate from home and not being vulnerable to data theft certainly have challenges and difficulties, but with advanced data recovery & protection tools, you can ensure a smooth operation. Most VoIP service providers are offering different services that come included in the VoIP wholesale plans to help companies improve their bottom line. This comes with a long list of benefits that eventually results in improved data security & recovery options. The easier option is to hire a reliable Indian VoIP service provider that can provide you fully licensed software tools at wholesale prices. 
Are you a large-scale enterprise or integrated business provider, looking for a reliable VoIP provider that can provide you with IP PBX solutions for? VoIPTech Solutions is the right door for you. Our network is spread over 165 countries around the globe. Our paid VoIP Minutes plan starts at $10 per month and goes up to $20 per month. Our VoIP solutions come with an extensive range of features to meet your business requirements. Sign Up and get FREE $5 credit today! For more info, call: +91-6746828203.