VoIPTech solutions provide excellent IP telephony services that will hike your business.
Join us today and be a part of modern communication.
A brief history of IP telephony
VoIP refers to a voice-over-internet protocol system that utilizes an internet connection to receive and dial voice calls. In contrast to a regular telephone that uses copper lines to transmit voice signals, IP telephony connection to the Internet via a router and LAN.
The first ever functional IP phone was introduced to the market as early as 1996. But, compared to a domestic phone system, it had low audio quality and was prohibitively expensive.
A value-based VoIP provider can configure everything for you. Set up your VoIP phone and serve excellent features. These virtual phones use your stable internet connection to proceed with connectivity.
How VoIP / Internet Voice Executes –
Voice is transmitted into digital packets by VoIP technology that transmits over the Internet. If the traditional phone number is called, the signal is converted to a standard communication network equal to an analog signal, before it reaches the destination. VoIP can enable you to make a call directly from a desktop having a particular PBX phone or a domestic phone connected to a special adapter. Wireless hotspots in destinations such as offices, hospitals, cafes, etc., enable you to connect to the Internet and can access you to use VoIP service wirelessly.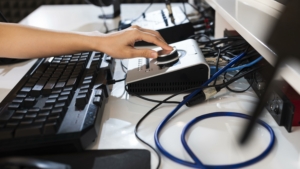 VoIP converts your voice calls into digital packets that travel over the Internet. You can use the Local Area Network or skip them if you have a strong internet connection. It provides all these at a much lower price than traditional telephone systems. Voice over IP has many merits over domestic phone service. 
Since 1996, internet-based voice technology has grown swiftly. VoIP technology offers HD audio quality, minimal running costs, and fantastic business phone features.
And the need for an up-front subscription is next to nothing.
What are the advantages of using VoIP?
VoIP telephone systems use the Internet connection or other digital devices to transmit voice communications over the Internet.
If you use a VoIP PBX system, the data is transmitted digitally on a digital connective network, then transferred to analog voice signals and sent to the PSTN.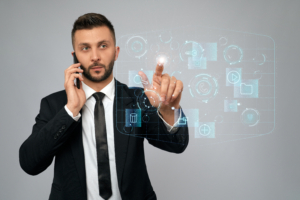 The terms are often used interchangeably, but there is a subtle difference between them.
IP telephony describes any system that fits within the internet-based business communication umbrella, including fax and other systems.
Initially, the term IP telephony was more specific. It is only related to the technology used to make and receive phone calls over the Internet.
In the past few years, though, IP providers and business communication companies have used these terms alternately. IP telephony and VoIP cover phone systems that use a digital network to connect to the Internet via a LAN or router.
Which authorizations IP telephony uses vary on how your phone system is installed as well as your VoIP provider.
To efficiently send voice signals over the Internet, you need a way to code and decode them. Because the phone's integrated data is real-time and focuses on human voices, they can't use available codecs like analog signals.
Most VoIP telephony service providers, including VoIPTech solutions, use the extravagant G.712μ codec — the same as the new modernized PSTN. You can go through our more in-depth guide on VoIP if you're interested in practising how they affect your audio quality.
In previous days of VoIP, you would need expensive hardware for your infrastructures like VoIP PBX and gateway servers.
But in the modern era. With a hosted VoIP service like VoIPTech solutions, the requirements are minimal.
All you need is an authorized internet connection and a fixed network setup.
To know whether you have a stable enough internet connection or not, you can check out more about how much data VoIP uses.
WHY VoIPTech Solutions?
VoIPTech Solutions has also proven trustworthy at high call bandwidth, something many service providers suffer from when put under pressure. Its AI-backed transmission and call management features are awe-inspiring. Our CRM capabilities give admins many options in an easy-to-understand UI.
We offer advanced and customized solutions for any enterprise to make international calls for business development, quality assurance, and inter and office communication. By choosing VoIPTech's VoIP and IP telephony, businesses can exclude the tolls charged by domestic telephone services.