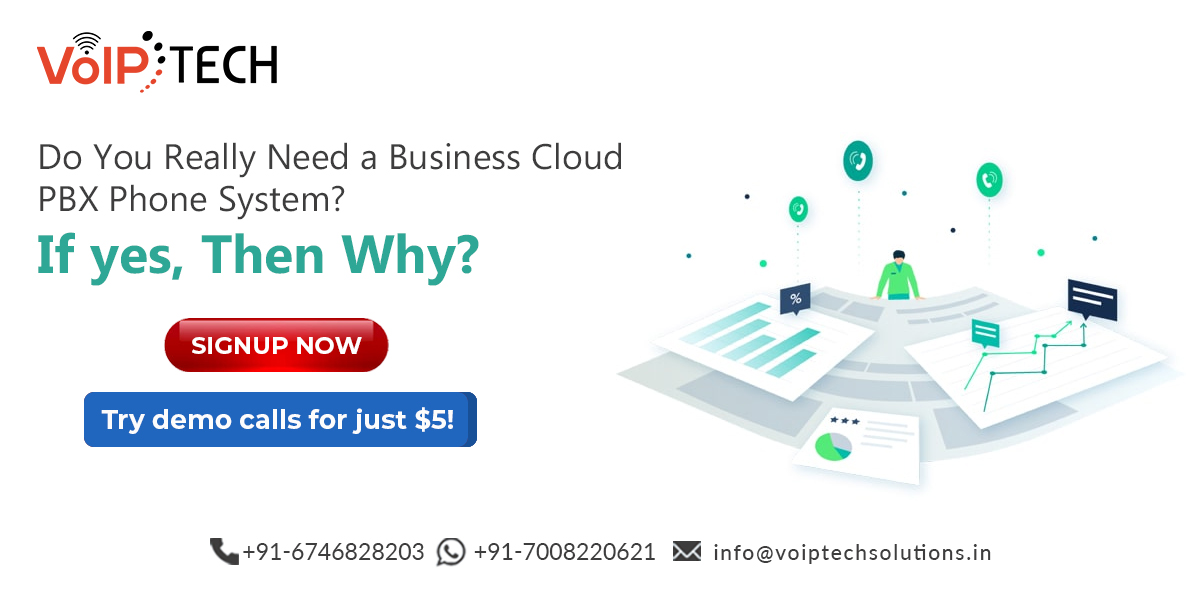 2021 has begun with lots of promise, and businesses all around the globe are seeing this as a golden opportunity to start again, especially after the arrival of the Covid vaccine. Well, as a growing business, you can make the best out of the opportunities with the introduction of Cloud PBX to your current business communication strategy. Now, you must be thinking, why opt for Cloud PBX, and what makes it a better choice over the traditional phone systems? Well, if you think from the technical aspect, you are a decade advanced than your competitors with cloud technology. Put simply, with this cloud-based technology you can come out of your comfort zone and explore different horizons, discovering new scopes for your business expansion. To get a clarified vision, just recall the days you have passed facing the interrupted connectivity at the much-needed time. Because switching to Cloud PBX is a wise decision to makeover a traditional phone system. Don't you think that it is the right time to make a concrete decision? So when you are choosing Cloud PBX at this point in time, different questions just hang up in your mind. 
Integration of Cloud technology is always a wise decision, Especially, for businesses that don't have a huge budget to go international. You can see Cloud PBX as an opportunity for your call center or business because of its various features like cost-effectiveness, ease to use, flexible and many more. A Cloud PBX will definitely help in boosting up your businesses' internal as well as external communication in a most flexible and effective way. The thing is, why would one opt for this cloud-based technology? There must be solid reasons, right?
Well, below listed are the top reasons to consider a Cloud PBX for your business:
Easy Set-Up & Quick Installation:

Most businesses required an onsite PBX phone system to invest in software, hardware, systems, and servers. And according to their corporate communication needs, the businesses need to locate the IT professionals for easy setup and customization of

PBX

. And the amazing part is? They can start using a

hosted PBX phone system

, without investing any extra time or resources into it. Without building a customized IT infrastructure, your business can easily start using the

hosted PBX solution

. While the provider makes it easier for you to customize, configure and extend the cloud

PBX system

by providing a user-friendly dashboard. And for monitoring both incoming and outgoing calls, the dashboard helps you a lot. 
You can Scale UP The PBX System, Depending on the Future needs: 

Always remember that without investing additional time and resources, you cannot scale up or scale down an on-premise

PBX

phone system. And there are a number of ways for scaling up and down the cloud-hosted solutions like adding new extensions and creating additional user accounts. Without any restrictions, the cloud communication service provider gives permission for adding new users and extensions. Based on a pay-as-you-use model, you can further avail additional computing resources for handling more calls. Based on the statistical reports provided by the portal, you have an easy option for streaming the corporate communication by monitoring and improving the

call center

service to a great extent. 
Establishing An Omni Channel Communication System for your Business:

 Nowadays every organization prefers multiple platforms for business communication. Just like that, the employees also communicate and collaborate in a distributed environment through different types of communication tools. However, to improve your customer's experience and employee efficiency, your business must adapt an omnichannel platform of communication. With built-in features, the on-premise

PBX

phone system facilitates omnichannel corporate communication. However, the cloud-hosted PBX systems support multiple communication channels just like text, audio, and video. Apart from that, they execute outbound and inbound calls with widely used communication protocols like VoIP, RTP, TCP/IP, and RTSP.  
Ensuring The Highest Degree Reliability & Security of Your Business Phone System:

The cloud communication service provider manages the

hosted PBX phone systems

which are run on offsite data centers. To reduce the downtime, the data centers are regularly maintained and upgraded by the providers. By hosting the

PBX

phone system on private cloud servers, many providers secure their corporate communication. Apart from that they also focus on taking the preventive measures required for security breaches and targeted security attacks. And to avail a higher value of reliability and redundancy without investing any additional resources, many businesses are switching from on-premise PBX phone systems to

hosted PBX solutions

. 
Gradual Increase in Data Recovery Rate: To facilitate and accelerate disaster recovery, most organizations nowadays are switching from on-premise environments to cloud-based environments. However, the cloud-hosted PBX solution helps in the continuity of corporate communications in both the platforms of natural as well as man-made disasters. As your employees can easily access the hosted PBX

service over the internet connectivity, they can communicate with their customers from offsite or remote locations as well. And the easiest part is? The

hosted PBX phone system

makes it very simple for you to relocate your business without any interruptions in corporate communications. And without any incurring additional expenses, it helps a lot in preventing the revenue loss and also helps in normalizing the business operations. 
Better Operational Capability In Distributed Environments:

  Always keep in mind that without creating a distributed work environment, you cannot facilitate uninterrupted communication between employees and the customers. In that case, the on-premise

PBX phone systems help your business a lot to operate in distributed environments and co-operate with off-site employees. But being anywhere, your employees can easily access the cloud-hosted PBX solution over the internet. And nowadays, most companies have implemented a new policy named Bring-your-own-device (BYOD) to boost up corporate communication. 
You can Save Big On the Communication Budget: 

The onsite

PBX phone systems

always prefer you to invest in expensive hardware and compatible software. To maintain, scale, and upgrade the

PBX phone system

, you really need some additional resources along with dedicated IT professionals. And businesses can access the

hosted PBX phone system

without managing on-premise IT infrastructure. As per the pay-as-you-use pricing model, the cloud communication service provider allows you to avail yourself the virtual PBX solutions. Furthermore, you can also save resources as well by scaling the hosted PBX according to your precise corporate communication requirements. 
The best part of having a Cloud PBX system is, you are equipped with the right set of features and its quick setup saves your valuable time, which was not the case with others. You can transform your current workplace, by moving with enhanced efficiency and ensure better productivity in a time that requires more from a distributed business establishment. However, the hosted PBX solutions are more scalable, flexible, cost-efficient, and extensible as compared to on-premise PBX phone systems. And at the same time, choosing the right hosted PBX service provider is also quite important. So you really need the quality of both the solutions that are hosted PBX solutions and cloud PBX solutions. 
Are you a featured business, start-up, or any business that deals with business calling and client orientation, looking for reliable VoIP Providers that can provide you with advanced cloud PBX solutions that can be integrated with your current business phone systems? You couldn't have a better choice than VoIPTech Solutions. We offer you robust and fully functional cloud PBX systems that not only improve your business conferencing but also bring a whole new dimension to your business communication. With us, you get international phone numbers in over 165 countries. Our paid VoIP MInutes plan starts at $10 per month and goes up to $20 per month. Our featured VoIP services come with an extensive range of features to meet your business requirements. Sign Up and get FREE $5 credit today! To get more information about our VoIP plans, you can contact us anytime at: +91-6746828203.