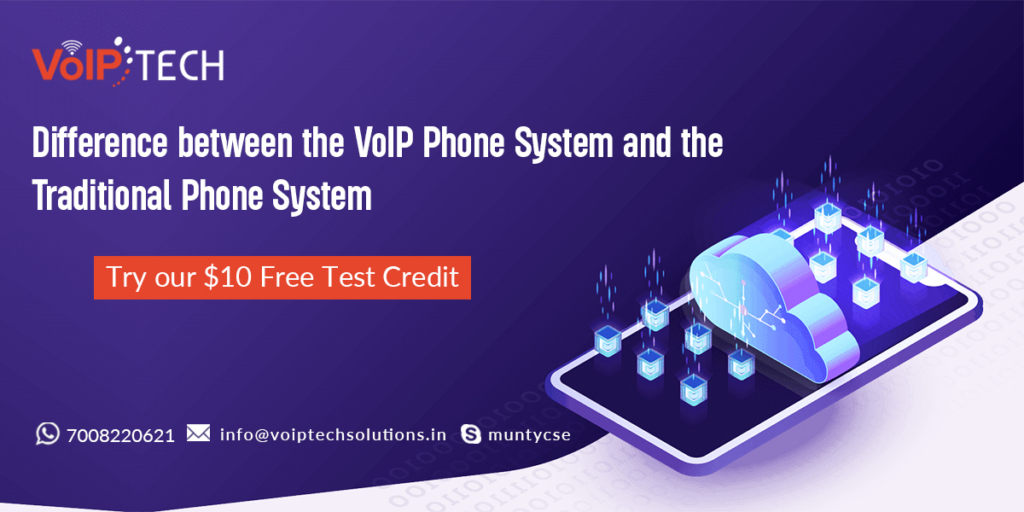 Choose the best phone system for your business and differentiate between
the VoIP phone system and the traditional phone system.\
Is a VoIP phone system better than landlines? What advantages does a
traditional phone system have VoIP or Voice over an IP phone system?
When selecting the best phone system, it is critical to understand these
distinctions.
You're probably familiar with phone company-installed landlines. Given that
95 percent of Americans have access to broadband internet, there are
numerous alternatives to consider.
Types of telephone systems
There are numerous options available when selecting a phone system for
your business. Their functionality, aside from handling phone calls, is vastly
different.
Analog, VoIP, and SIP trunking are the three types of phone systems
available today.
Analog phone system or traditional phone system
Traditional phone systems installed by the local phone company comprise
analog phone systems. It is also referred to as Plain Old Telephone Service
(POTS). Extra telecom hardware may be required for business functionality.
Analog phones work the same way they did over a century ago. Electrical
pulses on a wire are used to transmit sound. These wires connect to the
phone company.
A business would set up an on-premises Private Branch Exchange (PBX)
system with one or more phone lines. A PBX establishes an internal phone
network by connecting employees to a shared phone system.
Voice service, dubbed "copper wire," can only travel where you trenched and
laid wires. The traditional phone system is subject to inclement weather,
installation, and exorbitant long-distance fees.
VoIP phone system
VoIP (Voice over Internet Protocol) calls are made using your existing
internet connection. It also has many advanced calling features built into it.
A VoIP phone system is also referred to as digital phone service or a hosted
phone service. It converts sound into data packets and sends them to a VoIP
provider. VoIP providers then route calls between the Public Switched
Telephone Network and the Internet (PSTN).
Thanks to the VoIP phone system lightning-fast cable or fiber broadband
internet connections, this happens in milliseconds. VoIP(Voice over IP)
enables small businesses to obtain all of the most advanced
telecommunications features at a fraction of the cost.
Landlines are no match for VoIP in terms of features. VoIP phones are your
best bet if you prefer more control over your calling experience.
SIP trunking phone system
SIP trunking connects an existing PBX to a VoIP service provider's voice
network. Trunking requires advanced technical knowledge to operate.
Trunking is a phone service that lacks the advanced features that businesses
would expect. Voicemail, call forwarding, call routing, and auto attendants
must all be configured.
So, what are the benefits of SIP trunking? Trunking is for you if you already
manage your PBX and want the cloud's proven scalability and reliability.
Advantages of Traditional phone system or
analog phone system
Availability
Time is on the side of landline phones. Over the last 140 years, millions of
miles of copper wire have been added. The telecommunications
infrastructure was intended for reach, not necessarily for speed. It works for
voice calls only.
There are no bandwidth restrictions.
The 5% of the population without broadband affects more people than you
might think: 16 million people. Digital phone service for a small office requires
100 Kbps per line, which may be more bandwidth than is available.
Analog apparatus
Alarms, for example, require landlines in some offices. The transmission of
data is dependent on a wired phone line. In many cases, an Analog
Telephone Adapter (ATA) can help. Some equipment sends data across the
line (similar to dial-up days), and VoIP codecs can cause problems.
Analog-based landline service is best if you don't have broadband or need
to preserve specialized old equipment. A virtual phone system is ideal if you
have a high-speed internet connection.
Benefits of VoIP phone system
● Simple to Use & Economical
At a low cost, you can transfer as many phone numbers as you like from
desktop phones, softphones, or mobile phones.
● Quick Implementation
Scale up or down as your company develops and evolves, and add
personnel, departments, and new locations with ease.
● Never Miss a Call
With the AutoReceptionist feature of the VoIPTech system, you'll have
consistent coverage across various extensions and shared lines.
● Voicemail Transcription
Automatic voicemail transcription allows for simple review and follow-up
calls.
● Maintain Consistency with the Same Phone Number
Even if you're transferring carriers, keep your current phone number. It's also
a good idea to check with General Security, who can swiftly verify that any
relevant phone lines can be moved over, depending on your region.
● Switch from Desktop to Mobile
Whether you're working from home, the office, or both, switching between
desktop and mobile phones is simple.
● Sound and Clarity
Uncompressed, high-quality data provides the clearest audio possible.
● Team Collaboration
Keep in touch with other teammates during meetings and phone
conversations, regardless of where they are.
● Admin Dashboards
From a single location, manage all phone lines and track service and usage.
VoIP Phone Systems and Commercial Security
General Security recently teamed with VoIPTech solutions to offer VoIP
phone solutions to commercial and small enterprises, as previously reported.
We can help as your "one-stop-shop" for all your security and communication
needs, whether you're already working with us or considering adding a
system.
A VoIP system from VoIPTech solutions can provide a comprehensive range
of communication capabilities for simplicity of use, scalability, flexibility, and
more when connected with a smart business security package.
What is the difference between a VoIP phone
system and the traditional phone system?
● Line Rental and Technology
The way voice signals are conveyed is the primary distinction between
analog phone service and VoIP (Voice Over Internet Protocol).
Unlike analog phone systems, which carry voice signals over copper lines,
VoIP technology sends voice traffic over the Internet in the form of data
packets. To make and receive calls, VoIP business phone systems just
require a live broadband connection. Landline rental is unnecessary and can
be replaced with considerably less expensive SIP trunking services.
● Features
Both VoIP and analog systems provide a basic set of calling services,
allowing you to make, receive, and route calls. When it comes to modern
telephone services, however, VoIP offers significantly more and at lower
average rates.
Analog phone systems were developed decades ago and have barely
evolved since the twenty-first century. With such antiquated systems, scaling
features are primarily in the hands of your providers, especially since some
advanced capabilities are just not achievable with PSTN and ISDN.
Modern VoIP phone systems, on the other hand, provide significantly more
capabilities at a cheaper cost. Unified Communications (UC) gives VoIP a
big edge, in addition to advanced VoIP features like Find Me/Follow Me and
Video Conferencing that analog phone systems lack.
A UC-capable VoIP PBX could enable your team to connect in totally new
ways by integrating voice, messaging, presence, cloud sharing, and more
into one unified platform, enhancing business efficiency in unforeseen ways.
● Internet and power requirements
How much battery life does your phone have? Aren't we all trying to save
money in the business?
Traditional phones are more durable and can withstand power shortages and
natural calamities. When it comes to unforeseen crashes, a firm that uses a
VoIP phone system benefits from improved disaster recovery and resiliency.
VOIP services, unlike traditional landlines, are monitored 24 hours a day,
seven days a week, and transmission signals can be diverted in a matter of
seconds to ensure that you never miss or skip a call due to technical issues.
This very efficient system is unaffected by power outages, line disruptions,
or construction. Best of all, you can conduct business from your smartphone,
tablet, laptop, or even your desktop computer.
● Call Reliability and Quality
Everyone assumed that internet calls would be scratchy, rough, and lowquality at first. Given that traditional phones have been around for decades,
a newcomer to the market would struggle to keep up with call quality. At least
not if the new system is based on the internet's destructive power.
The quality of VoIP communication, to the surprise of most people, is
excellent. It actually competes well with landline phones. Because VoIP does
not require any circuits, there is no danger of hearing clicks or whirrs. Longdistance calls will be of the same quality as calls to the next building down
the street. VOIP claims to have crystal clear audio.
● Security
Internet is the only way to connect for VoIP. This has obvious benefits. It
does, however, have drawbacks. Cyber-attacks can compromise VOIP.
When the gadget has a public IP address, this is almost always the case.
When private firewalls and security protocols are implemented, however, the
system is secure.
Because there is no internet link with typical phone systems, cyber-attacks
are impossible. That isn't to say that landlines are completely reliable. It's
always possible for phone taps to occur.
Is a VoIP Phone System Right for My Business?
Any suggestion that requires significant changes in how firms conduct
business appears to be too risky, understandably. Switching to a VoIP phone
system can be complicated because of all the options and capabilities
available. Sifting through pages of fine print also doesn't help you make the
best option.
When making significant business decisions like these, it's always ideal to
have a qualified, trustworthy advisor on hand. Atlantech's consultants can
help you select the ideal phone system for your specific requirements and
execute any adjustments as quickly as possible.
Use our free resource, The Essential Guide to Company Phone System
Pricing, to guarantee you're making the best option for your business phone
system. Examine the eight factors that determine business phone pricing
and make an informed decision that fits your budget.
Why Choose the Best VoIP phone system in
VoIPTech solutions.
VoIPTech solution is the provided best phone system in India and also
worldwide look at the benefits we provided for your business. We give more
details on the difference between the VoIP phone system and the traditional
phone system(analog phone system).