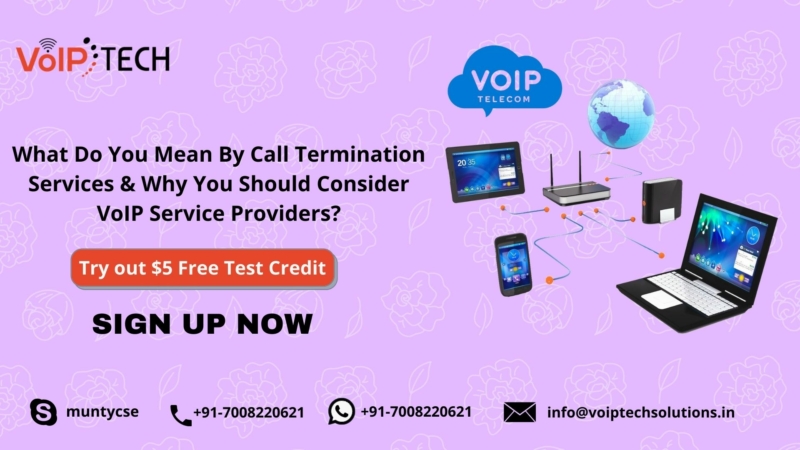 Understanding international calling can be difficult for normal people. When you call and dial any international number, you may find it pretty simple that you call & it is connected, but if you go through the process of telecommunication operator, then it is quite different from the normal. Behind the scene a lot happens that generally, the users are not aware of such as; when they dial a number it goes straight to the operator network of the service provider that is where the collection is established between the caller's calling device and the receivers. If you describe it in technical terms, then what the carrier network provider does is to find a suitable route in order to send the call to the destination. The entire process is also termed the call termination service. Let's understand the call termination service better.
The call types depend on the users' dial mode:
Intranet calls: These type of calls involve all the outbound calls that generally happen within a network, which also include calls to voicemail as well
External network calls: These type of calls are generally the outbound ones meant for the numbers that are connected to other network operators, which also include the operators with the fixed-line 
General voice traffic: This type of traffic generally comes from all the outgoing call types
International calls: International calls are subject to phone numbers that are operated by foreign networks.
You must be knowing that internal calls are not so expensive, but when it comes to international calls they cost businesses a ton. If you combine all the charges related to the international calls, depending on the call volume of the business in total, then the monthly bills will give you sleepless nights.
Terminating all the international audio calls over the Internet Protocol (wholesale VoIP termination services) is not only the cheapest possible way but also one of the most effective ways to avail the call termination. Name any business, they already have been enjoying all the benefits of VoIP technology by taking advantage of reduced costs of making international business calls.
VoIP Service has brought down the international call charges to a minimum by allowing businesses to make communications with the customers without breaking the bank. Today there is no boundary left between different geographical locations and small-scale businesses can dream of their international arrival without any hassle.
Companies like VoIPTech Solutions brings their years of experience gained from the VoIP, allowing individual wholesalers to offer various services like:
1. A-Z Termination Service for

VoIP Wholesale Business

 

2. High-Quality VoIP services at Retail Pricing

3. VoIP Wholesale Platform

4.

SMS

services at Retail Pricing

4. 24/7 Assistance for by Technical Support Team

5. Real-time Monitoring
Our years of experience in this industry have helped us, maintaining a healthy relationship with all the renowned international carriers of Tier-1 & Tier-2, top-rated wholesale VoIP carriers, high-quality VoIP traffic providers, along with best in class wholesale services for various telecommunications & hassle-free setup support. In addition to this, the flexible pricing option you avail of best fits your business needs and can be customized according to your needs. 
Wholesale VoIP Portal:
You can get the service through the Wholesale VoIP Portal which is the most convenient and fastest way to get easy access to all the international calling routes that include A-Z voice termination services.
You can:
1. Easily create a user account and give access to other users according to your needs

2. You can easily review all the destinations and compare the rates of various providers to choose the most suitable ones for your business

3. You are allowed to select the service level of our choice that best fits your operations

4. You don't need multiple interconnections in order to connect with a wide range of network carriers as that can be done with a single interconnection

5. Payment procedure is very secure with online security

6. You can easily get the real-time statistics with exact data that can be used to create reports
Why VoIPTech Solutions?
Our 24×7 active technical assistance and rigorous monitoring of the networks guarantee all the service levels are fully functional and respond faster. Whether you are a business that is looking for cost-cutting or an individual who is planning to start VoIP Wholesale Business, our VoIP Termination Services is highly recommended for a great start.
Do you want to take advantage of the VoIP Termination Service? Get started with VoIPTech Solutions today. Our exclusive VoIP Termination Services will ensure your VoIP capability is enhanced at a budget-friendly price. We offer you a robust and fully functional termination carrier that works with any business phone system. With us, you get international phone numbers from over 165 countries. Our paid VoIP Minutes plan starts at $10 per month and goes up to $20 per month. Our VoIP services come with an extensive range of features to meet your business requirements. Sign Up and get FREE $5 credit today! For more info, call: +91-7008220621.