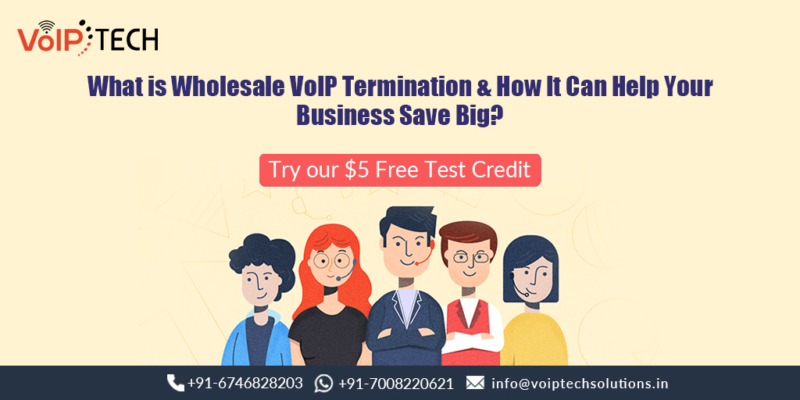 The rise of the planet VoIP is considered to be one of the most successful technological innovations by humans to date, and that's for a reason. Had not cloud-based VoIP phone systems there, could you imagine, making communication during the pandemic a possibility, where the entire world came to a pause! Coming to its technical prowess, things have never been the same without VoIP. From being in a trial period to being the mainstream communication, VoIP technology has come a long way and is still evolving keeping an eye on future assignments as well. The rate at which it's growing is said to cross quadruple of the market size in the next four years. And, all this is possible only because of the Wholesale VoIP Termination. So, what do you mean by Wholesale VoIP Termination? 
Decoding The Wholesale VoIP Termination?
Wholesale VoIP Termination is one of the key aspects of VoIP Business, you can also say it is the mainstream service that deals with the transaction of VoIP Routes in bulk. There are a number of synonyms or technical jargon used to explain the same. These are as follows:
VoIP Termination

Voice Termination

Call Termination in VoIP Based Calling
The process involves a superior call routing facility from the caller or the VoIP service provider, ensuring HD quality voice reach to the dialed number. The quantity part is taken care of by the wholesale part. Instead of wasting a lot of time by terminating calls one by one, you can terminate for a large volume of calls, depending on the business hours with wholesale VoIP. This definitely is a great deal for businesses from all walks of life irrespective of their size, right?
Table of contents (TOC):
Decoding The Current Marketing Scenarios

Introduction of Advanced Mobile Technology

Choosing A-Z VoIP Wholesale Termination
Decoding The Current Marketing Scenarios – The market is unpredictable. The traditional telecom service providers are already feeling the heat of the technological advancement in VoIP. A few of them are embracing the new trends and coping with the system as well. According to recent studies, business communication will see an expected switch to an all IP network from traditional systems by 2025. Name any mobile network operators in the world, they have already started or planning to make a switch. Google is the latest addition to this big move, as it has started to have its own VoIP systems by end of this year.
If you count the number of Skype and WhatsApp users, then you will be able to understand the need of this technology. Mobile service providers are the one that is getting a bit of jittery from the huge demand for these apps. WhatsApp and other messaging apps have already squeezed the SMS traffic to its lowest and other mobile VoIP apps in the making will lead to operators' seeing a huge fall in the revenue.
Introduction of Advanced Mobile Technology: As smartphones get smarter with advanced features, they are taking communication to another level. Powered by faster processors, built-in memory, and hands-on features, they are now playing the role of a mini-computer on the move. It shows that you can do a lot more than just making phone calls and sending messages. Isn't that great? The IP-based communication is here to stay and you shouldn't make a mistake by ignoring it.
Most of the mobile VoIP makes use of the standard protocols used by VoIP systems over any network that is IP compatible. In order to get started, you just need a Wi-Fi hotspot or 4G/5G connection. Here the phones keep their normal operation but use a VoIP server to offer the services. The best part is, both users and callers get to experience HD quality calling from any part of the world on devices of their choice.
Choosing A-Z VoIP Wholesale Termination: If you see this from a business point of view, you couldn't have asked for anything better. The amount of flexibility VoIP offers is simply irreplaceable. You can easily divert the incoming calls from the office number to employees' personal mobile so that they can have a conversation with the customers to help them out, and for that, they need to be physically present at the office premises. Do make sure you choose a Wholesale VoIP Termination provider that can provide you with services that work fine across all platforms.
Well, the underlying cost remains the deciding factor. Making VoIP calls over a 4G or 5G network is subject to data usage, which is not the case if you are connected to a Wi/Fi network. As a business owner, you need to take certain things into consideration such as; data usage, a number of uses, pick hours, to name a few.
If your business deals with the overseas market and needs to make international calls on a regular basis, then mVoIP would be an ideal way to go. You won't have to pay the overwhelming roaming charges while traveling abroad while enjoying all the benefits of VoIP services by establishing a seamless contact on the go.
VoIP Wholesale Termination offers you a lot of benefits, starting from cloud & CRM to different software solutions, ensuring smooth & advanced business communication. And, to be a successful Wholesale VoIP Termination provider, challenges are more and difficulties are always knocking at the door due to huge competition in the current market, but that's the real fun. If you are planning to start VoIP wholesale service then it is definitely a great idea. Wholesale VoIP Termination is here to stay and will rule the future market. And, keeping an eye on future expansions, you won't know what it can do for your business. With an increasing trend toward better customer experience, automation also enables a greater centralization of your business operations as a whole. Most VoIP service providers are offering VoIP wholesale plans to help companies improve their bottom line. This comes with a long list of benefits that eventually results in better ROI generation & brand value. The easier option is to hire a reliable Indian VoIP service provider that can provide you with wholesale VoIP solutions. 
Are you an emerging venture or enterprise, looking for a reliable Wholesale VoIP Termination provider? VoIPTech Solutions is the right door for you. Our network is spread over 165 countries around the globe. Our paid VoIP Minutes plan starts at $10 per month and goes up to $20 per month. Our VoIP solutions come with an extensive range of features to meet your business requirements. Sign Up and get FREE $5 credit today! For more info, call: +91-6746828203.