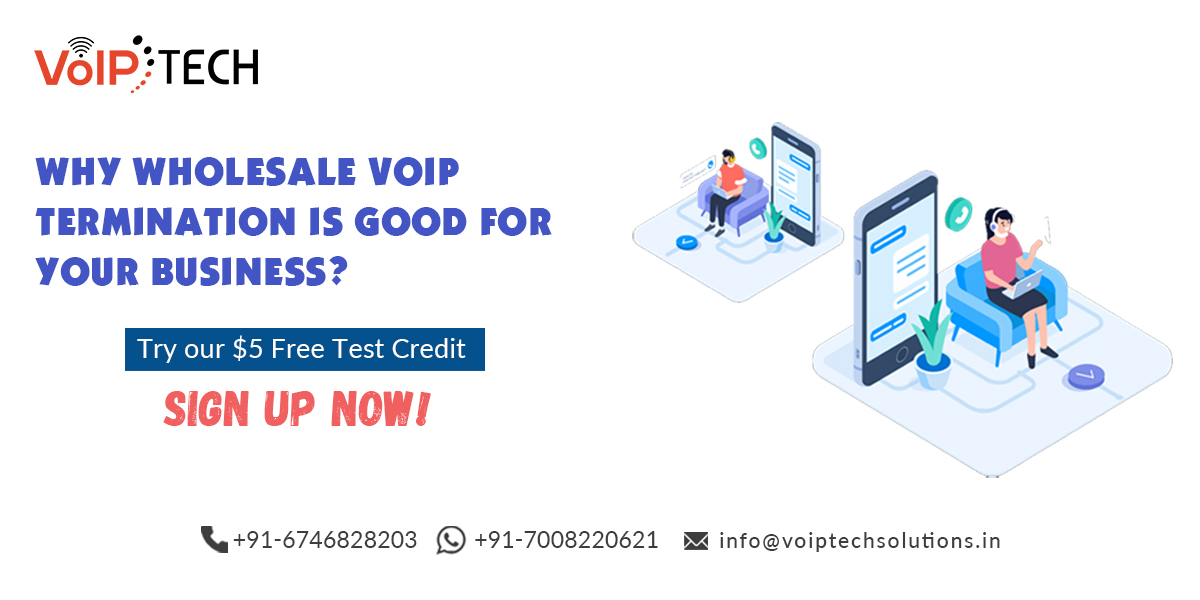 In the present scenarios, the Wholesale VoIP termination is getting a lot of attention due to its competitive index and huge benefits. Be it businesses ranging from large, small, mid-sized, or public sector organizations, all of them are investing their valuable time & money in it. Now, you must be thinking why right? Well, the reliability of Wholesale VoIP termination service is the key.
In this blog, you are going to get a lot of information, regarding Wholesale VoIP Termination and why it is good for your business. Take a few minutes out of your busy schedule and give it a read, you will thank us later. What is so special about this blog? If you are an emerging business, planning to transform its telecommunication sector, then it can help you in many ways.
Let's start with VoIP. What is it?
VoIP technology makes the transfer of voice and multimedia content, using your existing Internet connection as the carrier. Coming to its innovative features, they let you save a ton on your current business communication bills plus the reliability it offers is just out of this world.
In addition to this, you have the freedom to choose the features you want to include and the plans you prefer, along with the advanced functionalities with HD quality voice calling – no glitch, no jargons. The best part is, you will see a gradual increase in productivity & better ROI with uninterrupted communication.
About The Wholesale VoIP Termination
VoIP technology is already a hit among the netizens, businesses all around the globe, and public sector organizations are growing at a rapid speed with its unprecedented utilities. What exactly the wholesale VoIP termination does is, it empowers businesses of all sizes to make voice calls to countries all around the globe that too at a much lower cost as compared to their traditional counterparts.
Slowly but steadily, VoIP has become the primary source of business communication for organizations that have already transformed their age-old communication system and the one that is on the verge of modernization. There is a huge surge in the demand for reliable wholesale VoIP services not only in the developing countries but you can name any country in the world, thanks to its nominal pricing and advanced features.
The Wholesale VoIP termination has hit the bulls-eye, being the main pillar of communication for top enterprises, thanks to its long list of features and easy-go options. Its budget-friendly option is what attracts businesses of all sizes.
From being on the trials to coming into mainstream communication, gradually it has captured 80% of the global market. Here are the main advantages of Wholesale VoIP Termination that a business can obtain.
Being cost-savvy: Cost is the main factor when it comes to business deals of any kind. And, wholesale VoIP Termination comes with a plethora of the public sector is its highly advanced and cost-savvy features that businesses couldn't have been asked for. No hidden costs as its functionality depending on the Internet connection that most of them already have. In addition to this, you won't have to pay any maintenance or set-up cost for the VoIP system, as from the on-site configuration to the addition of extra lines will be taken care of by the wholesale VoIP provider

itself.
With all these cost-savvy characteristics, wholesale VoIP termination is definitely going to be a wise decision that a business can ever make in its lifetime.
User-friendliness & time-saving option: Apart from being so economical, wholesale VoIP termination also possesses a lot of promising characteristics, user-friendliness & time-saving options are two of them. As the whole setup is done by the service provider itself, you get hail of a time to look after other important things that matter to your organization
You can ask your VoIP service provider for on-site support and installation, also you can customize things according to your specific business communication needs.
You can expand your network: One of the key advantages of having wholesale VoIP termination is, it empowers your organization's communication structure to expand its network and go global that eventually results in increased mobility, taking your business communication to greater heights. You can take the advanced call conferencing features as an example, and it is really great for people or corporate agents that often travel abroad for business purposes. They can stay connected with their clients and colleagues while on the move. It is also a blessing in disguise for those remote workers, they can answer calls or reply through any other medium using devices of their choice. Isn't that amazing?
Better connected & fruitful communication between the employees and the manager, business & customers' irrespective of their geographical location, contribute a great amount of audacity to the overall productivity. That equally benefits the organization and its workforce
Experiencing HD Quality Calling: Quality with clarity helps you make a better deal, and that's what separates the class of VoIP phone systems from its traditional counterparts. With a reputed VoIP service provider, you can enjoy all the benefits of HD quality calls, with uninterrupted service.
The high-quality VoIP codec ensures the quality of the call, irrespective of the time, place, device, & location. Hope you have heard about the G.729? Well, if not, let's tell you that it is one of the most advanced and arguably secure VoIP codecs used by growing businesses all around the globe for its excellent use of available bandwidth. It is licensed and not prone to errors, and can be improvised with future requirements as well.
No fraudulent: You should only pay for the things that you use, right? The same thing is applied to wholesale VoIP termination as well. Why pay more for using less! You are billed for the services that you are using, not more than that. You can expect zero fraudulent activities performed, so no chance of over-billing. The best part of wholesale VoIP services is they use an authentic IP address and follow certain security protocols in order to prevent such activities. 
Seamless integration: Seamless integration of VoIP service, features, and call center software with other business apps make wholesale VoIP termination

solutions much more effective and futuristic as well. For e.g., you can easily implement the call recording feature, and that can be transcribed into messages then converted into emails, is not that great? This way you can also analyze the communication made and take the best out of it. Using those analytics, you can easily figure out the areas that need improvement and things to do in order to achieve the same. 
Why Opt for Indian Wholesale VoIP Termination Service Providers?
Choosing an Indian Indian Wholesale VoIP Termination Service Provider will bring out a hail of difference to your business communication. You can now get out of your comfort zone and introduce your business to the global audience, irrespective of the market, size, capital, and branches. Indian VoIP service providers are highly regarded for the reliability of routes used by them and back-ups in the kitty. They will be 24/7 available for you to fix technical issues or fix errors. Thus, you can get complete peace of mind, knowing your business communication is in safe hands, earning you more profits and revenues.
VoIP Wholesale Termination is not a single epitome, it combines a set of technologies, starting from cloud & CRM to different software solutions, ensuring smooth & advanced business communication. And, to be a successful Wholesale VoIP termination provider, challenges are more and difficulties are always knocking at the door due to huge competition in the current market, but that's the real fun. If you are planning to start VoIP wholesale service then it is definitely a great idea. Wholesale VoIP termination is here to stay and will rule the future market. And, keeping an eye on future expansions, you won't know what it can do for your business. With an increasing trend toward better customer experience, automation also enables a greater centralization of your business operations as a whole. Most VoIP service providers are offering VoIP wholesale plans to help companies improve their bottom line. This comes with a long list of benefits that eventually results in better ROI generation & brand value. The easier option is to hire a reliable Indian VoIP service provider that can provide you with wholesale VoIP solutions. 
Are you an emerging venture or enterprise, looking for a reliable wholesale VoIP termination provider? VoIPTech Solutions is the right door for you. Our network is spread over 165 countries around the globe. Our paid VoIP Minutes plan starts at $10 per month and goes up to $20 per month. Our Voip solutions come with an extensive range of features to meet your business requirements. Sign Up and get FREE $5 credit today! For more info, call: +91-6746828203.