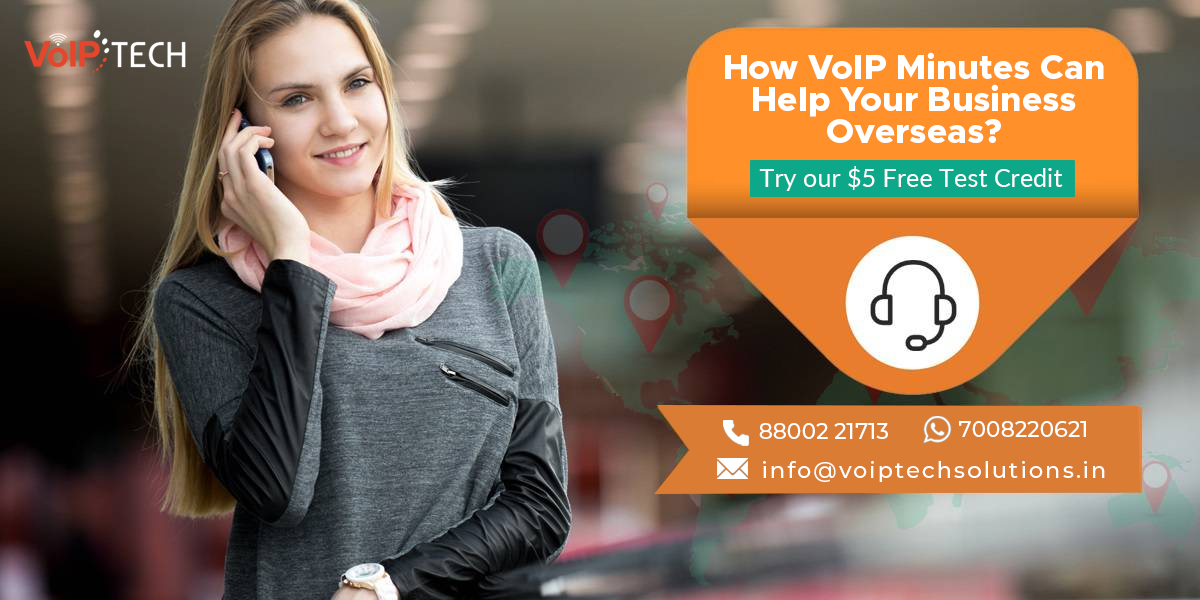 Don't you think adopting VoIP Minutes for your call center will be a wise decision? And how VoIP Minutes can help your business overseas? Well, the answer is crystal clear. Because when it comes to high expenses implement some cost-cutting methods which are undoubtedly VoIP Minutes. Before expanding their operations to regional, national, and international markets, new businesses had to cater to local customers first. But call centers have the ability to market their products or services to anyone across the globe with less hassle and cost with today's VoIP technology. 
However,  if you're not careful as the business phone systems are vital for proper communication to overseas customers then the bills and monthly fees can easily spiral out of control. So it's in your hands to choose the best VoIP Minutes provider for your business. 
Below are some points listed how VoIP Minutes can help you take your business overseas:
Enjoy lower international rates: 

Usually when compared to traditional landline service, for starters international call charges are much cheaper with

VoIP

. However, instead of the public telephone networks where the rates tend to be higher this is because VoIP calls are made and received over the internet. And there are also other providers that also offer affordable business VoIP service plans which include unlimited calling to various international destinations. And it makes sense to take advantage of a communication solution that offers lower calling rates when you consider the volume of international calls you'll be making. However, it not only helps you reap big savings but at the same time, it also lets your company generate revenue quickly.
Establish a local presence with a local phone number:

 However, through publishing a local number which is also another way

VoIP

helps businesses reach international markets at a low cost. And local numbers are specific to a local area or city which is also referenced as

DID numbers

. Even though you may be operating a thousand miles away from the territory, having a local phone number lets you establish a virtual presence. And the call will be routed to your head office, and the caller only pays local call rates when a customer calls your local number. Moreover, this makes it easier and more affordable for prospects and customers to contact you, which increases your chances of getting more business.
Maximize convenience and take away barriers with a toll-free number:

 To make you more accessible to an international audience you must have a

toll-free number

also. However, customers can call you without incurring exorbitant charges with a toll-free number. And being an owner will have to pay the associated fees. For providing quick access to sales as well as customer service or helplines, toll-free numbers are great options. And somehow choosing a local number over a toll-free number can be advantageous because not all countries can call

toll-free US 1800 numbers

. So it is quite important to know your audience well.
Take advantage of business tools:

 Usually, you need to make regular business trips to check up on your operations, staff, etc which means operating a business in multiple states or countries as well.  And it's a reality that business travel can also take a toll on your budget and bottom line while it is critical for you to personally see how your company is doing. However, it reduces the need for business travel by addressing the

VoIP technology

regarding those concerns. And you can easily communicate and work with your staff or clients from anywhere, by using VoIP features such as mobile apps and video conferencing. Apart from that, features like Listen, Whisper, Barge, and Call Recording also come in handy if you need to train or coach employees. 
Now with a number of productivity features and functions that help you work effectively and efficiently on the phone, VoIP technology routes all your calls over the internet. And as of now, VoIP is the only tool that is growing immensely. 
Below are some of the ways listed that VoIP helps to handle and nurture your interactions with customers and keeps them coming back:
No calls go unanswered: 

Always remember that

every call is an opportunity in every business. Whether it be an increase in customer churn, missed calls could mean lost revenue and a tarnished company image. However, the number of unanswered calls can greatly be reduced with VoIP features such as  Follow Me/Find Me, and Call Forwarding, Auto Attendant, Simultaneous Ring. Ensuring that more calls are answered by the right people the Auto Attendant feature, for instance, helps customers reach the right extension or department. 
Clients can reach you regardless of location:

 Does the high cost of calls really bother you while catering to more customers overseas?  However, without incurring international charges,

VoIP phone systems

let you create a local presence in almost any market and allow clients to reach you. And even just a virtual one, clients also feel more secure transacting with businesses that have a local presence. To bring in more prospects just add local numbers to your primary business number.
Keep a 24-hour phone line:

 As of now, customers expect 24/7 customer service. And the chances are they will look elsewhere for a business that can support their needs only if a customer needs something from you on weekends but can't reach you. However, VoIP's powerful call forwarding features make sure customers get service at any time by routing their incoming calls to your support team in the appropriate time zone which ultimately keeps your customers happy and satisfied.
However, for large organizations expanding overseas is no longer an opportunity reserved. Even with the help of VoIP and its cost-saving features, small to mid-sized companies can expand to other territories. Well, are you ready to take your business overseas? Just go global with VoIP Minutes!
 Being the stakeholder in this industry, VoIPTech Solutions incorporates a dynamic service which is the VoIP Minutes. We believe in providing VoIP Minutes at the most economical price. Or we can say that providing a VoIP Minutes for customer ease. For more info, please call: +91-8800221713. For more info, please visit our website: voiptechsolutions.in.