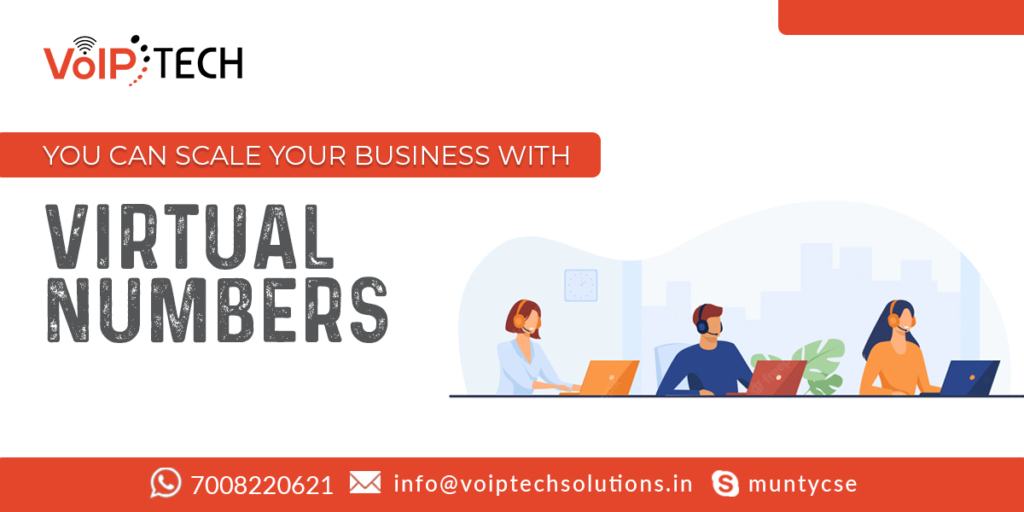 One such solution is virtual numbers, which enable you to contact all of your
customers at any time and from any location.
Managing work calls from your phone line can be inconvenient, and it also
compromises your privacy. It also doesn't scale when you add more
employees.
This is why many new and existing businesses use virtual business phone
number programs to obtain a personalized phone number.
You can use the same virtual number on laptops, mobile phones, desktop
handsets, and more. You can quickly redirect calls(inbound or outbound),
record voice messages, and give employees the same phone number.
Without any technical skills or any knowledge regarding virtual business
numbers, you may quickly and easily set up a virtual business phone
number. You simply need to download the app to your phone or computer to
get started.
What do you mean by Virtual numbers?
A virtual number is a phone number that does not exist.
A virtual phone number is a conventional local phone number that the phone
company does not associate with any actual phone or SIM card.
You can use an app to answer incoming calls via the Internet if you have a
virtual phone number. Incoming calls can be redirected to any mobile or
landline number worldwide.
Virtual phone numbers can be called from anywhere and any place in the
world.
What is the difference between a virtual number
and a regular number?
The distinction between virtual and normal numbers is akin to night and day.
To connect at multiple locations, traditional numbers require physical
landline connections (classical PBS phone system). Virtual numbers, on the
other hand, are cloud-based and run over broadband connections.
Local phone carriers assign businesses regular phone numbers and lines.
To the stated street address or area, a complete wireline is installed.
Meanwhile, because virtual numbers are linked to cloud PBX, they work both
inside and outside of the office.
Call forwarding to a business or a person is charged for physical phone
numbers. Virtual phone numbers, on the other hand, can forward any call or
number to any device at no additional cost.
Virtual phone numbers enhance data security, and data is automatically
stored. Traditional phone numbers, on the other hand, require more labor to
maintain track of the data and information gathered during the conversation.
Traditional phone numbers are device-specific, however, virtual numbers are
not. Using ordinary phone numbers will be challenging for the distant crew.
Benefits of Virtual numbers
● Expenditure Optimization
Virtual numbers do not necessitate a large amount of hardware or
infrastructure. A professional virtual number provider, such as VoIPTech, will
take care of everything. Additionally, accompanying expenses like
maintenance, additional staff, and emergency repairs become redundant.
You pay a virtual number to provide an affordable membership fee for all of
these services.
Furthermore, the VoIPTech solution offers a 'pay as you go' strategy that
allows you to scale while maintaining control over your costs.
● Personal vs. Workplace
Professionals understand how critical it is to strike a healthy work-life
balance. Nonetheless, callers bombard business owners and entrepreneurs
at all hours of the day. Your business and personal hours can be separated
by a Cloud-based number. A company can route calls to a different number
depending on the time of day. During business hours, you can receive calls
at your office (for instance, from 10 AM to 6 PM). Otherwise, they'll be routed
to a coworker or left on voicemail.
● Boost Your Local Presence
To create links with the community, businesses must blend in with the
inhabitants. Local phone numbers can help with this. As a result, a brand's
association with individuals improves, as does its trust factor. A consumer is
more likely to answer a call from a familiar number than one from an unusual
area code.
Businesses can choose different numbers depending on the city. Your
agents would have better, more customized information suited to a certain location, and they would be able to assist you in analyzing call statistics
specific to that region.
● Connectivity is available 24*7 hours
Businesses must now be linked 24 hours. A corporation can seldom afford
to miss a single opportunity to obtain new customers. Cloud-based numbers
automate this process by routing calls to the desired location. So, no matter
where you are, you can contact us. Working from home gives your agents
more operational flexibility. With this technology, you can rest assured that
you will never miss another phone call.
● Integration of IVR
Have you ever desired that you could greet your Punjabi customers in
Punjabi while your Bengali-speaking customers were greeted in Bengali?
You can do all of this and more with cloud-based numbers and IVR
technologies.
You may automate the entire communication process with Interactive Voice
Response (IVR). It greets all incoming calls with taped messages and routes
them to the appropriate agents. Callers can also take advantage of self-help
resources and priority services. Companies can boost efficiency by reducing
wait times and updating analytics.
● Portability of Numbers
A good business number is frequently used to verify your identification. If you
change your phone number in the middle of a campaign, your brand image
and sales will suffer.
Virtual numbers are easily transferable, guaranteeing that your phone
number remains yours! For a modest cost, you can transfer a number within
a city or try a different cloud-based phone service provider.
Conclusion
A virtual phone number is an innovative communication solution for your
company. It provides cost-effective features such as call routing, autonotifications, and more. Virtual number and cloud telephony solutions have already made an impact in the commercial world by improving customer experience and facilitating business expansion. It's time to utilize these
technological advancements in your business model and achieve better success.
Why choose VoIPTech solutions for virtual numbers
There are several benefits to having a business phone number. You can add
or remove numbers, personalize your voicemail at any time, redirect calls
anywhere, and request specific adjustments directly from your support
provider, among other things.
All of these features are available with a virtual phone number. Furthermore,
unlike traditional telephony systems that do not supply all of these services,
cloud-based numbers include everything a corporation needs to increase its
overall base.
Furthermore, the entire procedure is so simple to follow that it is simple to
become used to. You must first set up your Internet connection. The contact
center for your workplace phone system will then be installed by VoIPTech
solutions.