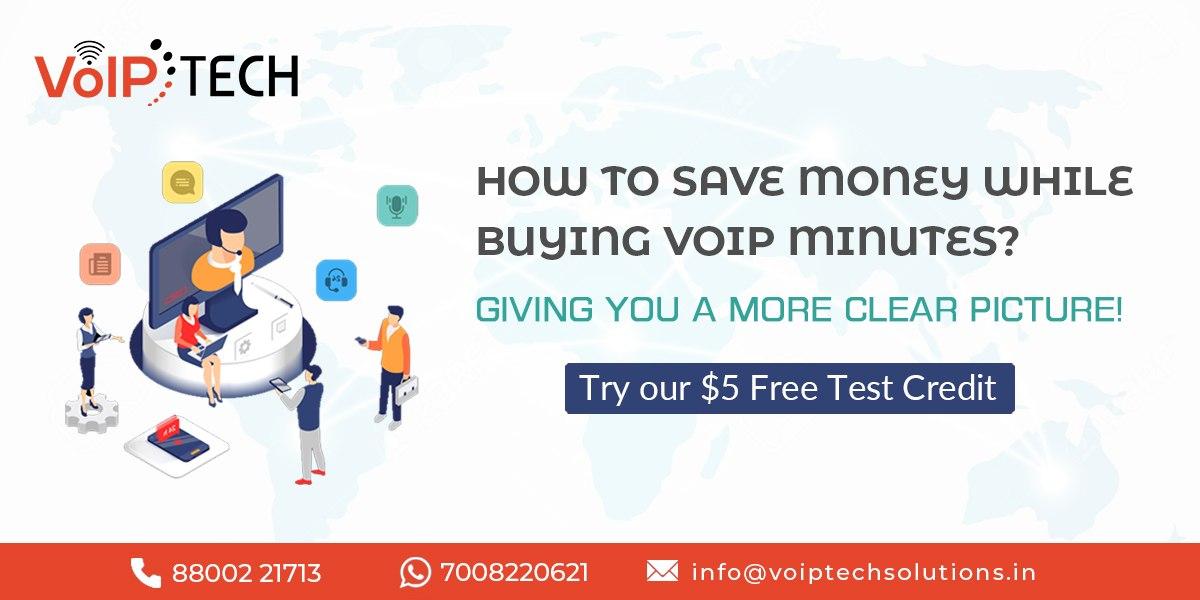 Are you looking for an ingenious technology to reduce your monthly expenses on international phone bills? Have you heard of VoIP Phone System? Well, it's worth Buying VoIP Minutes for cost reduction to a great extent and provide a great user experience 24*7. After all, you need cost-effective technology to run a successful call center. And, Buying VoIP Minutes is the most significant way of saving a ton. How exactly is Buying VoIP Minutes can help save money? 
Always remember that upgrading a new technology both for personal or business use is an expensive move. And when it comes to upgrading your call center with VoIP technology, it actually saves money even after increasing the usage and its connection speed. Since VoIP calls are transmitted over the Internet, for data and phone lines the operators do not need to be worried about maintaining the distinct infrastructure. However, usage of VoIP by consumers and businesses are two different categories, and upgrading to VoIP helps save users millions of dollars every single counting year. 
How VoIP Phone System / VoIP Minutes Saves Your Money
VoIP Phone systems can reduce your business costs in several ways. First of all, it gives more freedom to your organization, by eliminating the need for installing new phone lines. You can make sure of your existing broadband network to make the VoIP Phones operational, and the service charges, call rates are extremely cheap as compared to traditional landlines, if you buy customized business plans. You are also available with on-site service by your VoIP Service Provider for necessary hardware installation at remote locations.
Secondly, VoIP Phone systems can be operated through an encrypted VPN connection, while ensuring top-level network security. Its mobile compatibility feature makes it everyone's cup of tea, as they can enjoy all the benefits that VoIP offers on the mobile device of their choice. And, everything can be done with just a simple app integration. It allows your employees to stay connected to the workstation 24*7 and always available to take the calls, even if they are away from the desk.                
Saving Money For Businesses:
Below is the list of various categories where VoIP Minutes can save money:
Charges for Long-distance:

Nowadays every organization, be it small or medium-sized have customers, suppliers, or partners in various countries across the globe. Voice Communication – Being an integral part of any organization runs thousands of dollars per month on a traditional phone system. And for international internal calling among the employees of an organization, the calling charges are zero.

Call centers

using

VoIP technology

do not bear any charges for interoffice calls even if having multiple options like various office branches across the country, employees working remotely, working from home, and many more. However,

VoIP

allows amazing voice call flexibility to visualize the new business workflows.   
Call centers, sales teams, customer and tech support:

Considering the various departments in an organization, the departments like sales and technical support completely rely on phone calls. On a regular basis, they need to make maximum calls in comparison to other departments with specific features like call parking, representatives queues, and many more. Each feature was charged separately. The entire process was very simple and is well managed individually through online dashboards by

VoIP

which is also very cost-effective before its use. That means if the companies do not use them then they do not have to pay for unused lines, features, or capacities. And the businesses which have mostly benefited from

VoIP Technology

are the

Call Centers

.  
Various advanced features – video conferencing, presence, Unified Communication, etc.:

In this digital world, most business organizations have to be nimble, flexible, and agile to stand out among the others. To operate more effectively and efficiently they need to access some distinctive features like video conferencing or unified communications. And as of now all organizations, whether it is a small or large organization can afford this tool to fulfill their necessity. Incorporating conference calls anywhere, anytime is possible in the globe.  
And the amazing part is? VoIP integrates these features at a very low cost instead of high charges. There is no requirement of contracts for the VoIP vendors and that is the reason which makes things easier for the companies for switching, once they find a better option. If a feature is not being used for a longer period of time, then you can simply drop that from the subscription plan – a perfect step towards saving thousands of dollars over the years.            
Less Maintenance Cost:

Don't you think phone systems are proved to be a curse to success? Well, in that case, you need to prepare a budget for in-house and all the dedicated teams to address all the possible repairs. And the parts of the legacy phone systems are very expensive and are quite hard to find. And in case any issue occurs, your business need not get worried about the management of hardware or maintenance failure as the hosted

VoIP systems

are deployed on the cloud. Among all these, the prior thing is it is the sole responsibility of a reliable service provider for your company.
Mobility:

In the case of a traditional phone system, you always need to stay alert and be around your desk to avoid missing an important phone call. And if you are deciding to move your office across the other room or across the street, then you have rerouted your phone number as per your new location. Considering

VoIP

, your number represents your account number, not your physical location, so basically it travels along with you wherever you choose to go. Once you get the IP connection at your new location, a

VoIP system

will automatically recognize it and start working. By utilizing smartphone apps,

VoIP

takes mobility a step forward which ultimately makes your mobile phone an extension of your network. After that it allows you to take the business call on your smartphone being anywhere around the globe.  
Above are just some of the ways of VoIP saving the cost for many businesses no matter what was the size of it. However, it is quite important to take the right decision of choosing the best VoIP service provider to make sure that they are the best fit for your specific business demand.   
Buying VoIP Minutes from an emerging industry, VoIPTech Solutions offers the cheapest VoIP Minutes for any business for smooth connectivity. For more info, please call +91-8800221713. For more info, please visit our website: https://voiptechsolutions.in/.