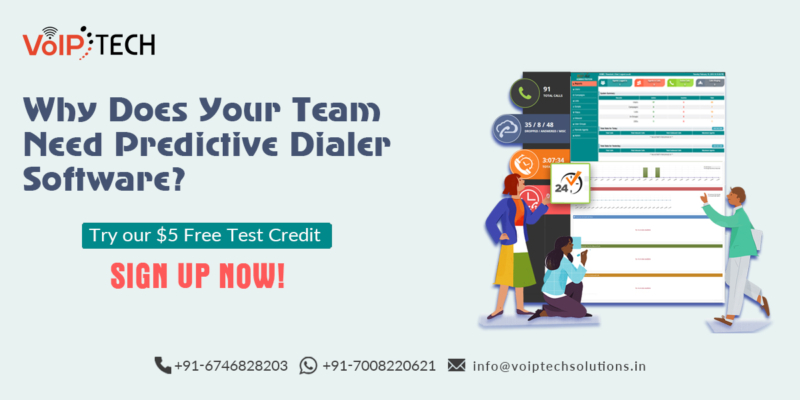 Did you know, auto dialer software can enhance the productivity of call center employees by 200-300% as compared to those that use manual calling? Yes, you heard it right! According to recent studies, predictive dialers keep call center agents away ahead of their manual counterparts in terms of speed & collective efficiency. Predictive dialer definitely increases the in-house calling capacity and those working from remote locations. Thanks to its in-built CRM platform that allows you easy integration of your company database with cloud-based VoIP phone systems. In addition to this, they also help enhance the customer CX and boost your sales prospects.
An Introduction to VTS Dialer(Auto & Predictive Dialers):
Well, VTS Dialer is a browser-based predictive dialer that can be easily integrated with CRM software to function with cloud-based VoIP phone systems. Its swift Automated Call Distribution capability and IVR system maneuverability make it an ideal choice for both on-premise. The new norm is a work from home setting.
To get started with the software, you won't have to download anything. The best part of this software is, it is compatible with all the major operating systems in the world, including Chrome, Windows, & Mac.

Let's have a look at the top features:
Automatic Call Distribution: What ACD means to your inbound calling? This feature ensures all the inbound calls are quickly routed to the concerned person or department without wasting time
CRM integration: CRM

integration provides all the required customer info or detailed profile summary, making the best out of each interaction with the customer. 

Increase in numbers of calls made per day: Powered by intelligent Artificial Intelligence. The predictive dialer definitely increases the number of calls made per day. In addition to this, the software is both universally accepted FCC and FTC compliant.
Better management: Managers can have better control over all the adminstatal blocks. By getting real-time reports received of agents' performances and metrics need to be added to make improvements. They can easily monitor the employee's activities and set a parameter for the same.
How much would it cost you?
The pricing structure is as simple as it is and basically user-based. It depends on the number of users and the billing is on a monthly basis. You can say the cost is directly proportional to the number of active users and desired phone lines. You can opt for a free demo and define your organizational requirements.
Is VTS Dialer Worth for your organization?
The software is truly worth your investment and is a must for your organization. You avail good features for the money you are going to invest. The overall user satisfaction rate is all that you need to grow your business, along with CRM integration, advanced calling features, and cloud telephony to name a few are the biggest plus to any sales team in the world.
The thing is, if you want to take it to the next level, then you have to retain your existing customers while you need to keep on adding the new ones. And, VTS Dialer simply makes the job easier. A well-organized sales strategy on board with the features of the predictive dialing software can pay in your best interest. If you are looking for some well-established names to work with, then better you opt for India's leading call center software provider that offers solutions for all types of business. 
Are you a business, in need of powerful Predictive dialer software for our team? You couldn't have a better choice than VoIPTech Solutions. Our VTS Dialer software ensures overall ease of use and superlative dynamics with its world-class features. Businesses of all types, including B2C, B2B, and telemarketing agencies can make use of VTS Dialer to get the desired results. With us, you get international phone numbers from over 165 countries. Our paid plan starts at $10 per month. Sign Up and get FREE $5 credit today! For more info, call: +91-6746828203