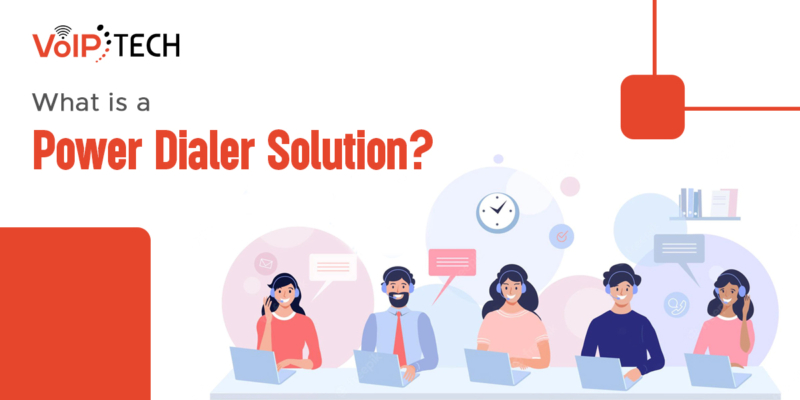 A Power dialer helps to reach more customers and increase sales for your business and call centers. Power dialer is an auto dialer.
If your outbound business call, outbound contact center or outbound call center team must dial hundreds of phone numbers every day, the Power dialer is one of the most powerful cold calling automation tools available.
A Power dialer is an outbound dialer that allows you to call a list of customer phone numbers sequentially. Power dialer significantly reduces your agent's idle time and manual effort while significantly increasing their productivity. It's an excellent way to generate more leads and convert them into sales opportunities and prospects.
What do you mean by Power dialer?
A power dialer is a system that dials numbers from a contact list to find leads for your representative to speak with. This eliminates the need for your sales rep to type in a new contact number after each call.
Many power dialers will connect via your CRM, allowing them to access your contact lists and dial numbers when the agent is ready. The rep is always on the line with power dialers, so prospects are connected to someone as soon as they pick up the phone. Before moving on to the next call, the system
waits for the previous one to finish.
As soon as the rep is connected, a pop-up window will appear with the customer's information, providing them with a brief background and personal details. However, because it does not allow for much time to develop a personalized approach for each customer, it is often better suited to cold
calls with a fixed script.
Who uses the Power dialer?
Power dialer software is useful in almost any situation where there is a high volume of outbound calls and you want to eliminate the monotonous task of dialing and selecting numbers. If you use contact center software, this feature is frequently included.
While auto-dialers are most commonly used by sales teams who want to reach as many people as possible as quickly as possible, some industries would benefit greatly from power dialers.
Power Dialer work by phoning the phone numbers on the list you add one at a time. You have the option of starting from scratch or adding the phone numbers from your account's saved contacts.
You can call the next number on the line as soon as a call is over.
VoIPTech solution provides Power dialer solutions for businesses, call centers, contact centers, etc.
What is the difference between the Power dialer and auto
dialer?
A power dialer automates the dialing process before connecting the lead to a sales rep, whereas an auto dialer automates the entire process, playing an automated message rather than connecting the lead to a salesperson.
It's important to note that there are many restrictions on the use of auto dialers, so if you plan to use any type of sales dialer, make sure you know the rules in your area.
However, because personalization is such an important part of marketing and sales, many businesses find the power dialer to be a useful tool. Power dialers delegate the talking to a human sales representative, allowing for more personalization.
Personalizing your messages and making them relevant to the person on the other end of the phone is more likely to result in a higher conversion rate.
Advantages of Power dialer Solution
● Stop using manual dialing
Give your representatives the tools they need to place more calls while saving time searching, calling, and making mistakes and omissions. Each salesman may now make up to 100 calls in an hour thanks to the use of a Power Dialer, increasing productivity by 100–200%!
● Productivity has increased dramatically
Without a doubt, a power dialer can improve both individual and overall performance.
It is a far superior approach to a representative dialing number manually. Calling with CRM is much easier than dialing by hand because you simply click the call button.
However, the power dialer alleviates this discomfort as well. All you have to do is select the appropriate contacts, and the power dialer will handle the dialing.
According to our tests, the Salesmate power dialer can double your overall calling performance.
● Establish a cold-calling routine
Develop a true call campaign culture throughout both large and small teams, and achieve exceptional outbound call rates. Plan dynamic cold-calling sessions throughout the day at frequent intervals to continually push your teams to achieve more.
● Save your large amount of time
You can save time when the dialing process is handled. The power dialer not only handles dialing, but it will also take you to the relevant record screen where you can perform the necessary action before moving on to the next call!
● More calls, more sales, and more profit
We discovered that using a power dialer allows a sales rep to make 50% more calls per day. That's a significant improvement in a call, which will allow you to entertain deals on time and ultimately close more deals.
More sales closing will eventually lead to more revenue for your company.
● Plan your entire day
A power dialer can truly assist you in planning your entire day. All you have
to do is select the calling activities that you want to do every day and press
the start button.
Features of Power dialer solution
● Unlimited calls
There is no boundary on calls, you can enjoy unlimited calling time plans. No interruption and no boundary between you and your clients or customers. VoIPTech offers unlimited calling plans for you at the cheapest price.
● Advanced analytics
It's great to make more calls, but it's even better to be able to track them easily. To track agent performance, and obtain accurate call data and statistics. It enables businesses to make data-driven decisions and gain a better understanding of market trends, customer preferences, and key
business activities.
● Virtual numbers
Virtual numbers help to spread your business all over the world, where customers easily know you and interact with you easily. You can easily react your customer which improves brand identity or also makes you a popular brand.
● Call monitoring
The power dialer offers the best Voice quality for you and your customer. We care about your privacy we don't share your personal information with others. You feel secure with us. Our call monitoring operation offers you good customer service.
● Post-call qualification period
Allow time between sales calls for reps to take notes and prepare for the next sales call. A power dialer is the best solution to improve your sale in a short period. Allowing agents to take notes during calls can help ensure that they don't forget any crucial information. When communicating with the customer,
will assist in maintaining context.
● Phone call Tags
To categorize and label your calls, use call tags. Select from the built-in tags or add your own. Additionally, you can mandate tagging for your team.
● Caller ID Identification
With incoming and outgoing caller IDs, you may raise brand recognition. assist agents examine caller-related information before they pick up the call and instantly identify callers.
Why does VoIPTech Provide the best Power dialer?
With VoIPTech, power dialing can lead to more effective phone engagements and improved customer experiences. Efficiency can be improved with CRM integration by getting the pertinent history and any prior call information of the customer your agent is engaging.
Furthermore, the VoIPTech solution Engage Voice enables you to show caller IDs so that your clients may see your brand name when you call them. Additionally, it provides your managers with the data, call list storage, and call recording they need to efficiently track the power dialing performance of
your team. Your managers can even take over a call if necessary, or they can whisper directions to your agents if they need assistance.
[/fusion_text][/fusion_builder_column][/fusion_builder_row][/fusion_builder_container]