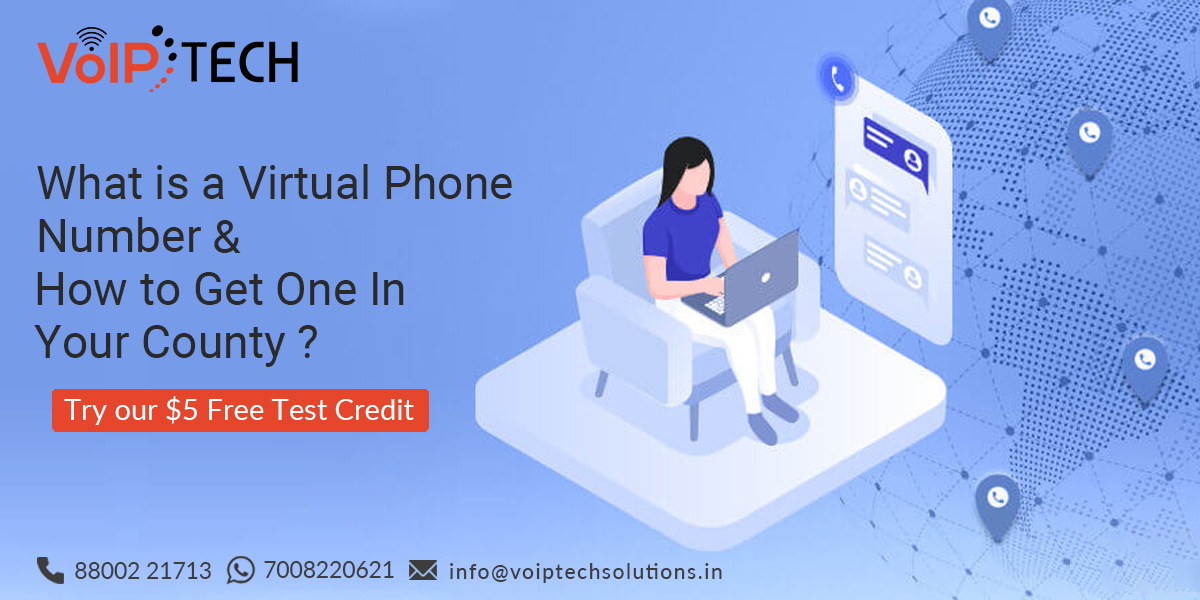 We all know that over the years customer behavior has drastically changed. As price is no longer the only differentiating factor, Customers expectations have grown tremendously in which communication has become an integral part of customer experience. Besides all of this have you ever thought about how Virtual Phone Number can fit into a business? And how these Virtual Phone Number aid in revenue generation and improve customer loyalty. Well, the answer is simple. A Virtual Phone Number operates through the Internet and can route calls to a variety of telephone numbers like landlines and mobile, unlike its wired telephony services. 
However, the variety offered fluctuates across service providers as virtual numbers are generally packed with features. And various robust features like IVR integration, auto-attendant, comprehensive reporting, and automatic SMS alerts are being advised to adopt by businesses.  By offering a wide range of solutions and products, cloud technology isn't limited to the product portfolio it offers a wide variety of features alongside virtual number solutions. Now to boost their communication and manage high volumes of incoming calls economically, most of the call center solutions employ centralized virtual numbers.  
Below are some points you need to look for in your service provider as Virtual Phone Numbers are easier to implement with the correct service provider: 
Assess The Type of Virtual Numbers:

 Varieties of contact solutions—local, toll-free, and vanity or premium numbers are being offered by cloud telephony providers. By creating a presence in varied locations across the globe the local numbers help you overcome geographical barriers. Considering an example,  you can buy a local number for Delhi while operating your business from Rajasthan. However, the charges are borne by the business instead of as customers are motivated to call toll-free numbers as they are free of cost. To encourage people to call businesses, these numbers usually begin with "1800" and are deployed specifically. 
Focus on Maximum Automation:

  For smooth end workflows and accelerated automation, searching for a suitable service is always the main objective. However, allowing you to gather information and resolve queries, your virtual number solution also offers features such as IVR or automatic SMS alerts. Through skill-based routing, intelligent AI can aid in the first-call resolution. So for streamlined operations make sure you opt for a combination of power-packed features  
Aim for Better Call Management: 

It generally acts as a sophisticated call-management suite that can better equip you to manage heavy call flows, if your

virtual number solution

is packaged with the right features. However, by saving your agents' time and energy a robust IVR lets you transfer, route, and forward incoming calls in multiple ways. For higher service quality, using the analytical dashboard, and thereby, aim managers can also evaluate customer interactions.
Explore Ways to Track Missed Calls: 

For your business, every missed call is a missed opportunity. You should always cross-check while comparing service providers whether the solution is backed by a tracking tool for missed calls. You can receive timely intimation of missed calls and improve your communications which are coupled with automated SMS service.
Employ Comprehensive Reporting: 

Call analytics have become imperative for smoothening your business processes with the advent of omnichannel customer communication. Including call recordings, missed calls, and even the quality of answered calls the dashboard allows you to access every little detail of the virtual number. However, to improve CX it also lets supervisors assess their agents' interactions in real-time, and through comprehensive reports that provide useful insights.
Continue Using Your Existing Number: 

However, to achieve a better work-life balance and create a strong brand identity that customers feel confident to reach out to is always the best preference to convert your existing business number into a virtual phone number helps a lot. Since your number is already saved by the customers, additionally, you save on the marketing cost for a new number and you're able to maintain a certain volume of calls as well. To streamline the channels further multiple extensions can be added to the line.
Pay Attention to Post-Purchase Support and Assistance:

Customer support remains a crucial differentiator for your brand,  even with a variety of features in your favor. However, by using multiple communication channels such as calls, emails it offers unlimited customer support and chats. 
There's a wide range of service providers to choose from when there is a huge demand for cloud telephony solutions in the marketplace. In many ways, you can be benefitted from a virtual number. Since it will act as a single point of contact for your business and facilitate centralized communication, it is imperative to mindfully choose the best-suited solution. In addition to features, while opting for one the appearance of your virtual number is also a vital point to be kept in mind. 
We are one of the Best VoIP Service providers in India that offer customized cloud call center solutions with Virtual phone numbers to improve the efficiency of your agents & boost your business productivity. Switch to VoIP System, walk hand-in-hand with the future. Call: +91-7008220621. Our VoIP services come with an extensive range of features to meet your business requirements. Sign Up and get FREE $5 credit today! For more info, call: +91-7008220621.