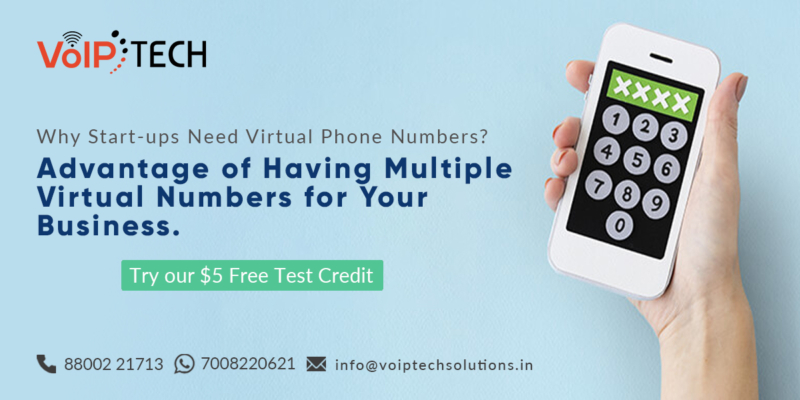 If you want to make your presence feel in the market, then you need to bring something extra to the table. In a country of 1.3 billion, you should have that x-factor that makes you stand out in the crowd, here the crowd means competition. And, if you talk about the Indian market in particular, after the Govt. of India's "Startup India" push the market it is getting highly competitive. With new players trying their luck in the market, the country has become one of the hottest investment destinations in the world, on the verge of overtaking the US and China. Your very own company may be on its way to an international funding round or still searching for that clinch, but it needs that business weapon in the armor to make its own way in the cut-throat market. There comes virtual phone numbers. Why do startups need virtual phone numbers? How does it help them? Need an answer? Well, keep scrolling down.
Let's start from the basics. What exactly is a virtual business number? It is a software automated program that forwards the inbound calls to the number or device of your choice. Isn't that great? You are not bound to stay put with the physical telephone lines anymore. Unlike the traditional ones, virtual phone numbers give you the freedom to function with flexibility, without having to compromise on the quality of service. They can easily forward both national and international phone calls to the telephone numbers of your choice. As a result, most of the startups in India are using virtual phone numbers as a centralized tool to improve their customer service.
What you gonna do, if you would like to make a purchase of any product? Think like a buyer – you would definitely like to have a word with the business, right? So, giving your personal numbers is definitely not a good idea at all. What you can do instead? Most of the present-day entrepreneurs are making a smart move by choosing a virtual phone number service. Why? No matter the size of your business & the number of employees you have, a virtual phone number helps make a customer interaction even smoother and satisfied. 
You can choose the number of your choice for your venture that will forward all the inbound calls automatically to your preferred devices, so the chances of missing a call are almost equal to zero. That means there is no headache of sharing your personal phone number with the public, no need to buy separate SIM cards. 
The difference that a virtual phone number can make to your business
First of all, you have to select a local area number. Why? A local number brings that trust factor among consumers towards your business. They feel at home when the number they dial begins with the STD code of their state. By having a local number, you are giving your customers a strong reason to trust you, as they feel like dealing with someone that they can relate with. This would definitely contribute to the expansion of your business, by reaching a large chunk of your target audience. 
One number, many benefits:
To your knowledge, not all virtual business numbers function the same way (as the name suggests). Put simply, some of them work as "forwarding addresses", and the auto-attendant feature is involved with the rest. You can take advantage of this feature, by choosing calling options to business number—or business hours—answering a call with auto-response, depending on the nature of the customer query. Thus giving great customer service 24*7 and saving valuable time for your agents. After all, customers always expect more from a business and the expectations keep growing day by day. So, unanswered calls can lead to customer dismay, which is very unprofessional for businesses of any size.
The best part is, they also help gather necessary info on the busiest days and hours for customer queries. Especially, after a product launch, virtual phone numbers can be a useful tool to track customer reaction. Eventually, it contributes a big in generating more revenue and building customer loyalty towards your brand. Cloud-based virtual number solutions can be a great way to manage incoming calls when you are running out of time by saving resources and the amount spent on them. VoIPTech Solutions offer the most sophisticated virtual number solutions that come with highly advanced features such as call management suites and support IVR solutions. 
These days, you are available with a number of virtual number service providers to choose from. But getting the right virtual phone number can be a plus, as no business can manage inbound calls efficiently. So, before you make a decision, do make sure you compare various Indian service providers to get a number that comes with very useful & advanced features such as; call management suite, IVR set-up, real-time reporting, and notifications via SMS. And, keeping the current situation in mind, virtual networks are now becoming more valuable than the physical working space, breaking the barrier of geographical barriers in the ease of doing business. 
With the world moving to a new era of doing business, sharing information & technology can be a great asset to empower startups in scaling up their productivity. And, virtual phone numbers doing a great job, by bringing newbies in the market to the frontline.
Why is it essential?
If you want your business presence to feel in this highly competitive marketing landscape, then virtual phone numbers can be a real help. It can reach your target audience base at a time, leaving a lasting impression on your brand. A sophisticated virtual number can be able to win the loyalty of more customers, just as aides in structure positive associations with current ones. VoIPTech Solutions is a leading call center software solution provider that offers you local & international numbers for all types of business. Its out-of-the-box VoIP solutions help businesses to make their presence feel in the market and generate new leads.
Now you must have understood how virtual business numbers work and the ways they can benefit your organization. So, what are you waiting for? Join your hands with the best Indian VoIP Service Providers & take your business to the next level.
Are you a mid-sized business or an enterprise, looking for VoIP Providers that can provide you with sophisticated virtual numbers? You couldn't have a better choice than VoIPTech Solutions. We offer you virtual numbers with the most advanced software that works with any smart device. With us, you get international phone numbers in over 165 countries. Our paid plan starts at $10 per month and goes up to $20 per month.
Our VoIP services come with an extensive range of features to meet your business requirements. From small & mid-sized organizations to multinationals around the globe, all are now looking forward to VoIP Service Providers, India for cost-cutting & future-proof their communication systems. Because VoIP has the potential to take your business to new heights & double your profit. To get started with VoIP Services, call: +91-7008220621. Sign Up and get FREE $5 credit today!