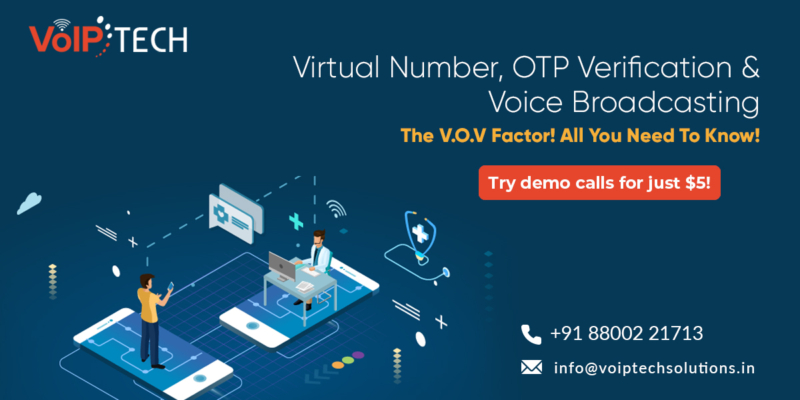 Don't you think adopting cloud communication services for your call center will be a great option? However, the companies must learn to focus more on utilizing their energies on creativity and productivity. And for that, there are many phases that will definitely teach you how to be successful. While considering all the best practices never forget the three main factors that are the VOV factor – Virtual Number, OTP Verification and Voice Broadcasting. Because ultimately all you need is to generate greater revenue. However, these three Virtual Numbers, OTP Verification and Voice Broadcasting have the potential to inject life into your call center. 
When it comes to an excellent provider, all you need to do is choose the best competent software that can provide the best package. As a good business owner, always go for detailed research on all types of workflow management services. However, Virtual numbers, OTP verification, and voice broadcasting take your business to the next level. 
To ramp up the revenue of your call center choose the OTP service and a voice broadcasting solution :
Keep your customer experience sky-high: 

Without the need for any physical phone lines,

virtual number

allow voice calls very easily. Especially at this Coronavirus outbreak, your call center needs it the most which help to keep your customer relationship management score quite high. However, by avoiding personal and professional confusion when agents used to work from home, a virtual phone number allows you to have a single point of contact. Customers inquiring about emergency updates, new offers, existing dues, or any shipment queries automatically increases the call voles as well. You can save up on unnecessary expenditure that can be used elsewhere only with no requirement to set up new infrastructure or by simply employing more agents. However,  to meet daily targets work from home also sometimes means using personal resources but at the same time, a virtual phone number won't let customers know the difference by forwarding all calls to your office extension.
VoIPTech Solution – a cloud telephony firm is completely equipped with management software that is easy to use and understand and provides the best virtual phone numbers. To study and improve the problem areas, a central dashboard is configured with call recording and analysis tools which easily generate push reports for managers. As it is a high return on investment, reviewing and feedback both are critical for any call center to grow.  
Eliminate fraud in everyday operations: 

However,

OTP SMS service

should be at the top of your security checklist only if your company is hoping to become the foremost. Ensuring your sincerity towards the customers about their private information makes them more inclined. Thus, an OTP service undoubtedly adds a strong layer of verification that eases new user tensions.
From a randomly generated string of numbers or letters, an OTP is created. When customers put in a request to your portal which requires complete authentication processes such as creating a user account, booking an appointment, or putting in credit card information before purchase. After that, it can be punched in via SMS, voice calls, or an email link once the code is received by the user. It has almost become an intuitive part of using the Internet as most consumers today are acquainted with how OTP works. 
Leave a memorable market footprint: 

We all know that social media advertising budgets are increasing day by day. However, many choose to now go on social media detoxes that provide relief from shiny consumerism with thousands of colorful, visual ads daily and have reached the tipping point by the customers. But you are missing something, there are millions of customers who might be curious about your product or service, but don't have Internet connectivity. At that point in time, a voice broadcasting solution is a right choice when you are planning for campaigns. 
When your agents' skills and productive work hours could be used elsewhere, do not waste time on cold calling. To grow your marketing database, without any hardware hassles quickly set up a secure voice campaign and connect with untapped consumers. However, it makes an immediate good impression with this voice broadcasting service. 
As per your product or segmentation needs, multiple campaigns can be easily administered through a central portal and can also be customized. Immediately patch your interested callers to live agents, once your voice broadcasting campaign successfully goes through.  From the cloud telephony provider, the conversion rate can easily be tracked through scheduled reports, and any troubleshooting solved via 24/7 customer support. 
To make the customer experience as easy as possible, your call center must be willing to show them that it has the dedication to install modern-day features. However, miscommunication can be forgiven, but mismanagement won't be forgotten.
We are one of the Best VoIP Service providers in India that offer customized cloud call center solutions with Virtual Numbers, OTP Verification & Voice Broadcasting to improve the efficiency of your agents & boost your business productivity. Switch to VoIP System, walk hand-in-hand with the future. Call: +91-7008220621. Our VoIP services come with an extensive range of features to meet your business requirements. Sign Up and get FREE $5 credit today! For more info, call: +91-7008220621.