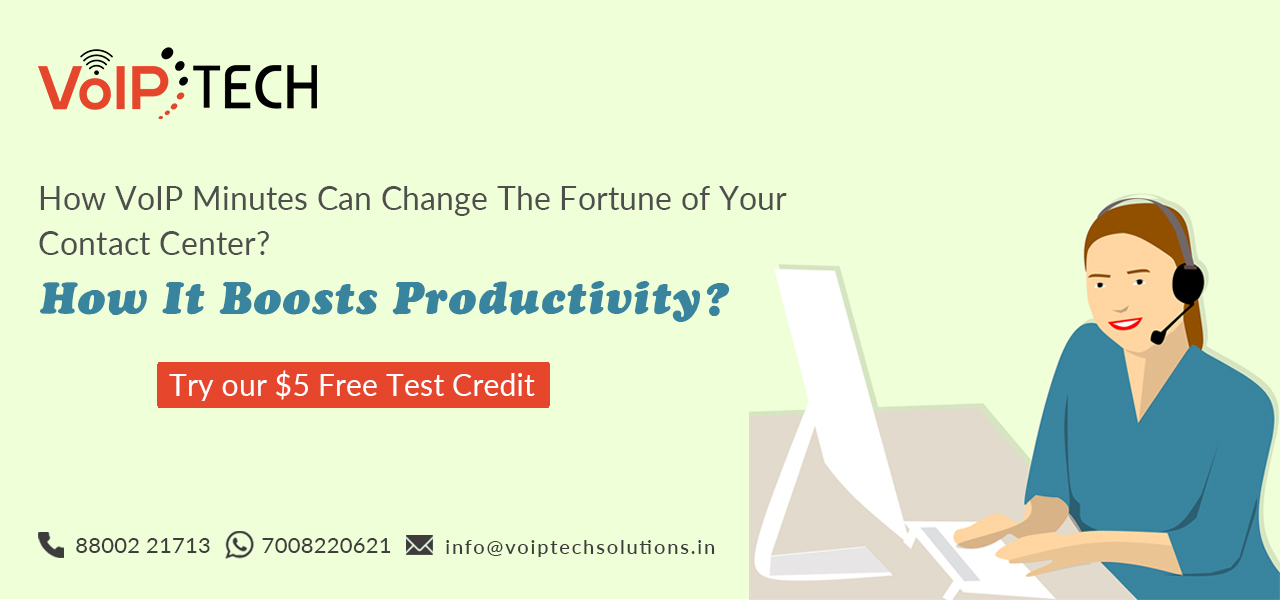 Are you a contact center that wants to break the jinx of geographical barriers and go international? Well, if you are thinking so, then it's' definitely a great idea. What you need is, just to replace your old phone systems and take a fresh start with VoIP phone systems. Yes, you heard it right. With the advanced calling features of VoIP & Free VoIP Minutes, you can just take it to the next level. You can buy VoIP Minutes from one of the most decorated VoIP Service Providers in India, VoIPTech Solutions. 
For any business, customer satisfaction is a must to excel in this highly competitive marketing landscape. They hold the key to growth & sustainability. So, do make sure you have the right kind of technology in place to ensure a smooth run of your business with long-term goals. And, call center solutions, in general, are heavily dependent on phone calls to generate quality leads that's where VoIP Minutes come into the picture.
Knowing your customers better is the first step towards creating a more humanly and satisfying experience. But your ability & technical prowess to act on those insights fast & give solutions would certainly make a difference. Just responding to a customer query is not enough, anticipating his/her future needs can pay in your best interest as well. By having all the elements in one channel, you can certainly raise the bar of your customer support.
With the rapid advancement in technology, now-a-days you are available with an array of advanced, intelligent, & automated solutions that can improve your customer experience to a great extent. What you need to do is bid goodbye to your traditional phone systems, integrate Cloud-based VoIP Solutions in your organization. And, there is a great role of VoIP Minutes to get the best out of your VoIP solutions.
Why choose VoIP Minutes?
VoIP minutes helps in saving up to 75% on international telephone bills and also improves the standard of calling to a great extent. You can enjoy the HD call quality with VoIP minutes and you only pay for what you use. What's extra you get:
HD Quality Voice Calling with Clarity

Remote Working

Most Advanced Calling Features

Use of Existing Bandwidth, No Need to Buy a New Connection

Almost Half Reduction in Your Telecom Expenses
Things to Keep in Mind While Choosing A VoIP Calling Plan:
Unlimited Calling Plans

Free VoIP Minutes

Attractive Pay-As-You-Go Rates

Location Independent

Unified Communications

Advanced Tools

No Hidden Fees

24/7 Technical Support
What VoIP solutions exactly does is, it uses cloud technology to connect all communication through a single thread, providing you a unified, secure platform to communicate with your clients. You can stay sure that every single tool & communication system is interconnected to each other, working fast & is highly responsive. The best thing is, you don't need to buy any on-premise hardware or build a special architecture to have your VoIP business phone systems working to their full potential. Isn't that great? No interruption and no stoppage – enhanced productivity with better efficiency.
So the very next time you think of having meaningful customer interactions, consider the service of VoIP Minutes Provider In Bangalore to yield the maximum benefits. The best thing is, you are now equipped with a high-end communication system that empowers you to speak the language with a tone that your customers would love to listen to. Being the leading provider of low-cost VoIP minutes in the market with high-quality services, VoIPTech Solutions solely focuses on meeting the customer's unique needs with 100% precision. With a fully automated system, we never delay delivering our high-quality VoIP services to our customers. 
Here, you are available with both pay-per-minute plans as well as unlimited minute plans. With many add-on features, the overall price depends on the total talk time for each month. And the best part is, the unlimited plan has a tremendous impact on the overall price which ultimately helps to drive more users. Isn't that great? 
How It Can Boost Your Productivity?
In this highly competitive digital world, you can't fight the odds without having free VoIP Minutes that can actually deliver for your business. Most of the modern business phone services have already tested the success by providing a great user experience to their customers with unlimited VoIP calling plans. So, why haven't you capitalized on this technology yet? If not, then this is the best time to do it. 
Are you a business or contact center solution, looking for VoIP Providers that can provide you with VoIP Minutes at the lowest price in the market? You couldn't have a better choice than VoIPTech Solutions. We offer you low-cost VoIP Minutes for business calling with the most advanced software in the world that works in over 165 countries around the globe. Our paid plan starts at $10 per month and goes up to $20 per month. Our VoIP services come with an extensive range of features to meet your business requirements. Sign Up and get FREE $5 credit today! For more info, call: +91-8800221713.