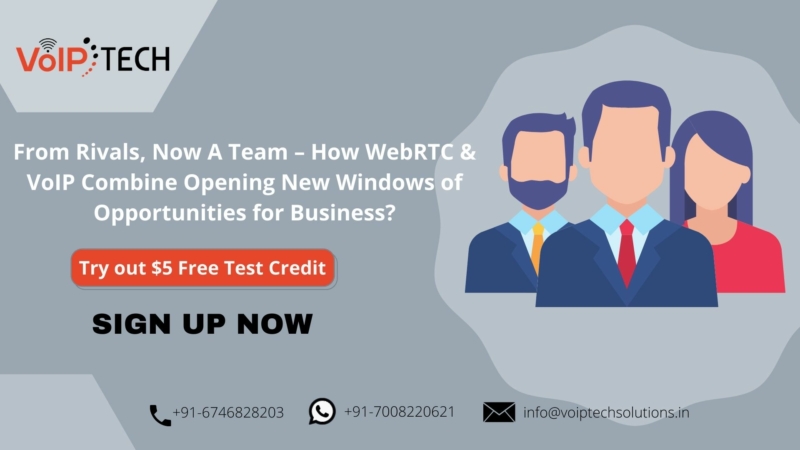 Change has become the ultimatum for industries from different parts of the planet. As a result, the technology is going through a rigorous transformation stage, due to market vacillation. You go to bed with the technology of today and wake up to a new one, yes that is all happening around and for a good reason. If you talk about web technologies especially, they are evolving like fresh air, with a promising future. You can take mobile messaging as an example, do you remember how people started with SMS and then went past sending MMS. Today, mobile messaging platforms continue to evolve and rule the world with the growing demand for instant messaging apps like, Watsapp, Telegram, Facebook Messenger, and WeChat. And Adobe Flash Player (which was once the dominant player in the video and rich media plugin world) has now become a thing of the past or outdated tech with the advent of the high-end HTML5. If we take a look into the business communication systems, the VoIP Service is receiving new updates for the betterment of its features – thanks to the development of the WebRTC solution. So, what exactly are WebRTC solutions?
Would like to know about WebRTC Solution? Read this blog.
The abbreviated version of WebRTC looks like it is as simple as a formula. It stands for Web Real-Time Communications. It is neither a new technological realm of VoIP nor a competing technology. It is a simple extension of VoIP that allows a user to place HD quality audio or video calls and even share documents directly through a web browser with the help of simple APIs (Application Program Interfaces) without using any complex plugins. Name any top browsers, be it Google Chrome, Mozilla Firefox, or Opera, WebRTC is supported by almost every browser.
The role of WebRTC Solution in facilitating the VoIP technology
Most people think that WebRTC is an alternative to VoIP; but in actuality, the reality is something else. The application of WebRTC takes VoIP to new heights and makes it appealing to businesses of all sizes and widespread adoption for its amazing features. Here you can see how WebRTC breathes new life into VoIP:
Greater Accessibility: The use of

VoIP services

can be found in any business circle, be it business phones or mobile apps. However, with

WebRTC application

s

it can be more lethal, secure, and connecting. As now developers can easily infuse the incredible capabilities of VoIP applications directly into their website. Now, you can start a voice call, join a video conference, or even send documents straight from your browser, and for that, you don't need to install and update any new software and no plugins are required. 
Easy Setup: In general, the installation process is far easier and faster than its transitional counterparts. And, with WebRTC the process becomes even faster and more hassle-free. Why? Well, being a modern-day browser-based technology,

WebRTC

requires no additional on-premise hardware or external support for the installation. More savings, easy setup.
Better Client Communication: WebRTC empowers the

VoIP phone system's

ability to go faster when it comes to establishing business communication with clients and customers alike. By enabling both audio or video call options in the website, it allows a faster & convenient approach to customers reaching businesses with a single click.
You Experience Improved Call Quality: It helps improve the call quality of

VoIP phones

to a great extent. The high-end audio codecs used by

WebRTC

do the rest. Users can experience a far more richer and natural voice quality from any corner of the world. It cancels the noise and echoes of the surroundings while eliminating the technical barriers that can make or break a potential business deal.
High-end Data Security: As a business owner, you can stay assured that your calls are secure. The high-end security encryptions used by

WebRTC

are almost untouched by the hackers, so your data is secure. No one can hear the business communication or get access to vital data.
If your contact center solution or any business that likes to explore its VoIP calling capabilities it may be worth searching for the best WebRTC service providers. With the rate of progress, the present organizations confront, joining with the need to control costs and convey dependable customer services with advanced WebRTC solutions could be the most effortless choice you'll make.
Do you want to take advantage of the latest WebRTC solutions? You couldn't have found a better choice than VoIPTech Solutions. Our out-of-the-box WebRTC solutions will ensure your VoIP capability is enhanced at a budget-friendly price. We offer you a robust and fully functional WebRTC software solution that works with any business phone system. With us, you get international phone numbers from over 165 countries. Our paid VoIP Minutes plan starts at $10 per month and goes up to $20 per month. Our VoIP services come with an extensive range of features to meet your business requirements. Sign Up and get FREE $5 credit today! For more info, call: +91-6746828203.