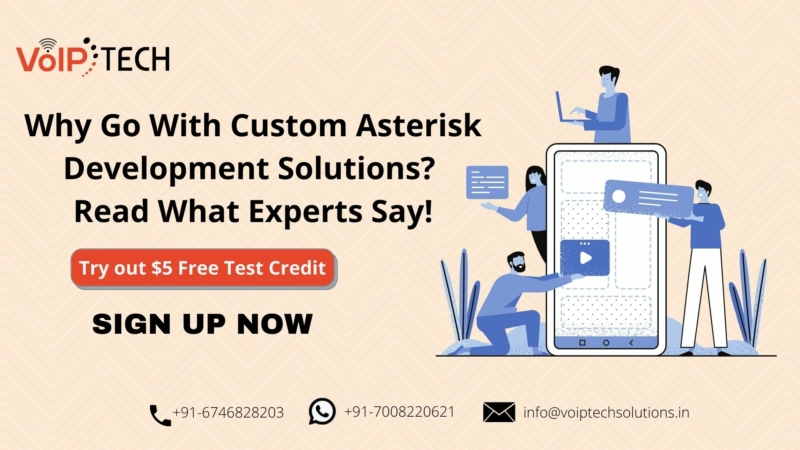 These days companies are trying new things to get customer attention or improve their experience. And, you may not be an exception! In the present scenario, you can subscribe to any feasible plans available or purchase software solutions with advanced features to fulfill your business requirements or to introduce new ideas. But, when it comes to getting that 'wow' factor, you need more than the ordinary. Just like your current business communication system that needs high-end custom Custom Asterisk Development. How Custom Asterisk Development can help your business? What do you get from it? Do you need it?
Well, you must have a number of "ifs & buts" going on your mind, right? Because the technology is so vast that without knowing it for the core you can't make a decision. To help you understand the technology, let's start from scratch.
Proper Dialplan Programming: You may not avail of a proper dial plan setup with most of the standard IP PBX solutions or generally they don't have. You could not have found a better way to route and manipulate the calls that too in a contextual way that is the specialty of Asterisk Development.

It's an ideal way to go when you have a number of extensions in use, and it is highly beneficial for your custom display programming.
Phone Number Verification

: All of us must be aware of the phone number verification that is in general conducted by the telecom service providers. You can also carry out phone number verification for your business purpose with Asterisk Development services. This is the best way to identify the authenticity of visitors that register on your website, probably the simplest way to make sure they are all live human beings, not robots. A credible way to prevent hackers from harming your database, by identifying bots deliberately flooded into your site. In addition to this, it gives a sense of business authenticity to the visitors and you end up, creating a long-lasting impression in the minds.
Integrating Click-to-call Button

: Every day there must be 'n' number of calls going or coming to your business numbers, and especially the Call center agents must be dialing throughout the day as per the routine. With

Asterisk development services

, call centers around the globe can custom develop Click-to-Call for one-touch go. You can use the Asterisk PBX extension that allows you to make direct calls, using the CRM, Helpdesk, or webpages. Apart from this, you can search the phone numbers you are looking for and can easily convert them into clickable links, using the click-to-call button. You can receive the notification for the incoming calls as well.
More Power to WebRTC with Asterisk: With WebRTC service, you can do many things such as; making audio-video chatting using the web browser, video & audio conferencing, exchange of necessary information in the form of documents. However, you will require API integration for the same. And, in order to make it work, you would be needing a different channel. You can make the WebRTC

, functioning with your current

IP PBX

or

call center software.

How? It's as simple as it is. Just ask your Asterisk Development service providing company to integrate the solutions, so that you can leverage all the advantages of Asterisk solutions. The best part is, the functionality of IP PBX can be improved to a great extent and remote collaboration becomes effortless & more productive. The session rehydration is aligned to automatic mode, which is really useful in case of poor internet connection that leads to connectivity issues or maybe for any other reason.
Use of DID Numbers

: Of course VoIP gives you the freedom to establish better communication, freeing you from the burden & jargons of PSTN. But, the

DID numbers

provided by your SIP providers when integrated with the current IP PBX. You can avail of a specific DID number with the Asterisk development service that helps your business connect with customers from anyone from anywhere around the globe. You can easily automate all the inbound calls and traffic without any major changes. With the right VoIP service providers, you can even go for

mobile number portability

.
Web Conferencing Solutions

: Do you remember the initial days when

Covid-19

has just started to spread? And, hope you remember the consequences as well. Remote work being the new norm and most of the companies adopting the remote-work culture, businesses looked for a technology that can play a bigger role. With travel being restricted and offices moved to remote space, teleconferences were the only way to establish communication replacing in-person meetings. Traditional teleconferencing systems have their own limitations that don't support a business to function the way it would like to and in addition to that, the process is also complicated and costs a ton. And, that was the start of the

Asterisk

era. The conferencing solution it offers is simply in the favor of any business.
You can instantly connect to the PSTN and VoIP solutions, by using its multi-protocol access feature. With Asterisk now multi-party full-duplex conferencing is possible and that too even with a better experience, thanks to its advanced integrated conferencing features. You can record voice during an ongoing live conference as well. If you have the administrator login, you can easily set PINs in order to protect certain files or databases and can add people that you would like to take part in the meeting. There is no concept restricting users/seat-based license holders. The person with the admin login can set the program to exclusively connect directly with the existing PSTN system, bypassing the PBX.
Using The Power of Dynamic IVR

: No matter what kind of IVR system you do have or what sort of functionality they do possess, with Asterisk development you can make your current IVR system more dynamic. You can easily keep track of the prompts and the way they work and modify them according to your needs, to improve the customer experience. The main advantage that the dynamic IVRs give over the fixed IVRs is, they can be programmed by the users. And. not to forget mentioning about its remote working features, which is vital for the years ahead.
The best part of having Custom Asterisk Development is, you are equipped with the right set of features and its quick setup saves your valuable time, which was not the case with others. You can transform your current workplace, by moving with enhanced efficiency and ensure better productivity in a time that requires more from a distributed business establishment.
Not necessarily every business has its own in-house team of developers that can be assigned with the task to build a system from scratch. If you don't have your in-house team or budget that does not allow you to do the same, then opting for Indian VoIP providers to avail of Asterisk Solutions is the ideal way to go. Their developers would create preconfigured, pre-installed Asterisk servers, keeping the core components of your business in mind. You can integrate them with other software and hardware components according to your business needs. The entire configuration and customization would be taken care of by the service providers themselves.
To know more about our customer Asterisk Development solution, you can visit our website or speak to our support team for help.
[/fusion_text][/fusion_builder_column][/fusion_builder_row][/fusion_builder_container]