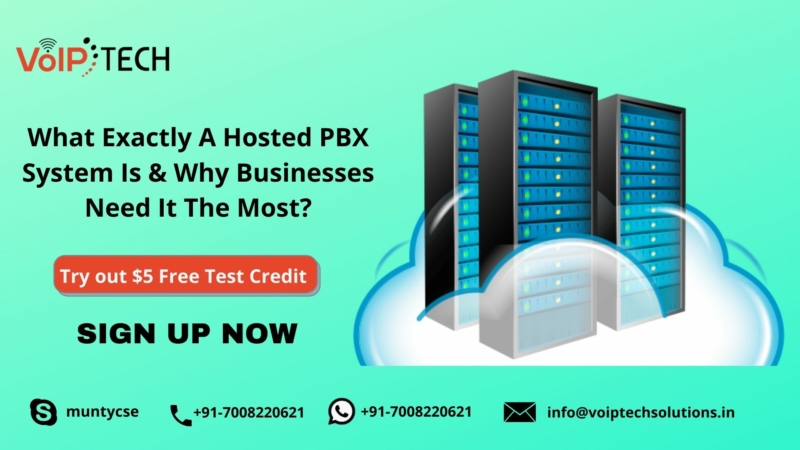 Are you an enterprise, looking for an advanced communication technology that can give you agility and mobility? Well, a Hosted PBX System is the perfect answer to your communication needs. These days, an increasing number of organizations are relying on Hosted PBX Systems to compete in this changing marketplace. What exactly a Hosted PBX System is? Would like to know? Keep scrolling down.
Being the only cost saving and limited maintenance system, it is hosted off-site and over the Internet instead of physically located. Hosted PBX is the only cloud-based phone system that helps in switching the phone calls between different lines within an organization. As it is managed off-site, the need to invest in hardware, training, software and also daily maintenance is completely eliminated. 
How does it work?
Generally, there are three basic factors to a virtual PBX: the hosted PBX provider, a VoIP Phone and the last but not least the prime one Internet. After the complete set up, the phone connects to the PBX host through the Internet, which makes a hindrance free calls anytime, anywhere. 
After switching to cloud phone services, the Hosted PBX service takes your company's place along with all the outbound and inbound calls going through them. And the best part is? It maintains your complete phone system. In case of data down, all your calls will be forwarded to another data center without any hindrance to your calls. Having an efficient team of professional staff, always ensures a complete and secure phone service. Apart from that everything is well configured and maintained by the service provider earlier and the only thing you need to do is just log on to the online portal for making calls through the Internet. And if you need any changes, then through a single click all the changes will be updated instantly within your online portal. 
However, in order to adapt to a business changing environment hosted PBX systems have many effects on organizations who really want to build effective operations i.e;
Quality Customer Experience (CX)

Amazing Cost-Efficiencies 

Increasing Capabilities

Scalability

Mobility

Highly Flexible 

Completely Responsive
Key Capabilities Of Hosted PBX System:
Hosted PBX is the only telecommunication solution that provides a great dimension to the companies who really wanted to do a smooth business. For that, you need to add some key capabilities which are listed below:
Great Inbound Call Management

Call Forwarding & Routing

Auto Attendant just like Press 1, Press 2 

Smooth Workforce Collaboration

Call Recording Process

Unified Communications

Configuring Multiple Sites

VoiceMail to Email

Changes in Management Portal

Dashboard Reporting

Great Mobility such as a Mobile App

Monitoring Live Call

VoIP

Total 1300 Number Integration
Advantages of Hosted PBX System:
Before setting up a hosted PBX, there are plenty of benefits. But the most significant one over traditional PBX is many, just like initial configuration, set up as well as recurring and maintenance charge. 
Benefits of Hosted PBX include:
Extra charges like setup, maintenance and the overall upgrades of a traditional

PBX

have been removed. 

Anytime access to toll-free numbers and local phones as well. 

Advanced capability while dealing with inbound call spike

Increased security and reliability

Depending on demand, the quick scaling up and down ability

With zero additional costs, one can add new features and upgrade the existing features as well. 

With no downtime can go for advanced infrastructure for business continuity.
Amazing Flexibility beyond Imagination: Hosted PBX serves as an amazing feature. By offering unified flexibility, it changes all the call settings in an instance of time. And whenever you choose to switch the settings like call forwarding, call transfer and voicemail to email, Cloud PBX allows you to do it effortlessly. However, you do not need to wait longer for your telecom provider for any call setting changes you require.   
Reliable High-Performance: The most important benefit of a hosted PBX system is, it offers reliability and security to your business. And also it reduces many potential issues as it does depend on a landline connection. And the most amazing part is? You can get assured with the business continuity, as the service provider has a sufficient network of data servers all over the country. And in case, any fault occurs that hampers your business, then you do not need to be worried about. Because regardless of the fault, your telephone system will still run up on-site.   
Remote Working Is Not An Issue: We all are aware of the COVID-19 pandemic and the disaster caused to the companies. But many organizations have allowed their employees to work from home without any hindrance to the business. In this situation, Hosted PBX plays the sole role by allowing the employees to get in touch being anywhere on the globe as long as they have secure Internet connection. And without any additional installation cost or equipment charges, calls can be forwarded to the employees phones or laptops.  
Quick SetUp & Low-level Maintenance: Setting up a hosted PBX system without any disruptions takes a very long time. And unlike it's a traditional PBX, on-site infrastructure is not required to implement and once it is set up, the maintenance and updates will be provided by your service provider. This helps in the less cost for a full-time employee to manage an on-site PBX and more for running operational costs. 
However Hosted PBX serves the most amazing reasons for many organizations or business leaders to adopt this unified technology;
Zero Upgradation due to handset firmware updates and continuous software

Amazing cost saving 

Zero Capex

Price Models are scalable
As of now the business owners are really concerned about providing both quality response to the clients along with a work-life balance to their employees. So to make both the things balanced, the Hosted PBX system really helps a lot. This new technology not only adds flexibility to the employees but also makes them comfortable being outside for meetings or personal time without any stress regarding the missed out messages.  
Ultimately the demand for Hosted PBX systems  is growing. If you're looking for a client  rich website then VoIPTech Solutions is the one stop solution for you! To get started, call: +91-8800221713. For more info, please visit our website: https://voiptechsolutions.in/