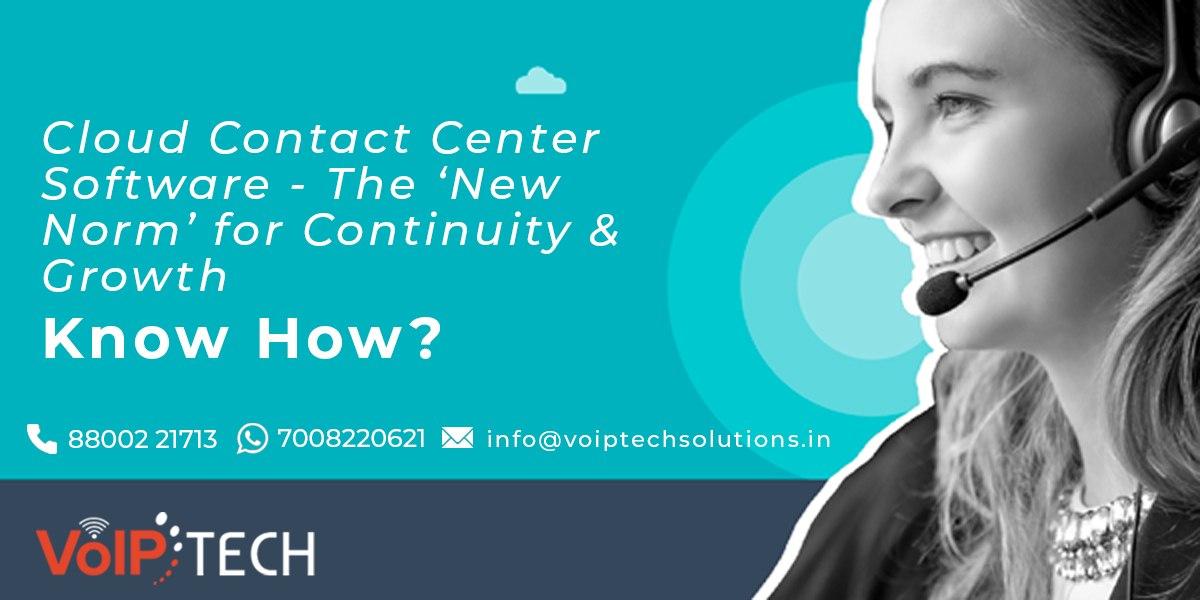 Don't you think building a relationship with each and every customer with a robust, scalable, and integrated cloud contact center software will be a great choice for your existing system? Well, YES!  Because "cloud-based contact center software" has become the most important platform for every organization to maintain business continuity and support remote working in this pandemic situation. Would you like to know how the integration of cloud-based contact center solutions can improve customer service? Keep reading.
Cloud Contact Center in Chennai, India is an amazing platform that manages your call center from one single platform. It well manages customer services across all touch-points that include voice, text, chat, social, email, and many more. We all are aware of the fact that Covid-19 has an adverse impact on business across the world. Most of the organizations have restricted the employees working on the site, rather allotted work from home to run their business. So in that case, many organizations find an innovative way of working while protecting the health of the employees.
Welcome Cloud Call Center Software Setup, Hello Increased Efficiency:
When we are choosing a standard call center, it comes up with higher turnover rates. And it's very difficult to handle your employees when they are confined within a wall. And when you are supposed to hire more employees, you really need a bigger place, which is ultimately time-consuming and very limiting for a growing business. 
That's why choosing a cloud contact center is the right choice that lowers your organization's turnover rate. And the best part is? They can connect being anywhere. Be it office trips or vacations, it does not matter. Now every organization is adopting the cloud contact center software. So why not you? 
Below are the key points listed:
Can manage calls being anywhere. Office trips or vacations, it does not matter.

The whole team is being structured through Automatic Call Distribution and some digital categories. 

Hiring is flexible for the company.

Communication becomes easier through video conferencing or various communications tools for the employees. 
Distinctive Benefits of Cloud Contact Center Software:
Here is the list of benefits that a cloud contact center offers:
Less Cost:

The setup cost for a

cloud contact center

is much less than the traditional ones. One can easily enjoy the real estate expenses without downsizing the company. With more employees working remotely, you can maintain smooth functionality.

Complete Agent Satisfaction:

While working remotely, one should always build a trust relationship with their sales agents by providing a flexible working environment. Because only a happy employee can get you more productivity. So always make them count to make your business run smoothly. 

Great Customer Experience:

Having great features, the automatic call distribution makes it easier for you to get connected with your customers being anywhere. And by using omnichannel features, the salesperson can connect with the customers through various channels just like text messages or emails. By providing multiple connectivities to the customers, provides better opportunities to exceed their expectations and satisfaction. 
Always keep an open mind for the industry advancements, only to maintain a modern contact center. Because day-by-day Cloud Technology is becoming the new norm for the call center industry. Switching to a cloud contact center makes your organization the best, keeping the other behind. When everything is changing, you should always be prepared for the next big thing. 
Ultimately the demand for Cloud Contact Center in Chennai, India is growing. If you're looking for a lead-rich website then VoIPTech Solutions is the ultimate destination for you! To get started, call: +91-8800221713. For more info, please visit our website: https://voiptechsolutions.in/.