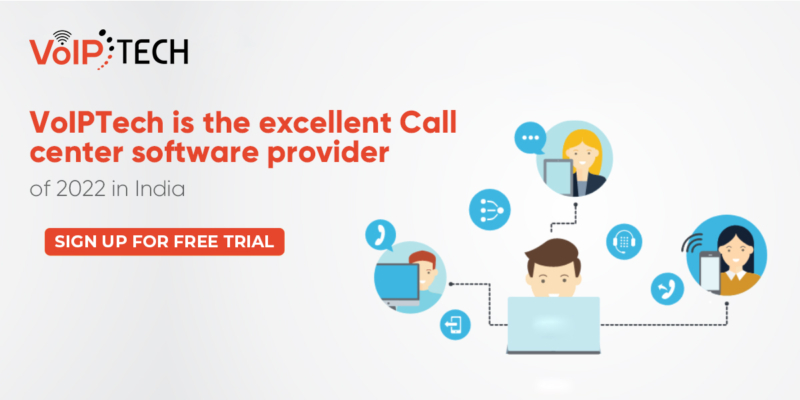 EXCELLENT Call center software provider- "VoIPTech solutions."
In this blog, we first clarify your doubt regarding the difference between the call center and call center software? Then we describe VoIPTech as the excellent call center software provider of 2022 in India.
A call center means that group of people receiving or making calls to customers about product details, queries, doubts, sells, prices, plans, etc.; they also contact their customers by E-mail, call, message, text alert, etc.
Call center software manages and automates the flow of all the incoming and outgoing calls. It also helps businesses or a call center handle communication via live chats, e-mails, messages, text alerts, social media, call & video conferencing, and notifications. IVR or Interactive Voice response service also helps your agent to set prerecorded voice, menus, and answers to frequently asked questions or FAQs.
VoIPTech is the excellent Call center software provider of 2022 in India. We are the popular and unique Cloud communication or VoIP provider global. We also provide the best VoIP calling service plans for your business or call centers. We offer VoIP services plans for startups.
Call center software
Call Center software is a technology that arranges, manages, and controls all the communication mediums by your agent and customer. The Call center software mange communications over multiple channels with multiple sources. It mainly helps to handle a large volume of incoming and outgoing calls between agent and call center. It also helps to run your business successfully in the day-to-day operations of a company or call centers.
The VoIPTech is a leading cloud telephony IP-based solutions provider in India, enabling streamlined business communication on the cloud. Switching to cloud solutions will upgrade the traditional contact center to a more innovative Virtual calling platform. VoIPTech is the excellent Call center software provider of 2022 in India, and it is the top 1 brand in the business communication world.
Call center software is mainly of two types. These are- On-premises Call center software and Cloud-Hosted Call center software.
On-premises Call center software
On-premises Call Center software is where you can install hardware, and physical equipment, by paying money. Companies have traditionally based on on-premise call centers to manage communication with customers. These centers are physically located, with all of the hardware, software, and facilities required to run the call center housed on dedicated servers owned by the company. The responsibility of an organization's own IT team is to maintain these servers and update them every few years or as new functionality is required.
Agents in an on-premise call center typically work onsite, using company hardware such as a desktop computer and headset and trying to access their work software via a profoundly ingrained connection.
Cloud-Hosted Call center software
You're probably aware that "in the cloud" refers to something that can access via the internet. It simply means that all outgoing and incoming customer interactions are handled at a call center rather than on a company's physical headquarters host machine.
All customer interactions via voice, text, e-mail, and social media take place online with a cloud-based call center and can take place anywhere with an internet connection. Instead of being stored in a single location, the data required to enable these interactions is stored in multiple locations—remote data servers on business servers—and is called up, tried to piece together, and instant delivery when agents require it.
Call center software features.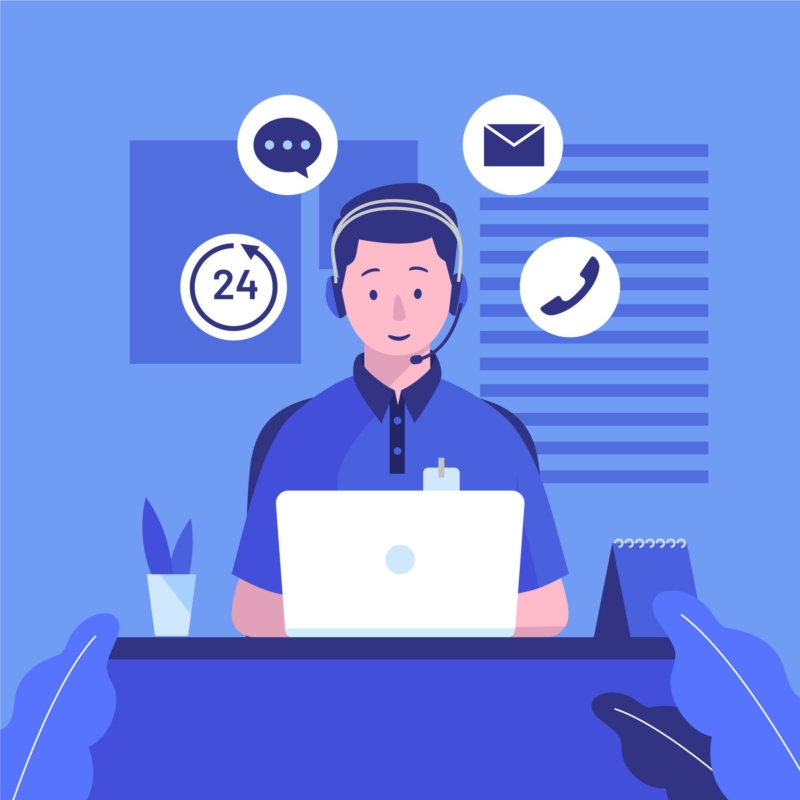 VoIP tech is a famous business communications company with excellent software for call centers, and all of our marketing products are available at an affordable rate. We provide Call center software features for your startups or businesses, etc. Call center software help to improve your customer support service 24*7 and provide a better customer experience. Call Center software features are-
How do customers connect quickly to the right customer or clients when they call your support team?
Whether your software provides automated call routing or requires customers to choose a department after listening to a series of options, it's critical to understand how your call routing will function. Many systems are difficult to update on the fly, so experiment with setting up and changing your workflow during your trial period to ensure you're not stuck with one configuration.
IVR(Interactive Voice Response)
Your customers can talk with an automated phone system before reaching out to your support team if you include an IVR feature. While your clients may not enjoy speaking with an electric machine, they may be able to resolve some of their issues and provide basic information that allows your team to serve them better as you want.
An IVR(Interactive Voice Response) feature will assist your team in managing call volume and will automatically collect relevant information from the customer. When the customer reaches a human, the representative will have all the information required, and the customer will not have to repeat themselves.
Running a call center necessitates managers to keep an eye on call center metrics such as incoming customer traffic, call market dynamics, and agent efficiency. It's impossible to handle planning and prepare for the future unless you know how your team takes traffic variations. Reporting can help you identify general customer issues, identify the gaps in your service covers, and identify essential training opportunities.
Call centers that use cloud networks need a cloud-based calling system to integrate with their online databases. A Cloud-based calling system, also known as Voice over Internet Protocol (VoIP), is a phone system that uses the internet rather than a phone line.
While a third-party provider(VoIPTech solutions) typically provides this service, it is usually less expensive to install and maintain than traditional landlines. Because VoIP does not require on-premise hardware, it eliminates the typical maintenance and infrastructure costs associated with classic phone lines.
VoIPTech is the excellent Call center software provider of 2022 in India.
VoIPTech also provides call center solutions used by more than 2000 customers. Our Call center software helps you improve High call resolutions and significantly reduces agents' idle time by improving your productivity and sales. With VoIPTech, your team agents become more productive, managers become more impactful, and customers become more empowered. VoIPTech offers IVR solutions, auto-dialers, toll-free numbers, DID, etc.
Choose the excellent Call center software from VoIPTech. If you are interested in connecting us on social sites, are.
VoIPTech solutions Facebook page.
"VOIPTECH SOLUTIONS"
TRUSTED BY MANY SCALING STRAT UPS AND IMPROVING BUSINESSES.