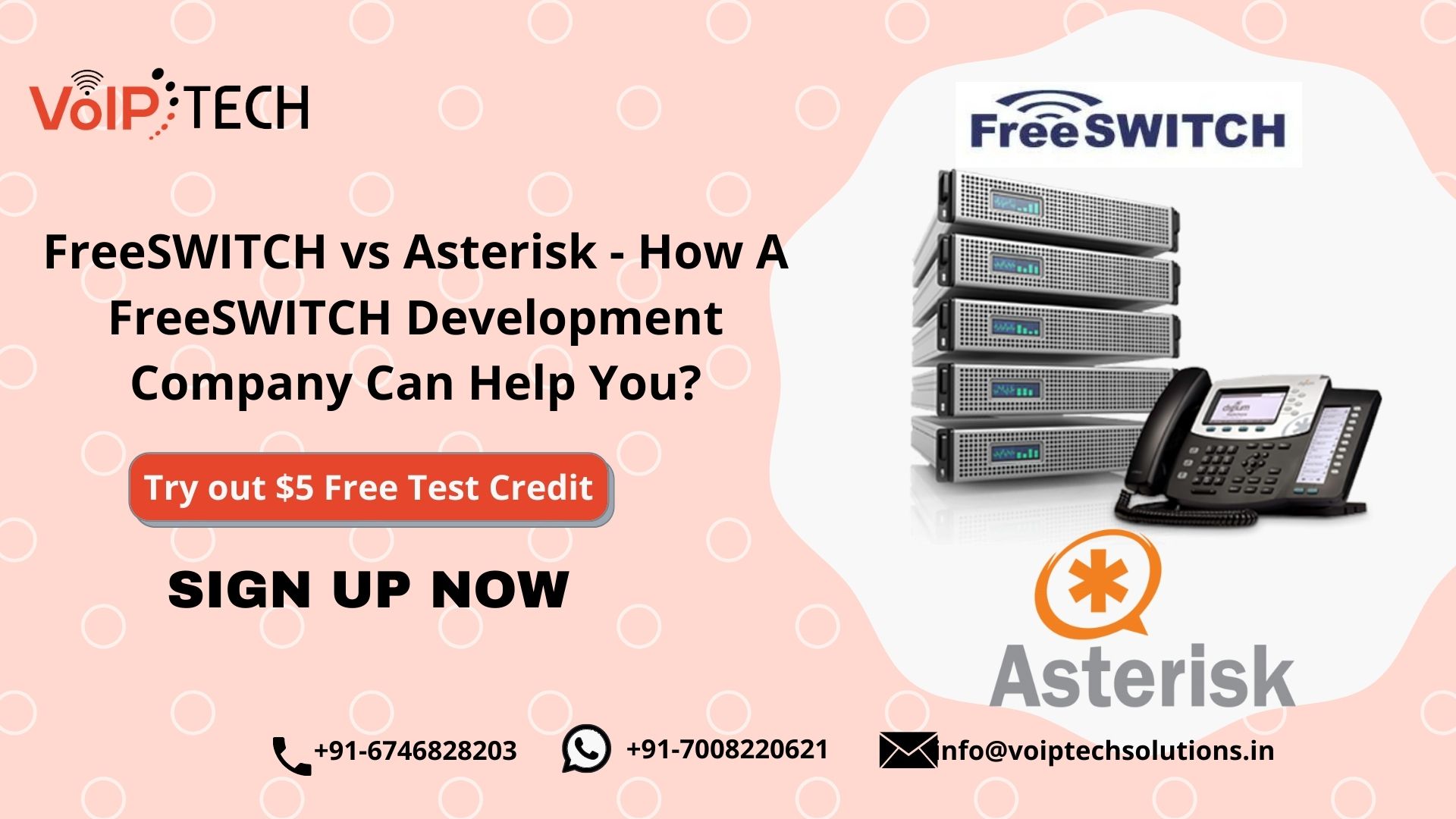 If you are exploring innovative ways to upgrade your current telephony network or want to start from scratch, somewhere down the journey you must have come across the word "FreeSWITCH". If you haven't, then you should know it first. Well, this is an open-source application server that is available on the web for free, known for offering different types of real-time voice communications that also include VoIP. With so many options available from the FreeSWITCH Development Company, how to decide which one is right for you? This is a tricky situation! Also knowing its comparison with Asterisk & how a FreeSWITCH Development Company can help you will pay in your best interest
Let's take an overview of the FreeSWITCH.
FreeSWITCH is a high-end application that can efficiently run multiple servers, making real-time communications take place between different carriers, including; Video Conferencing, WebRTC, & VoIP Calling. No matter which server you are using, be it Linux, Windows, macOS, or FreeBSD, you can avail the services of a FreeSWITCH on the choice of your devices. Do you know how these advanced IVR systems, PBX, video conferencing solutions, & various collaboration stations are built and developed? The answer is using the FreeSWITCH. It doesn't end here, the chatting and screen sharing features are also a part of the FreeSWITCH development program. Session Border Controllers also use FreeSWITCH and the voice gateways as well. A number of IP PBX server appliances that are meant for commercial purpose, using FreeSWITCH as the primary component.
There is a similarity that draws Asterisk & FreeSWITCH under one floor is, their unwillingness to deploy the product in. However, a FreeSWITCH is far superior in terms of its software component which is of modular type and works as an authority on all the VoIP-based systems' central intelligence that they require to operate.
Design Elements:
Coming to the design part, you can draw a parallel line between FreeSWITCH & Asterisk as they are quite similar in nature. As you know that it is open-source software, one can easily get access to its coding structure and can be downloaded on any device for free, users can modify it according to their operational requirements. Where on the other hand, Asterisk & FreeSWITCH are both licensed but under different categories. However, there is not much difference when it comes to freedom of use and required modification, the same is applicable for their virtual use and implementation.
Keeping apart a few variations that are generally seen in their internal modular architecture, on things separate the fundamentalism of both the software applications is, being an open-source tool. Let's take a look at some of the notable terminologies that you may find interesting:
Apache portable runtime: It is defined by a series of resources that are available on the web from which the Apache web server takes advantage.
SQLite: It makes use of the available SQL database with a lightweight implementation of queries raised over the server
Sofia-SIP: Users can make use of this library anytime as it is an open-source tool
Libspeex: Voice Codec is the primary user of the DSP library when they need to perform encode/decode operations.
Mod_spandsp: Have you heard of 38 fax gateway? The use of Mod_spandsp is meant for this
libSRTP: This is an open-source tool generally used for securing the transport protocols with real-time lib
Where can you implement FreeSWITCH?
You will be surprised to know that FreeSwitch was introduced by the same developer in order to overcome some of the common issues that arise with the Asterisk software. The entire thing turned out to be the development of so-called FreeSWITCH.
These are the advantages FreeSWITCH offers over the Asterisk:
You can make the best out of your physical resources with improved efficiency, as FreeSWITCH can bear high volume calls without requiring the hardware change.

When it comes to multi-tenant implementations, FreeSWITCH empowers users with the IP PBX solutions which is a great addition to your communications strength.

In addition to this FreeSWITCH's clustering capability effortlessly divides the ongoing operations based on their functionalities and ensures zero downtime due to overload. For example, assigning different servers different roles based on merits, such as one for video conferencing, another one for IVR calling, and another one for controlling the overall calling operations.
Interoperability with other systems:
The best part about the FreeSWITCH is its support for a plethora of features, VoIP codecs, security protocols, cloud-based apps, and data encryptions. In addition to this, its compatibility with most of the endpoints that are of standards-based, VoIP gateways, and hardware of different types makes it a good choice for organizations of all sizes. You can easily interconnect the FreeSWITCH with any IP PBX servers, supporting the protocols of similar types.
Summary:
FreeSWITCH has the ability and required an arsenal of advanced modules and powerful tools in its armor to take your business communication to the next level. Many modern-day organizations have found it suitable for their business perspectives. When powered by other commercially viable tools & software applications, you can discover the true potential of the FreeSWITCH with future-centric modules.
After all, using FreeSWITCH gives you the freedom to operate from anywhere, without having to switch operators. The best part is, you can set up things easily without the need to buy expensive equipment, save on monthly bills on those big amount you generally pay for making long-distance calls, take advantage of amazing tech-savvy features, and last but not the least you are not limited to one single operator only. It would be better to ask an Indian FreeSWITCH Development Company to do all the setup for FreeSWITCH installations so that you can start calling in minutes. It is uniquely designed for use in industries from all walks of life with different business goals, be it small, medium, or large.
If you are looking for a reliable VoIP service provider that can provide FreeSWITCH, then VoIPTech Solutions is the right door for you. If you need assistance, please speak to our technical support team at: +91-6746828203.