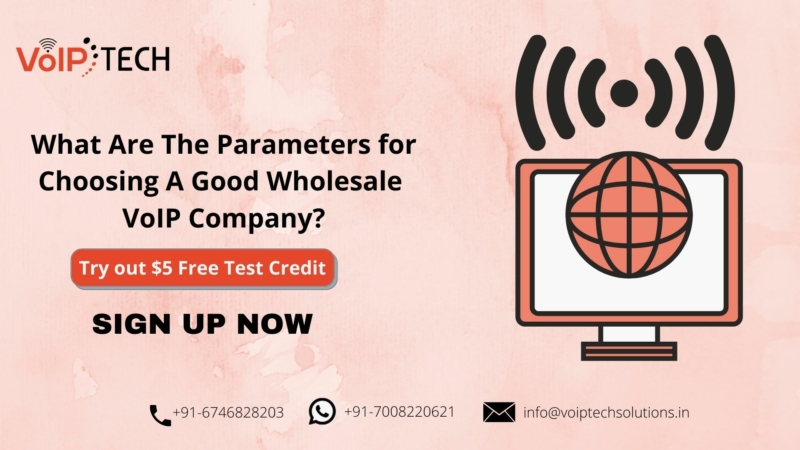 Are you looking for a reputed Wholesale VoIP Company? With the reputed tag there comes a set of features that you need to understand before making a decision. What is the standard set of features that you can expect from a Wholesale VoIP Company? Would like to know? Read this blog.
With a subscription to VoIP Wholesale service, you are supposed to get access to these notable features:
Origination & VoIP Termination

Easy Colocation

PBX Hosting

Network In A-Z International Countries

Compliance to FCC E911 & 411 Access

Portal
With this amazing set of features, you can easily start VoIP services of your own with the help of a reliable wholesale VoIP company. You will come across a number of wholesale VoIP providers that promise an added set of features, but these are the basic parameters to judge a wholesale VoIP provider and are a must.
Origination and VoIP Termination: The term origination here refers to wholesale VoIP providers receiving calls from the PSTN, and on the other hand the term termination refers to sending calls to the PSTN using their server.
Having access to these services means you have no boundary to in-bound and out-bound dialing, be it digital or analog you can use any kind of telephone number. What if the VoIP service provider didn't provide origination or termination service either? You won't be able to dial the numbers hosted by traditional network service providers or receive calls either.
With the above features, you are not restricted to the boundaries by the network protocols. You function as a regular telephone service with the added benefit of advanced features.
Easy Colocation: The term colocation refers to having full access to your service providers' serving capabilities and entitled server. However, major parts of hardware setup and maintenance for your VoIP systems are taken care of by the VoIP Wholesale Providers themselves.
You just need to pay for the monthly subscription, and all the hard work starting from taking care of the network to solving server-related issues is their headache. You only pay for the services, and that's it. In general, you are given administrative panel access by your wholesale VoIP provider, so that you can control your calling operations. The major benefit of having the control panel is, you can enjoy all the benefits of VoIP services from remote locations with just a simple account creation. 
PBX Hosting: You may have come across the PBX Hosting

. With 80% of the global workforce function with business VoIP services, getting along with the

Hosted PBX

holds a very high percentage. If you do not know, then let us tell you that a PBX system does the job of call routing within the office premises, efficiently handling the high volume calls for a business. 
If your VoIP service enables you with a hosted PBX that its PBX system is well maintained and capable of handling calls and can be used from any part of the world using the Internet. The best part of having a hosted PBX is, you can still have all the features of a traditional hardware PBX, without having to buy any additional hardware.
By choosing a wholesale VoIP service provider that offers hosted PBX service, you can delight your end-users with hosted PBX solutions.
Network In A-Z International Countries: With the International A-Z service, you have no limitations to geographical barriers to reach out to any number, as you can make and receive calls from any international destinations without any hassle. In general, this means you have now become an international service provider whose customers' can make & take calls to/from any international numbers.
For example; VoIPTech Solutions has a network, spreading over 165+ international destinations ensuring HIGH-quality voice 24/7. One thing you need to consider that the routes you purchase are of genuine quality. You can earn a large chunk of profit from gray route reselling, as most customers eye for this so that they can easily switch between VoIP providers to ensure HD calling at any given time.
Compliance to FCC 911 & 411 Access: FCC 911 compliant is a must to operate in the US.  Do make sure that your VoIP wholesale provider server is quick enough to efficiently connect calls regardless of their origin dialed to 911.
411 Access reflects the ability of a service provider to let its customers successfully reach out to a 411 information service. Those who provide quick & easy access to 411 are highly recommended. In short, by providing both 911 compliance and 411 access to your customers, you are empowering them to get instant access to all the listed emergency and information services.
Portal: Here the portal acts as the epicenter of all the wholesale VoIP services that you can control. You can direct & control your customer accounts and add new users. It acts as the interface between a wholesale VoIP service provider and its customers.
Why should you get wholesale VoIP Company?
If you would like to make it big in the telecommunications industry, then Wholesale VoIP is the ideal gateway for you. Whether you would like to be a renowned VoIP reseller or start a VoIP business, you should start getting along with the wholesale VoIP providers. You can start your VoIP services, by availing all the resources from your Wholesale VoIP provider and authorize your customers to use those features for a minimum monthly subscription fee that directly goes to your account. 
If you are looking to start your own VoIP business but do not have that much technical knowledge, we can help you get started with world-class wholesale VoIP plans. With us, you avail of customized wholesale VoIP services at the most reasonable prices in the market with setup and technical help. What next? Just turn it on and you can go live. For more info, please visit our website: https://voiptechsolutions.in/