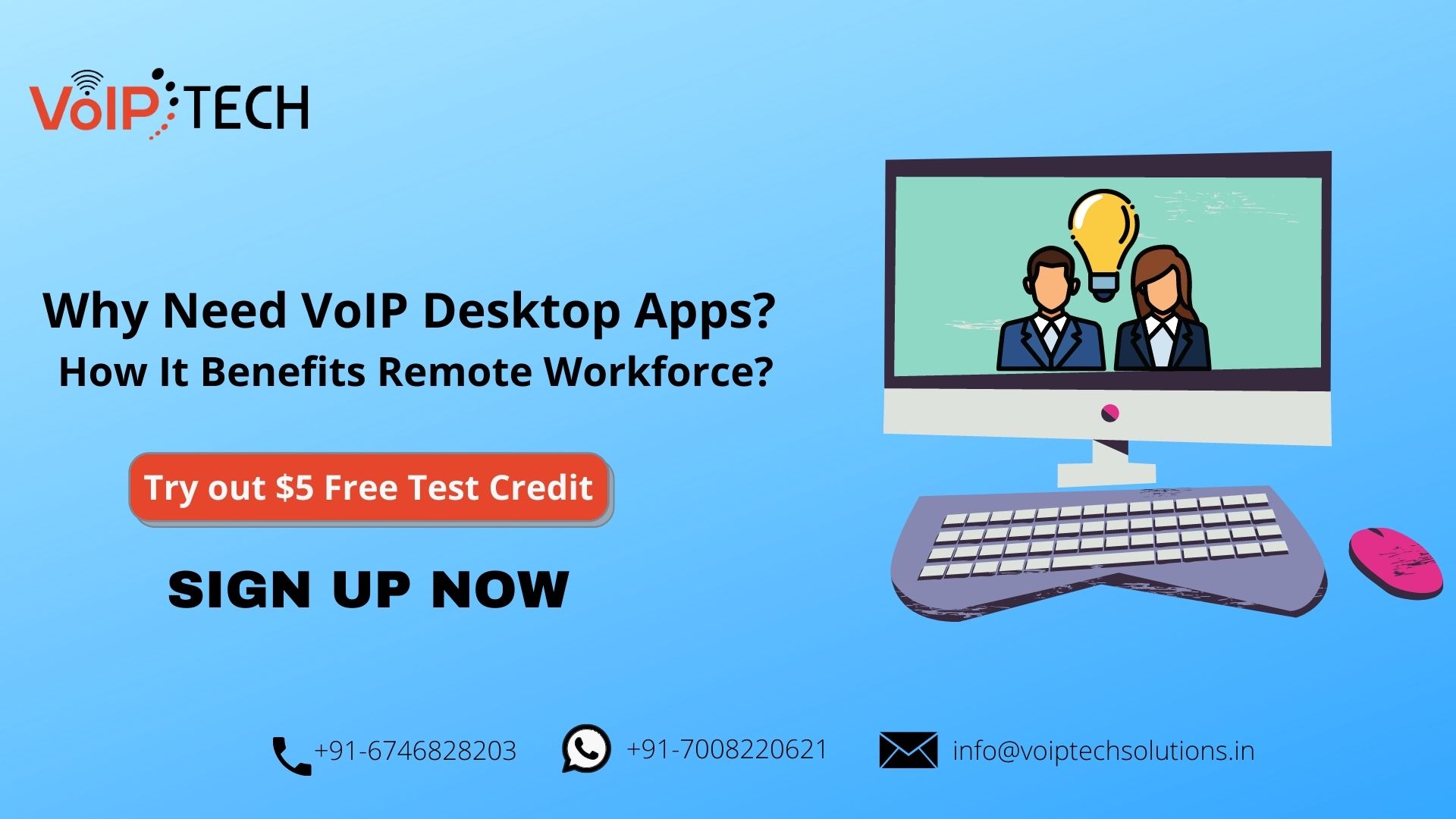 According to recent studies published, organizations that allowed their employees to work from home have recorded saving approx. $10,500 per employee exactly after 1 year of lockdown. In addition to this, there has been a huge jump in their productivity rate as well, it's 45% higher than that of the office premises. Is not that surprising? However, the real deal lies in finding the right tools for remote business communications! They hold the key to business success and are arguably the most influential factors that are responsible for leveling up productivity and team building. With VoIP desktop apps, businesses can successfully streamline the basic essentials for a commutative workplace and ensure better collaboration among their remote workforce. With the likes of multi-tenant video calling solutions, instant messaging, group calling, voicemail, cloud telephony to name a few, their home has become the new office. How VoIP desktop apps help?
VoIP desktop apps streamline all the necessary team communication & collaboration tools into a single platform, saving organizations big money and resources while improving the bottom-line to a great extent.
What is VoIP App for Desktop?
VoIP Desktop App is the softphone version app for the desktop computer that provides a solid platform for secure cloud communications. The app comes with a plethora of features, ranging from instant chat messaging, HD video conferencing solutions, and audio calls in one platform. It's specially designed for teams working from remote locations so that they can access all the functionality of the application from any part of the world & stay connected with the organizational structure with a higher degree of flexibility.
The best thing about this app is, businesses can purchase different features separately. How does that help? Well, you can have the features that fulfill your business requirements, why pay for those features that you don't require! Organizations can save up to 30% by doing so. No matter whether you are busy on a video call or speaking to someone over the phone or would like to switch applications, you can seamlessly do it with just a click. 
What is unique about these apps?
Well, these desktop-based apps are completely browser-based. What does that mean? As a user, you do not have to download these apps in order to access them. They are used by billions of worldwide customers and counting on.
An overview of top features of VoIP Desktop Apps:
To help you understand the core functionalities of VoIP Desktop Apps, let's take a closer look at the top features and how they can strengthen your business communication. They include:
Instant Messaging: This tool allows teams to communicate both individually & in groups.
Quick Chat: Managers can assign tasks to individuals & teams on the chat
Call Transfer: This tool helps transfer the inbound calls to the next person available with relevant tech knowledge
Team Collaboration: Teams working from remote locations can collaborate over business meets and discuss the progress
Video Conferencing Solutions: Teams can come face-to-face for a conversation and share their screen and listen to each other. 
Cloud Telephony: This tool allows teams to access all the features of a cloud-based platform, using devices of their choice.
Real-time Reporting: This tool provides you with real-time reporting about the output of client phone calls, the online team meets, and overall operations. You will obtain auto-generated reports on a daily basis.
Business Analytics: With the insight obtained from this tool company management identifies the things that work for them and what steps need to be taken in order to improve the current organizational workflow.
Can I integrate other features with the VoIP Desktop App?
Yes, of course! You can opt for any third-party app interfaces or use other platforms to access features of your preferences. You can download the app from any available open-source platforms or ask your VoIP service provider to integrate.
Check on the desktop compatibility!
Users can download the VoIP Desktop app to Windows, Mac, and Linux. These apps work with all the popular browsers available in the market, including:
Android, Apple, & Windows mobile users can download the mobile version app.
With so many benefits and future advancements, there is no reason you should not opt for VoIP Desktop Apps! By the way, modern-day customers want more from business in terms of technology, service, and 24/7 response. Do you really think that you are at par or a bit more than your nearest competitors? If not, are you doing enough to achieve it? With growing popularity and demand for the flexibility of remote working, VoIP desktop apps have been the customers' favorite. As work from home got the green signal, VoIP desktop apps have become an ultimatum for companies of all sizes to give that freedom of flexibility to their employees to be more productive. This is also an ideal way to save the cost of high-volume communications and improve team collaboration.
Are you a business that is looking to strengthen its work from home setting to yield better productivity? VoIP desktop app is the ideal choice for you. And, who could do it better than VoIPTech Solutions! We offer you robust and fully functional desktop VoIP features that work on any mobile device. With us, you get international phone numbers from over 165 countries. Our paid plan starts at $10 per month and goes up to $20 per month. Our VoIP services come with an extensive range of features to meet your business requirements. Sign Up and get FREE $5 credit today! If you have any queries that need expert solutions, contact our technical support team at: +91-6746828203.