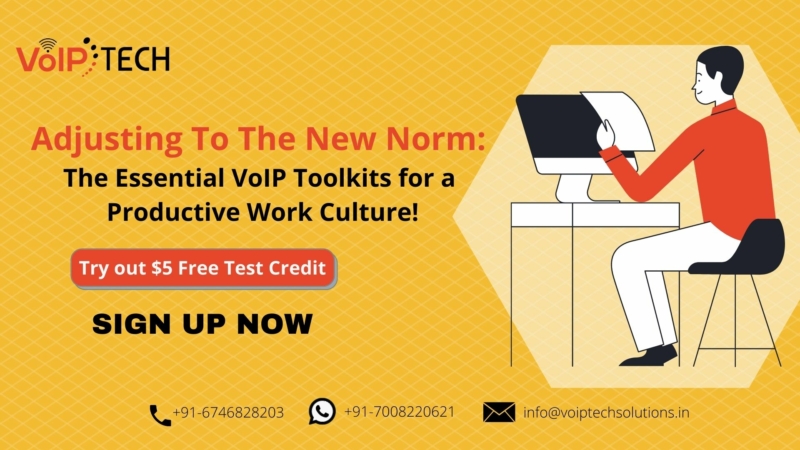 With the feasibility of telecommuting touching the heart of millions, this has to be the best. Lockdown norms and the demand for a more flexible working environment has accelerated the remote working culture, but advanced technologies have definitely boosted productivity. It is up to the organizations the way or the rate at which they would like to adapt to the new norm of working. By the way, you can not ignore the fact that is, the new way of working is getting thumbs up every quarter, adding financial & mental benefits to the bottom line. Thanks to VoIP Toolkits for making remote work a great success! Let's discuss more the VoIP Toolkits.
Different organizations have been following the remote work in-depth, and all of them are in favor of the new job roles & responsibilities. In these scenarios, the key to success lies with faster telecommuting and quick settings. As most businesses are in a race to make the best out of this opportunity and go big, the demand for remote jobs will definitely be sky-high.
Well, with so many bad things happening around the world due to the pandemic, at least the remote working trend gives a sense of happiness.
With a proven history of success, telecommuting when done right keeps the productivity graph high and makes them more creative with an enhanced work satisfaction rate. What does that mean for a business? Better revenue in terms of number, more time saving, less employee turnover, and required space for official work. Adding to the benefits of work-life balance, employers can expect a long-term working commitment from their employees. Isn't that great? It goes without saying that setting up a proper structure for remote working can pay in your business interest. However, you need to have the much-needed toolkit of technology and the right channels in place to obtain your team's best capacity!
What are the VoIP Toolkits that you must have?
The technology to make business communication with fellow colleagues and clients is the first & foremost thing to survive & sustain growth in this pandemic drive marketing landscape. The technology you use to assign the work, suggest modification, more precisely the way you communicate defines your chances of making it to the global level. 
With a pool of technologies available for teams & individuals to support your telecommuting efforts, it is a herculean task to select the right tools for your organizational work structure. To help you find the right ones, we have come up with technology solutions that would empower your workforce for a more productive work-at-home setting.
How to get started?
Your first preference should be, how to make your team stay in touch with each other? And, what would be their approach when it comes to serving customers?
You have to see the technology needs, this would be the success mantra for your present & future endeavors.  
4G or 5G Connection: With a 4G or 5G connection, you are definitely on a roll, ensuring better telecommuting between your team members. You can rest assured there would be no communication gap that can affect your productivity. With a simple app integration, their smartphones become the epicenter of communication.
Email: No matter where we have landed, email still holds the old Fornier in modern communication systems, you may not be an exception. The importance of email has become more audacious, with the increasing number of remote working scenarios. 
Video Conferencing: Well, this has become the new face-to-face and in many ways, it is more effective than the regular ones, with amazing features like record conversations, screen sharing, & chat options. High-end video conferencing solutions have not only saved time & energy but also made comfort & flexibility in the new language of meetings.
Chats & Messaging: Simply put, sometimes a quick comment and a needy suggestion can do wonders. Of course, call & email are there, but the potential of short messages can't be ignored at any stage. 
The importance of collaboration & project management tools: According to recent studies, managers these days are more concerned regarding maintaining the upward trajectory of the productivity graph of the employee, while at the same time keeping them focussed as well. Is there any way to keep track of all the workforce? How do you ensure the scale of the productivity is maintained up to the industry standard?
Again, as a manager, you will also have to work & report to your higher authorities from your remote location. What you can do is, keep track of the conversations made by the employees and give your best to ignite the moments of creativity.
Use advanced project management tools to keep a check on the conflict of interests and avoid re-work from killing the valuable time. Don't let an individual take all the credit away from the team, split the task instead complete the project at a much rapid pace with minimal errors. 
How to secure the data and what are the tools you need?  
In 2021, data is the new money. Everything went cloud, data security has become the #1 priority IT giant. Security user data is a must, and companies need to put some extra effort and take the necessary steps to protect valuable customer data. With the increasing cases of vulnerable cyber-attacks, data protection has become more challenging than ever—but it's not impossible.
You must plan accordingly by taking additional data safety measures to ensure 100% data security is in place. This gives your employees and customers a sense of security that nothing will go wrong. Do make sure, your employees are using a secure connection, added by multi-level user authentication to maintain data hygiene in remote work settings.
If you are an online e-Commerce startup or any small scale business that wants to make it big with the current sales opportunity in the market with better business communications, then VoIPTech Solutions is the right door for you. We offer you robust and fully functional VoIP Toolkits that work on any device. With us, you get international phone numbers from over 165 countries. Our paid VoIP MInutes plan starts at $10 per month and goes up to $20 per month. Our VoIP services come with an extensive range of features to meet your business requirements. Sign Up and get FREE $5 credit today! For more info, call: +91-6746828203.