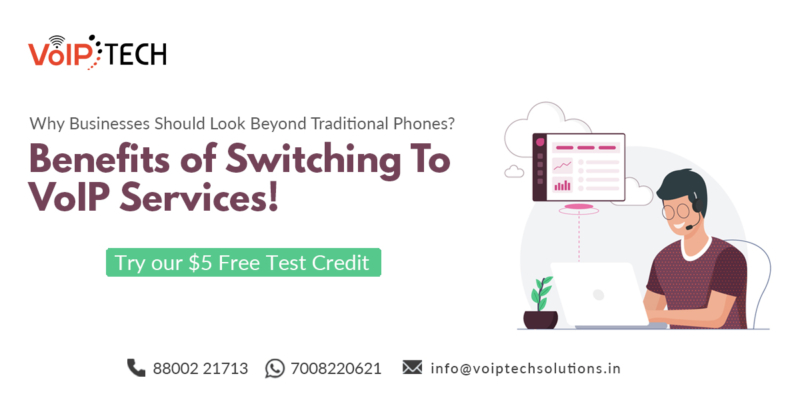 What comes to your mind when you come across the word "VoIP Service"? Is this a new technical realm, software, or service? Don't have any idea? If you are new to VoIP Services, then it's the best time to get along with this modern-day tech. Well, it's a high-end technology that has changed the way businesses used to communicate. But not too many people would get along with how VoIP Services work. 
If you are a tech-savvy person then understanding VoIP won't be an issue at all, but average people won't get it without the help of "Google". If you are a business, planning a switch to VoIP Services from the traditional phones and you would like to know more about the technology, then this is the right place for you.
What's Exactly VoIP Services Offer?
VoIP means making voice calls over the internet. There are a number of ways VoIP Service Providers can implement the VoIP, however, Hosted VoIP & SIP are the most commonly used protocols.
Why Do People Choose VoIP Services Providers in India?
It's less expensive than the traditional phone systems & saves you a ton on your phone bills. All that you need is an internet connection, no telephone service, extra hardware or software needed.
How Does VoIP Technology Work?
VoIP technology works on the principle of converting voice signals into high-quality digital data packets. After getting converted into digital data packets, they become completely identical to any other data like email, texts, images, audio, or video. That means they don't need any wires or any kind of special infrastructure to transmit over computer networks. The destination is set, once they reach the target, they again transform into voice signals for users at the receiving end.
VoIP is no different from traditional phones, but with a difference that is cloud telephony. It offers a number of benefits that you won't be getting on a typical landline. Using VoIP Minutes, you can make and take calls through any internet-connected smart device.
Types of VoIP Phones systems
Coming to the types, they are divided into two. One is hosted VoIP and another one is SIP trunks with IP-PBX hardware.
Hosted VoIP:

For having a Hosted VoIP connection, there is no need for purchasing any license for specific hardware or software. You avail of the service over the internet, no equipment required. All the setup, maintenance, & periodic up-gradation will be given by the

VoIP Service Providers in India

themselves.
It is also known as cloud VoIP & administrators are given access to make changes to the features that are available to the end-users over an online dashboard. You can add new features and phone lines on your own whenever required, thus eliminating the need for technical assistance.
SIP Trunking:

SIP trunking refers to a virtual connection over the internet. The

PBX

can handle a large volume of internet calls at a time that's why it is known as an

IP-PBX.

 
How Much It Costs for a VoIP System? 
Does VoIP cost too much? The answer is a big "No". Is VoIP worth your investment? "Yes"! It is comparatively much less expensive than the traditional landlines & worth every single penny. The cost of a hosted VoIP system is around $10 – $40/line, depending on the plan you choose & features you would like to add. However, the price for SIP trunks would be a bit high, if you would like to replace all the existing communication mediums at once. Small and mid-size organizations prefer hosted VoIP and that's for a reason – low cost and zero maintenance.
Now you must have understood how VoIP Service works and the ways it can benefit your business. So, what are you waiting for? Switch to Indian VoIP Service Providers & take your business to the next level.
Are you a business, looking for VoIP Providers that can integrate the most advanced CRM for call centers? You couldn't have a better choice than VoIPTech Solutions. We offer you robust and fully functional CRM software that works on any device. With us, you get international phone numbers in over 165 countries. Our paid plan starts at $10 per month and goes up to $20 per month.
Our VoIP services come with an extensive range of features to meet your business requirements. Sign Up and get FREE $5 credit today! For more info, call: +91-7008220621.