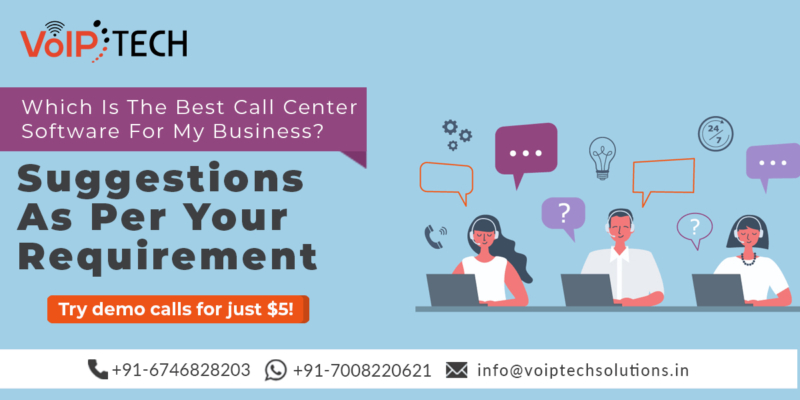 When you're planning to equip your contact center with advanced call center software, you need to keep an eye on a number of things. Starting from understanding your technical requirements and desired outcome to the identification of the right set of tools that best fit your team collaboration & customer communication will always pay off in your business interest. This eventually helps you avoid any kind of obstacles from dictating your workflow. You will get a load of variety in call center software suites, as some of them are extremely versatile and flexible in terms of virtual prospects, and others are very specific to individual requirements. The most important part that you need to understand is, get aware of your business requirements while keeping an eye on future changes as well.
Here are a few suggestions that would help you choose the contact center software that is worth your investment.
Open-source call center software; Do you have an in-house team to take care of the software part? If not, then

open-source call center softwar

e

would be the ideal solution. The beauty of open-source software is, you can easily create a set of visualized data visualizations that is important for your functional caliber, which includes your ad spendings, call center staffing, ROI, to name a few. They are purposefully built for call center use and updates are available for testing new sets of business-specific features. 
Updates will help regulate the frameworks, check vulnerable security threats, distinct provision of network architecture, and a plethora of things that could enhance your business telephony capabilities. Put simply, the cost to features ratio of VoIP telephony has no other option.
Outbound call center software: If you are a call center that deals with outbound calling, then your main focus should be on the time spent dealing with the calling prospects only. Because the sales agents are the biggest asset for your organization. You can't afford to have them taking care of all the parts of the calling process, starting from administrational duties and dialing numbers to customer data collection & performing other such unproductive activities that don't earn you money.
Here the predictive dialing software is a real help. The software helps you dial the leads each, maximizing the output of your call center operation. Once integrated with the database, the agents can easily connect with the callers on the other side and reach out to potential leads, guaranteeing a higher conversion rate with minimal or zero downtime. The thing is, it might take a few seconds to dial a number if you add those seconds and it would end up showing the hours wasted for the same. Outbound call center software saves you time, money, & resources while getting you better results.
Inbound call center software: If your call center doesn't deal with making sales-oriented calls and its operation is inbound interaction specific, then inbound Call center software can help you give a better experience.
When integrated with the CRM, the customer data will be at your fingertips. With the IVR system, you can make sure not a single call goes unanswered in your absence. Either the call is forwarded to the next available agents or the IVR menu will take care of the callers. Overall, it automates the workflow, yielding you a greater lead efficiency with more effectiveness.
Omnichannel

contact center software

: With remote working being the new norm and smartphones being the new computer, communication has become more transparent & fluidic. People are not limited to phone calls only, in between there is social media, social messaging apps, texting, to name a few – the communication is taking place in all forms.
Customers these days want a brand to be available over all channels and be responsive 24/7. It's definitely giving sleepless nights to customer support teams for sure. What is the ideal solution? Thanks to the omnichannel contact center software. It helps call centers in transition, by unifying multi-channel platforms into one, using advanced software tools that combine different modes and vectors of communication. How does it benefit? Agents can effortlessly reply to their customers on channels of their preference, providing a better customer experience.
Call center software

for MNCs: With a distributed operation centers', running a multi-site business is not possible without contact center software. You need advanced contact center software to support a wider audience base, successfully reflecting the local market conditions.
Here is the list of a few software that would be handy for your call center operation:
Rover

Vonage

Dixa

CallHippo

Genesys Engage

Twilio

Zendesk Talk

Call Tracking Metrics
Are you a sales-oriented company or large organization, looking for advanced call center software? VoIPTech Solutions can be the biggest asset for you. We are an affordable VoIP Provider that can provide you with advanced software solutions to make your call center operation more efficient and productive. We offer you VoIP Minutes with contact center software that not only empowers your sales team but also makes sales more fun. You can also consider our VoIP plans, starting from only $10. For further queries, please call: +91-6746828203.