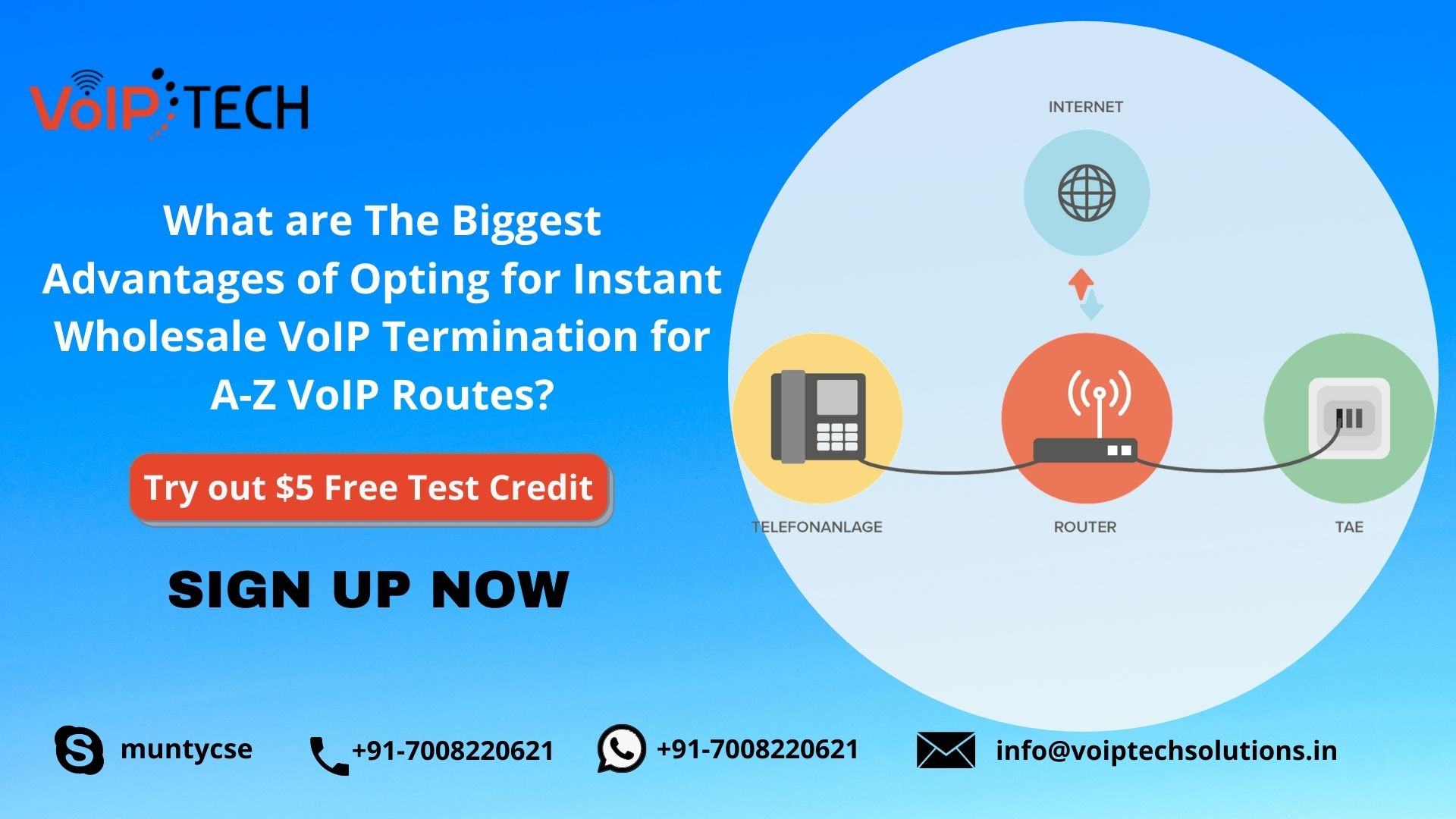 What Wholesale VoIP Termination Providers do? Want to know? Well, they deal with providing transaction routes for A-Z VoIP networks to VoIP termination service providers and Tier-I, Tier-II carriers. It's a combination of multiple wholesale carriers, VoIP service providers selectively forming a wide area network that works over 165+ nations worldwide. The main objective of the VoIP business is to terminate all the VoIP-based Calls in a large volume. All that a business or service provider requires is the proper infrastructure that can handle all the VoIP termination. For that, you need to understand the A-Z VoIP Routes first. Let's get started with A-Z VoIP Routes.
With a huge surge in demand for reliable & advanced VoIP Services, there is definitely a need for the expansion of this industry so that services can be available on short notice. The result? Now a days, you can easily find both retail and wholesale VoIP service providers all around the globe. To start a retail VoIP business, you will require a lesser amount, which is not the case when it comes to wholesale VoIP. Why? The investment here is comparatively big and experience is also required.
The Wholesale VoIP Termination services are categorized into different levels which are subject to VoIP architecture and the terminating capacity of the provider. The Tier 1 carrier providers have the best infrastructure with the largest capacity, followed by the Tier 2 service providers. And, this process is carried forward by the Tier 2 VoIP providers that opt to sell these services to others.
What are common issues faced by these Wholesale VoIP Termination Service Providers?
The main obstacle that the Wholesale VoIP Termination Providers are facing these days is coming from the traditional counterparts, as they are coming up with a number of ingenious solutions. You can take Instant VoIP solutions as an example. The worst thing about these Traditional services is their rigid structure and time taking procedures that make things more complicated and kills time unnecessarily.
Not to forget the billing process and delayed payment structure which makes things more complicated. What troubles the wholesale VoIP Termination Providers the most is uncertainty in receiving their payments as they have to wait till the entire billing process is done on a monthly basis. Does this certainly create a cash shortage? Why? The wholesaler needs to have a reliable & regular source of cash inflow. Which is not possible in this case.
What's the solution?
To overcome these situations and make the entire process hassle-free, Wholesale VoIP termination Providers can easily sign up on the website, making all the route transactions faster & efficient, while receiving payment on the success.
Traditional VoIP Vs Instant VoIP – Which one is better. Let's discover.
Flexible Billing Option: The traditional Wholesale services are subject to a fixed monthly billing system, while the Instant version is exactly the opposite in nature. The biggest benefit of having the Instant Termination is that you can withdraw the money you receive as payment at any time without any restrictions. In the absence of any fixed billing cycle, ensures that there is continuous cash flow. You can rest assured of a continuous source of cash flow, which is not the case with traditional services.
Easy Payment Withdrawal at any time: By simply making a request, you can withdraw the payment. The process will take less than a minute which was not possible with the traditional wholesale termination service. With Instant Wholesale Terminations, you do not have to wait for long or go step by step.
Faster Response Time for Interconnection: The interconnection time for establishing a successful VoIP Termination

is much lesser when compared to its traditional counterpart. 2 or more networks are involved in the interconnection process while in the case of traditional wholesale VoIP service providers it requires extended time. It takes only 5 minutes for an Instant Wholesale Service completion while you have to wait longer for traditional service. 
Less Paperwork, One-time Registration is enough: When it comes to doing the paperwork, Instant Wholesale Service is simply the best. You won't have to go through a time-consuming & lengthy process, as there is no requirement of papers in the case of Instant Wholesale services. Once you register yourself on the website, it's all over – no other documentation of formalities required.
The Whole Process is Automated: No manual work needed, as the Instant Wholesale Process is completely automated. You can expect a much faster response from the service providers with hassle-free installations. The entire process will take less than 15-20 minutes in total.
Do you aim to be a successful Wholesale VoIP Provider? Well, this is the best time to grow with a low investment. With lockdown in force, organizations operating remotely VoIP solutions have become a must. And, to start VoIP wholesale service is definitely a welcoming step. The VoIP service is here to stay and will capture 80% of future communications. And, keeping an eye on future expansions, you won't know what it can do for your business. With an increasing trend toward better customer experience, automation also enables a greater centralization of your business operations as a whole. Most VoIP service providers are offering VoIP wholesale plans to help companies improve their bottom line. So, what are you thinking then! It's time to take the most important business decision in your life that guarantees a lifetime of ROI.
Are you an individual or startup business, looking for the most reliable A-Z VoIP Routes providers in the world? You couldn't have found a better choice than VoIPTech Solutions. You will be happy to know that, with our large spreading network you can operate in over 160+ countries around the globe. You can take advantage of our low-cost paid VoIP Minutes plan that starts from $10 per month. It would be great if you try our FREE $5 credit today! Sign Up now – For more info, you can reach us anytime at: +91-7008220621.