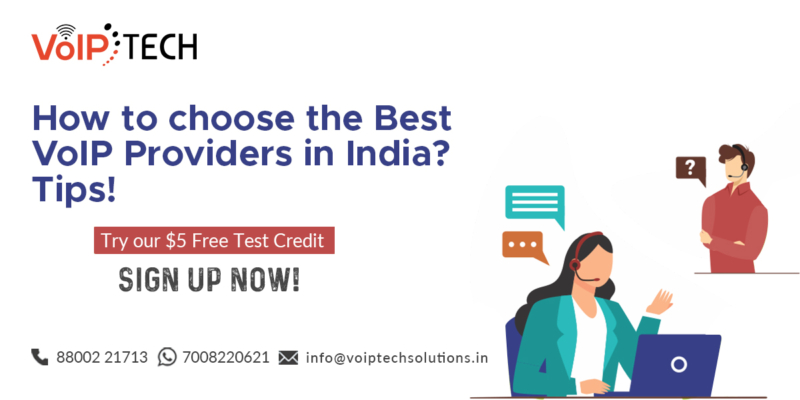 Have you ever thought about adopting the best VoIP providers in India for your call center? And how the best VoIP providers in India can help your contact center grow? Well, the answer is crystal clear. Because always remember that the best VoIP provider in India creates exceptional customer experiences which will ultimately increase your business productivity as exceptional customer experiences work wonders. However, potential customers turn into paying customers rather than being transferred from employee to employee within a matter of seconds. 
Moreover, you can automate the customer journey and streamline it, resulting in extra money for less work with the right VoIP provider in India. With countless options, choose the right one which is undoubtedly a daunting task. However, these services are pretty easy to use and set up. 
Choosing the best VoIP providers in India for you. HOW?
Always remember that finding the perfect solution for your business isn't always easy with so many VoIP providers in India to choose from. 
Below are some points to look after:
Deployment options:  While others require proper installation some VoIP phone services work with the hardware you already have. In some cases, to enable the system you may need to buy an adapter or something else.  While others are as simple as a mobile app you download on your phone.  So, carefully consider when making a decision the amount of time and the level of support you have. And to get things up and running remember that the simpler the system, the easier it is, and the less support you need. 
The size of your business: Usually most of the VoIP providers charge per user per month. And those prices can quickly add up and get expensive while some offer discounts if you have a large team. So it's essential to understand at a reasonable price point how many users you have and how to get the best deal with the features you need. 
Phone call capabilities:  As each provider offers different capabilities at different price points so it's important to consider the phone call capabilities you need.  Do you really need call forwarding, or caller ID, automatic call rejection? What about voicemail transcription, hold music, and voicemail?   
Considering some other capabilities are listed below:
Phone number types

Call forwarding and routing

Automatic attendants

Call history

Custom greetings

Voicemail to text

Call recording

Extensions

Blocking and auto rejections

Instant responding
Just make a to-do list of everything you need so you can choose the right provider along with the right plan. 
Other forms of communication:  Other forms of communication like online faxing, and video conferencing, SMS messaging, document sharing are being offered by most of the VoIP providers. However, on basic plans, they may not all be available. And you may not need all of them, either with that said. So, check out the additional forms of communication you need your team to have. 
Reliability:  The factors affecting the quality of your phone calls usually are your internet, VoIP provider's uptime, and power source. However, you probably won't have any issues with reliable and high-speed internet. But what goes wrong if the power goes off?  You are probably fine only if you use your mobile device whereas the desk phones aren't. However, some come up with great battery backups that may last up to a few hours. So, make sure if you rent or buy hardware from your VoIP service providers this could be a great option.  Apart from that if wired data links fail, some VoIP providers switch to wireless backups offering network monitoring. 
Different Types Of VoIP Phone Services:
Device-based:  When you are choosing this type of service, then you have to buy a separate adapter from other service providers and then just connect it to an existing phone. 
Software-based:  Usually these services are desktop programs. Great examples are Skype and Google Talk. And while using them before connecting to the internet, you have to install the program. However, offering cloud-hosted and software-based systems by most VoIP providers in India. 
Cloud-hosted:  Other services like Cloud-hosted VoIP or "virtual private-branch-exchange" are available as well. However, a networking router or switch is the only hardware you need and the provider handles the rest. Through any internet or a local Wi-Fi network,  these mobile apps usually run on Apple devices and Android. However, with most offering both types of systems all of the options on this list are a combination of cloud-hosted and software-based. 
We are one of the Best VoIP Providers In India that offer customized cloud call center solutions with VoIP Providers In India to improve the efficiency of your agents & boost your business productivity. Switch to VoIP System, walk hand-in-hand with the future. Call: +91-7008220621. Our VoIP services come with an extensive range of features to meet your business requirements. Sign Up and get FREE $5 credit today! For more info, call: +91-8800221713.