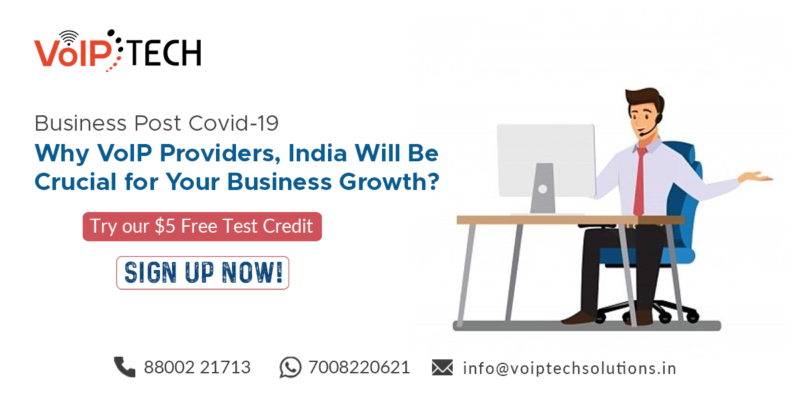 Have you ever realized how difficult it has become for businesses to survive the Covid-19 wave, especially the small & mid-size organizations when industry heavyweights are experiencing a gradual decline in revenue? Oh, it's terrible! With 90% of the employees working from home, maintaining productivity & streamline business communication is more challenging than ever. So, what's your take on this? One shouldn't expect a better outcome from poor business communication. Having a secure and reliable business communication channel is a must, or else you can call it the only way out there. Luckily, VoIP Providers, India can help. How VoIP Providers, India can help businesses grow post-Covid-19!
VoIP service: Voice Over Internet Protocol is one of the smartest invented technologies that let people make uninterrupted video and audio calls, using their existing internet connection, traditional landline instead. Technology has attained sufficient maturity. Great, isn't it? 
With the network shifting its gear from 4G to 5G, making the best out of lightning-fast internet speed with VoIP can be the difference between a great business success & a notorious failure. And, most of the companies have realized this fact that VoIP plays a significant role in driving greater revenues, and organizations these days want to reap all the benefits that the technology has to offer. But the challenge for them remains the same in every field and every sector, i.e., secure and reliable connection.
If you need a VoIP system to work, routing calls between users or to the outside world are being needed. Well, in that case, a virtual PBX does the job in which the provider will be running a large PBX operation in a data center somewhere and slicing off a little of it to dedicate to your organization in exchange for some payable amount. These companies use multi-tenant segmentation, and you will have a dedicated PBX for your organization. This engine will take care of routing calls on your VoIP network.
Now, you must be thinking, what if you get poor quality signals for not having enough bandwidth to handle VoIP calls? Then, how can one be aware of knowing the bandwidth required for good VoIP call quality? It's quite simple and logical. The primary function we can all perform is to figure out how many concurrent calls your business experiences while peak hours. Luckily, VoIPTech Solutions is there for you! 
The bottom line is – In this highly competitive digital world, you can't fight the odds without having Indian VoIP Service Providers for your business. Most of the modern business phone services have already tested their success by providing a great user experience to their customers. So, why haven't you capitalized on this technology yet? If not, then this is the best time to do it. 
Are you a business, looking for the best VoIP Providers in India? You couldn't have a better choice than VoIPTech Solutions. We offer you virtual phone numbers in over 165 countries around the globe. Our paid plan starts at $10 per month and goes up to $20 per month. Our VoIP services come with an extensive range of features to meet your business requirements. 
VoIPTech Solutions is one of the Top VoIP Service Providers in India, offering call center software & AI-based VoIP solutions to enterprises of all sizes with a comprehensive range of features that your business needs the most. On top of this, our all-powerful customization tools can make your business communication even better & more effective.
Being the pioneer in this industry, VoIPTech Solutions ensures a dynamic connection with world-class technology in place. We believe in providing the Best VoIP Services at the most economical price. We all are aware of the fact that the pandemic won't last forever, so keeping in mind core VoIP criteria is important, too. Or we can say that providing VoIP Services for employees at their desks. Sign Up and get FREE $5 credit today! For more info, call: +91-7008220621.