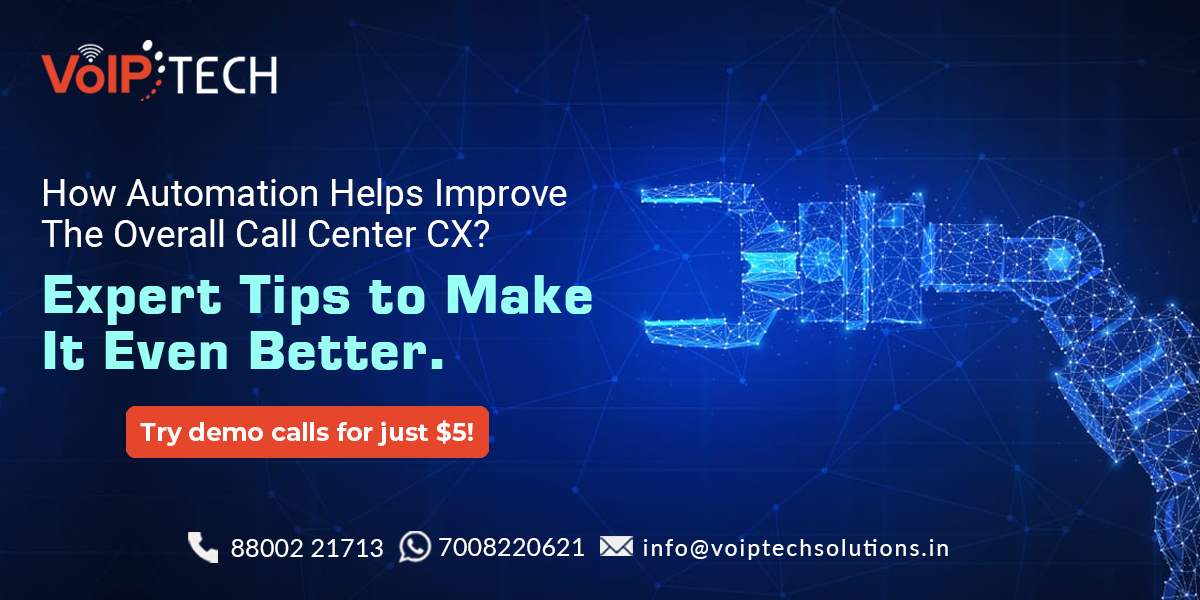 Now-a-days, call centers CX have enough number of live agents to handle inbound calls. However, on certain days the call volume can go much higher than the usual days and the call queue becomes longer. Especially during the COVID 19, when there was a world wide lockdown in force and businesses were allowed to operate with minimum or no staff were allowed to travel office premises to handle client calls. There might be 'n' of reasons for a similar kind of situation. But the truth of the matter is, even if you have numbers on your side, you were not able to serve your clients the way you used to and you won't deny the fact. So, why not use the power of technological advancements to make your call center solution operate to its full potential, or improve your Call Center CX? With call center automation software, you can significantly reduce the average call waiting time and the need for more agents, while improving the customer experience to a great extent. This eventually results in increased ROI.
Introduction of automation software to your call center operation can improve customer satisfaction rate and raise the bar of your customer service. Still you need to know the areas that you need to improve to make the best out of the available tools. Well, this blog will certainly help you understand the importance of automation. Keep scrolling down.
Identify Key Areas That Can Be Improved with Automation

: There are many areas that need to be improved, but prior to that you need to figure out what to automate in your

contact center solution

. Well, you can go for the trial and error methods, but automating everything may not serve  in your best interest. However, there are many areas or calls that need the intervention or assistance of live agents.
The best way to start is by evaluating the information you have. They are as follows:
Analysis of Previous Call Recordings

Checking The Call Disposition

Accessing The Real-time Reports
If you have integrated an omnichannel call center solution, then you can keep track of the followings as well:
All The Emails Sent or Received

Available Support Tickets for The Customers

All The SMS Texts

All The WhatsApp Chats
With all these information combined, you can end up gaining a better knowledge about the FAQs (frequently asked questions) or other queries that can be answered without human intervention. Below listed are a few FAQs that call center solutions can answer without the help of live agents, and this is the power of automation
The General Status Update

Pending Amount

Payment Due Date

Available Discounts or Offers on a particular product or service

And, Many Other Things to Name a Few
Combine call center solutions with other platforms to make the best out of your automation tools:

The

call center solution

comes with an array of advanced features to automate various functionalities of your communication system. In fact, you can automate all the answering modes to customer queries. Apart from that you can use other platforms as well. They are as follows:
You can add a customized FAQ page
Introduce video tutorials with high quality videos
Publish informative blogs and eBooks to guide the users

And, many other things to enhance your customer experience
Taking Customer Feedbacks

: If you have not introduced automation to your call center yet and would like to give it a try, then it's definitely a wide move. But do remember that automation is not a one-day game, the process takes time. You cannot just leave it right after automating a few responses. You need to be 100% sure that you are on the right track.
Customer satisfaction is the ultimate goal for businesses of any sizes, and you may not be an exception. That's the reason, it's very important to know what you can do to reduce call queueing, are you doing enough to sort it out, and your instant response to it actually helping or not? To ensure everything is on the track, you can take customers' feedback to ensure whether they are satisfied with your tech support efforts or not.
Analyze, Improve, and Repeat

: You would eventually come to know what is working for you and the areas that need improvement, once you integrate automation to your

call center solution

. Customers' feedback holds the key to your automation success. Moreover, it's managers responsibility to need to measure KPIs after the integration of automation tools. Based on the real-time data, you can further decide to make improvements to your automation system. You have to keep modifying things, keeping the time, demand, and clientele in mind. So, analyze the on-going process, make improvements, and keep repeating.
With an increasing trend toward better customer experience, automation also enables a greater centralization of your business operations as a whole. Most VoIP platforms support complete automation of call centers to raise the bar of a company's customer service. This comes with a long list of benefits that eventually results in better ROI generation & brand value.
Are you a business or call center solution, looking for a reliable VoIP phone service provider that can automate your communication system? You better off strat with a VoIP package from VoIPTech Solutions. Our advanced software completely automates your system so that your agents can get free time to concentrate on solving more complex queries. That indeed contributes to over revenue generation by earning more customer loyalty for your brand. Our network is spread over 165 countries around the globe. Our paid plan starts at $10 per month and goes up to $20 per month. Our VoIP services come with an extensive range of features to meet your business requirements. Sign Up and get FREE $5 credit today! For more info, call: +91-8800221713.