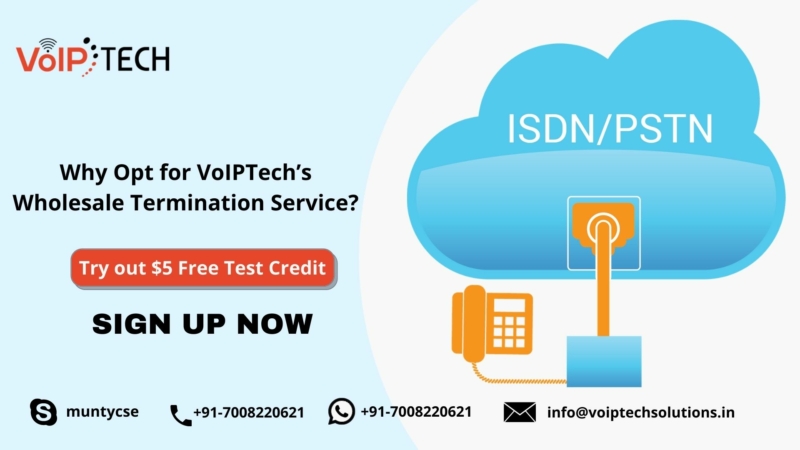 Are you planning to start your own VoIP business with a small investment? Looking for VoIP Wholesale Termination Service? Is there any way to raise the bar of your service standards, while bringing down the costs to a minimum? Well, it's the right time to partner with a reliable VoIP Wholesale termination service provider like VoIPTech Solutions to ensure HD quality voice for calling at affordable prices. Before you jump to the conclusion, have you ever wanted to know what exactly you need to get started?
First of all, let's start with the domestic market impact. How does it help the domestic market?
You get easy access to a pool of Tier I & Tier II carriers under one roof. You won't have to worry about getting traffic to raise your monthly minimums. You have easy access to the carriers of your ch in a single platform.

The aggressive wholesale pricing gives you an edge over your competitors. The resale value of the termination services plays a big role, by returning a great share of profit to the buyers.

You will always have control of your outbound traffic which was not the case earlier. The exclusive rate decks are specially tailored, keeping your business needs in mind.

You avail different solutions for traffic coming from different sources and locations. The call center software routes the inbound calls to specific vendors that are well capable of handling such a huge volume of traffic with 99.9% uptime.
What are the international features of Wholesale Termination Service?
With A-Z international termination, you can provide the widest coverage to your customers with minimal network jitters. How about having both fixed and mobile destinations in 165+ major international economies? Isn't that great?

With personalized service, you can ensure better & much-improved network protection for the end-users. You have all the control over the activation/deactivation of all the international terminations, ensuring network safety at the highest level.
How does a VoIP termination service provider help you?
We know that India is a developing nation, where there is an ample amount of business possibilities. Here, you will come across a number of established names in the VoIP industry, but knowing what you need the most and who can get you the best deal will pay in your best interest. Let's take how a reputed VoIP termination provider can help you set up your business. 
Helping you sort the hardware requirements: One of the key aspects of VoIP technology that makes it the most effective and reasonable modern-day communication reform is the need for minimal hardware. So, managing VoIP business is much easier compared to its counterparts. What is needed is an Internet connection that 10 out of 9 people do have. A PC, laptop, or mobile connectivity, and you are on.
You will require a secure server for the Wholesale VoIP. A single server is enough to have control over a small volume of traffic. To ensure stability you need to have the second one for support. 
Supplying you with soft switches: Softswitch is considered as the backbone of this technology so far, be it the services themself or businesses of any size. That's the reason you need the best quality Softswitch for a smooth operation. Coming to its function, billing tops the chart. It would be ideal to go with an integrated one in order to obtain the best output. Starting from the call info collection to many other services, billing plays a crucial role to get you the best out of the VoIP wholesaling. Clients can easily avail or access all the call records with this amazing feature of

Softswitch

. In addition to this, billing also takes care of other key aspects of the business such as; real-time rates of the routing, the destinations where the call is connecting, a list of clients, and many more.
There are two things that you should keep in mind while choosing the Softswitch,
Are the protocols VoIP compatible: There are certain protocols that must be followed
VoIP codecs: Which codec version is used
Supplying you with quality traffic: The amount of traffic you are getting holds the key to Wholesale VoIP. Depending on the quality, pricing, and other key points, the traffic might vary. All VoIP service providers are not in the same class, so these are the parameters that differentiate. You can also take the help of the free open-source tools to define the VoIP Traffics' quality. The price of the traffic is directly proportional to the quality of the routes and demand for them.
There is no rocket science to VoIP termination. If you are planning to start VoIP wholesale service then you could not have found a better time to start. Coming to its market predictions, wholesale VoIP termination is here to stay and it is the next big thing. With the help of an Indian VoIP service provider, you can easily start your VoIP termination service with minimal risks. And, if it has to be VoIPTech Solutions, you are right on your money. Its strong network is spread over 165 countries around the globe. The paid VoIP Minutes plan starts just at $10 per month, reaching the high $20 per month. In addition to this its VoIP solutions come with an extensive range of features to meet your business requirements. Sign Up and get FREE $5 credit today! For more info, you can speak to our technical support team anytime at: +91-7008220621.