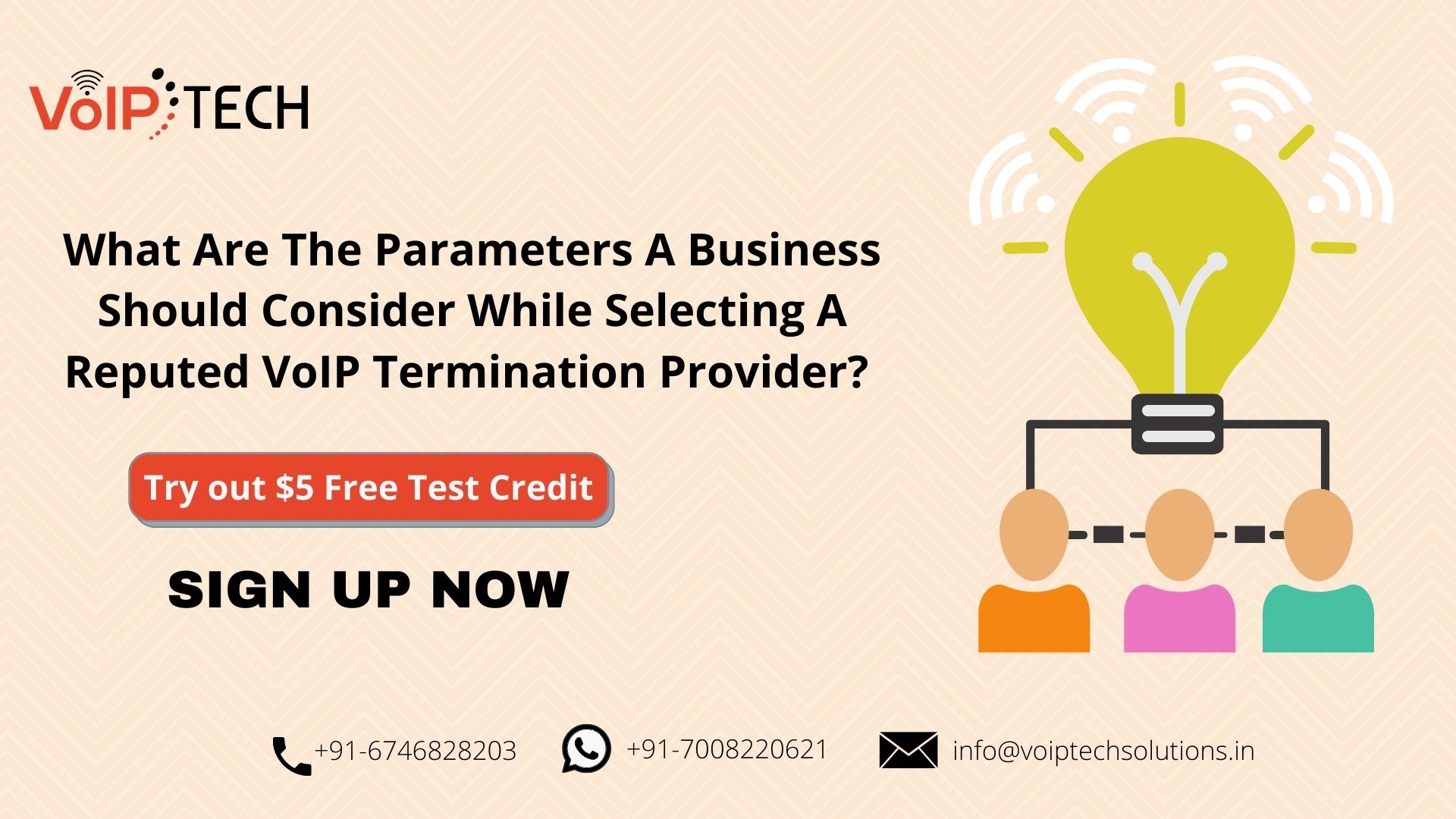 The demand & usage of traditional telephonic services are fading away at a faster pace as businesses & customers move forward with more advanced and promising cloud-based telephony solutions. Thanks to VoIP Termination Providers. For business communications, cloud telephony offers a number of out-of-the-box features that not only help them in cost-cutting but also give them a new dimension to move forward with enhanced efficiency with better productivity. What's so unique about these cloud-based business phone systems? Well, now you have the ability to successfully integrate the communication channels by combining the phone, mobile, and video conferencing solutions into one, powerful platform. If you're planning to switch to a VoIP phone IP provider, what are the key points you need to consider when it comes to choosing the VoIP Termination Providers?
Business VoIP Providers:

First of all, do make sure you are getting all the features and services for the money you spend. This may include:
Intelligent re-routing of unanswered inbound calls to your other phone numbers after two or three rings

Enabling the voice menus

Providing the call queuing feature to answer them precisely

Call to voicemail feature to divert inbound calls

Diverting inbound calls to personal mobile devices.
In general, the VoIP service providers provide these functionalities from the cloud that eliminate the requirement for any costly on-premises hardware.
In addition to this, VoIP service providers can integrate third-party apps with your system. You can take the CRM software and other help desk software as an example. Before you sign a deal, check whether your VoIP termination provider has the ability to provide a solid interface to your existing apps with future upgrades.
Mobile App Integration:

Flexibility has become the key to the modern-day business environment, especially with work from home has now become the new norm. One of the major advantages of switching to a reputed cloud-based VoIP service provider is that you won't have to worry about those app integrations for unifying business communications. The integration can be done with any smart device, including mobile, tablet.
In general, the VoIP Services call forwarding feature that enables mobile devices integrated with the VoIP numbers, helps sales agents and other support staff to even attend official calls when they are not at the desk or out of office premises. Many VoIP providers also provide you with a mobile app that you can simply integrate to make calls using your smartphone and access all the features of VoIP. 
Mobile VoIP Number Allocation:

One of the major advantages of using coils-based VoIP phone systems is that users' won't have to register their individual numbers of the handsets they are using. Most VoIP providers allow you to switch devices of your choice while making & taking calls on that device, you can even easily nominate the mobile devices of your choice according to your business needs.
Coming to the call routing, you can easily route the inbound call to the computer. The experience of using VoIP telephony is simply good with HD quality voice, which was not the case with the traditional telephone services.
One of the nicest features to watch out for is its precise ability to schedule the calling hours allocation, however, you can get this option with all the VoIP service providers in the market. You can take the suspension of business calls to private numbers after official working hours as the best example. Yes, you can control the calls coming to your phone once you log out from the system. No business in the world would like that their employee leaves the organization with the VoIP number allocated to their mobile number, right? VoIP service providers give you the ability to re-allocate those numbers to others when someone leaves the other authorized numbers.
Agreeing to Security and Compliance

: Ensuring VoIP connection security is the first & foremost thing to consider, especially if the device runs on a cloud-based platform. In this case, you can completely rely on Indian

VoIP Termination Providers

. Why? Data security is their first priority and there are no chances of data loss when using the cloud servers. 
With data breaching becoming the #1 threat to cloud security, certain protocols & security standards have become mandatory to make the Internet a more secure place to do business. Do make sure your service provider is offering the service in compliance with the protocols.
Disaster recovery is also another important aspect of the VoIP termination service. Because it offers you secure & faster storage backup for data loss prevention or provides a solid interface that you can use to make it compatible with third-party service providers.
Compatibility with the Emergency Numbers: T

here will be situations where you would need the experts' help in case of emergency. So, it's the duty and responsibility of a reputable VoIP provider to instantly connect you to emergency services. It does not end with cal patching, the caller's number should be displayed as well.

Customized Plans:

By switching to VoIP, businesses can save big on their call spendings. Here, you pay per user, and VoIP termination providers come with all-inclusive handsome plans that are meant for different types of organizations. The best part is, you can tailor plans according to your business needs, not more than that or less anyways. user types.
Do you want to take advantage of the VoIP Termination Service? You couldn't have found a better choice than VoIPTech Solutions. Our exclusive VoIP Termination Services will ensure your VoIP capability is enhanced at a budget-friendly price. We offer you a robust and fully functional termination carrier that works with any business phone system. With us, you get international phone numbers from over 165 countries. Our paid VoIP Minutes plan starts at $10 per month and goes up to $20 per month. Our VoIP services come with an extensive range of features to meet your business requirements. Sign Up and get FREE $5 credit today! For more info, call: +91-6746828203.
[/fusion_text][/fusion_builder_column][/fusion_builder_row][/fusion_builder_container]