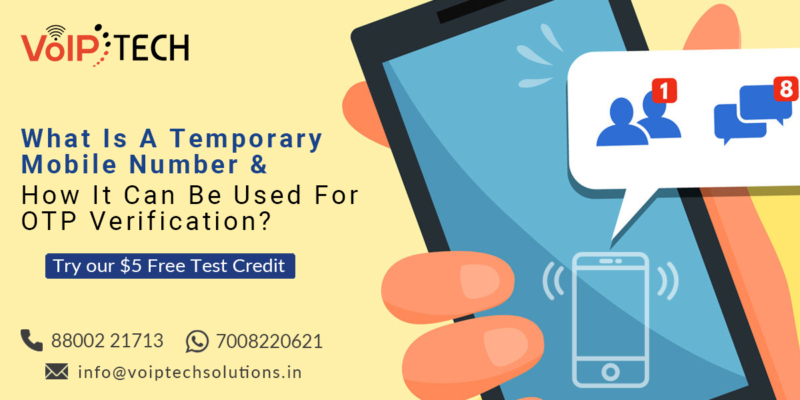 In order to keep their customers' phone numbers private, what most of the companies and websites do is, they request for their contact details for account verification purposes. You can also take advantage of Temporary Mobile Numbers for mobile verification and registration of your business without facing any trouble or getting spam detection. Temporary Mobile Number is a kind of Virtual Mobile Number that businesses use for OTP verification on different apps & e-Commerce websites. 
What exactly is a temporary mobile number?
Did you know, what is a temporary mobile number? Yes, you heard it right this is as simple as the name suggests. Temporary numbers are virtual mobile numbers that are not fake at all. Unlike the general phone numbers we use these days, the temporary numbers meant for short term use that can be for a day or a month. To keep these numbers active, you just need to pay your VoIP service provider and use them as long as you want.
Some of the service providers usually provide you with these numbers that can be used for online account verification purposes. You are also available with App based virtual numbers that serve for dual purpose; 1. For account verification, 2. To make calls and send SMS to other numbers. What you have to do is, just recharge those numbers and you are right on the money.
Let's First Discuss About OTP:
OTP means the One Time Password that generally users get for account verification. For example; when you land on a website or install an app and try to create an account, what do you get or come to your given number? A code right? Yes, that's the OTP you get to verify your account. You need to enter that OTP and get started. And, there is a reason why businesses do this. This way they can collect the numbers of legitimate users and avoid spammers from getting access to their websites or apps.
Why Need Temporary Mobile Numbers for OTP Verification?
You will find a number of valid reasons to employ these temporary mobile numbers for OTP verification. If you don't want your personal mobile number to be shared with others and would like to maintain privacy, you will find these things really helpful
Don't want your personal mobile number to be shared with others

When you find it difficult to verify accounts using your personal number

When you require multiple disposable numbers for referral purpose or promotional activities for new app launch

Not receiving SMS on your own number
What makes Indian temporary mobile numbers good to go?
Getting temporary mobile numbers in India is not as easy when compared to the US, Uk & Canada. Why? You will come across a very few VoIP service providers in India that can provide you with these temporary numbers. Only top-rated service providers like VoIPTech Solutions can give genuine temporary numbers. 
Most Important Features Of Temporary Mobile Numbers:
Get OTP Instantly: You can get OTP codes instantly on these numbers

No Primary Registration Required: The best thing about these Indian temporary numbers are, no primary registration is required.

No Extra Charges: No hidden fees.

Multi-nation Phone Numbers Available: Even if your business setup is outside of India, these temporary numbers support OTP verification in countries like the USA, UK, Canada, Russia, Europe, etc.
How to use these numbers for OTP verification?
You can choose a reputed service provider in India to get these numbers, according to your business needs. Follow the steps below:
Choose the country and select the number

You can use that number wherever you want for verification purpose

Receive OTP in a few seconds

Then you can use this OTP for the verification of your account
Well, many many congratulations to you! Now, you have your temporary mobile number that you can use to verify your account without revealing your personal number. The messages are valid for 24 hours only, after that they will be discarded. Your service provider will give you new numbers or refresh it after every month ends. 
Are you an enterprise or any online business, looking for VoIP Providers that can provide you with Temporary Mobile Numbers for OTP? You couldn't have a better choice than VoIPTech Solutions. We offer you Temporary Mobile Numbers for OTP over 165+ nations that work on any device. With us you get international phone numbers over 165 countries. Our paid VoIP Minutes plan starts at $10 per month and goes up to $20 per month.
Our VoIP services come with an extensive range of features to meet your business requirements. Sign Up and get FREE $5 credit today! For more info, call: +91-8800221713.