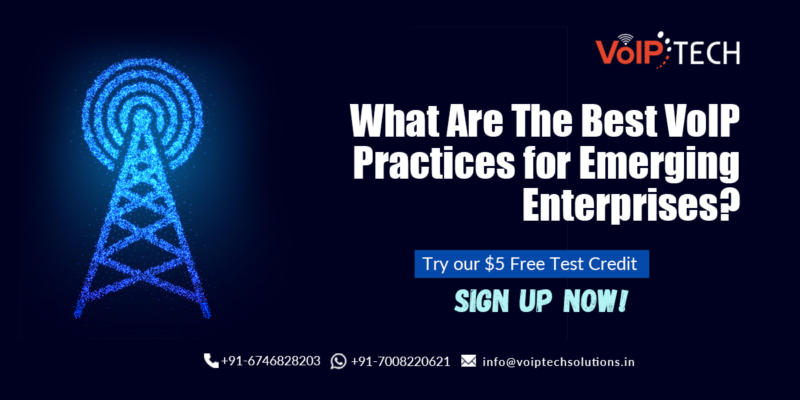 The telecommunication landscape has gone through a massive transformation over the past few decades. Stating from landlines and smartphones to 2G & 5G enrollment, the sector has shown lots of improvement with a promising future. Again the communication entity has gone to the next level with the introduction of VoIP phone systems, as you can use it for both personal and professional use. And, for that, you don't need to recharge your account or buy data cards. Simply put, with a high-speed internet connection you can make and receive phone calls. With services available in mobile phone, desk phone, tablet, laptop, or computer – VoIP Phone System is definitely an attractive option when it comes to unified business communication.
The cost of traditional landlines setup and timely maintenance is sure going over budget, which is not an ideal option for growing sectors as they require more phone lines that too without any additional charges. In addition to this, landlines don't offer the latest features that a modern work environment needs. You won't get video conferencing solutions and chatting options for teams with the traditional setup. With VoIP phone systems you get a lot more than these features.
It is arguably understandable why more businesses are switching to cloud-based communications, still, you need more to get along with the trend. So, what are the best VoIP practices that can benefit an emerging enterprise? Would like to know? Keep scrolling down.
Table of Contents (TOC)
The Size of VoIP Market and Demand for The Technology

The Rise of Cloud Technology

Remote Working Being The New Norm
The Size of VoIP Market and Demand for The Technology: Starting from the 90s to coming to the frontline by 2005, VoIP has never seen a backlash then. It's no sign of slowing down at any time, especially with remote working has become the new norm. Businesses from all walks of life we're looking for a viable communication platform to well manage their distributed workforce just like the office premises. If you believe in statistics then, you will be surprised to know that approximately 60% of the U.S. population don't have a landline connection since 2019. It shows that a large chunk of people is opting for mobile VoIP connections over landlines. Mobile phone & VoIP technology

combined are empowering businesses & common people, making communication more viable & easy, while saving a ton on their previous phone bills.
With the substantial growth multiplied by the groin users, the market size is expected to go up more than $194.5 billion by 2024. And, the reasons are obvious – low maintenance and setup costs, no on-site support requirement, all-time reliability, and advanced calling features. Slowly by steadily businesses have started realizing the facts and understood that phones can be used just more than making calls. With a list of amazing features such as; auto-dialing, IVR, video conferencing, unlimited VoIP minutes, call analytics, screening, and more they have actually unleashed their business potential. 
If you have a look at the numbers, then you will see that a higher percentage of software buyers prefer to go with VoIP as compared to other voice service types. Here is the statistical data:
Voiceover Internet Protocol (VoIP)  – 38%

Plain Old Telephone Service (POTS) – 22%

Primary Rate Interface (PRI) – 12%

Cellular – 7%
You can clearly mark the difference. 
The Rise of Cloud Technology: If you want to touch the sky, then you have to go through the cloud – Its' true! Take a look at the features that the cloud technology brings into the communication system – be it the auto-attendant facility, quick call queuing, and advanced call routing, you can take your communication to the next level for sure. Benefits? The overall costs come down to a minimum and faster-calling process with much efficiency. The end result is a better customer experience, you couldn't have asked for more!
The recent studies show that almost 84% of businesses that switched to cloud-based communication are reporting remarkable cost savings. And, small-scale businesses are the biggest gainer. More features for less, quick setup, zero maintenance, advanced communication system – no force in the world can stop them going global.
Leave the private entities, if you talk about the government agencies, the numbers are pretty impressive. 55% of them are using cloud-based solutions. You can add data sovereignty and network security as two of the biggest advantages.
Remote Working Being The New Norm: Thanks to the pandemic for making remote working the new norm. Again thanks to the cloud-based VoIP technology for making the new norm so easy while keeping productivity high. Features like video conferencing, group calls, they meet, chat, to name a few have made virtual offices a reality and fruitful.
The best part of having VoIP technology is, you are equipped with the right set of features to grow without any interruptions and it's quick set up & no additional purchases, saves your valuable time & money, which was not the case with others. You can transform your current workplace, by moving with enhanced efficiency and ensure better productivity in a time that requires more from a distributed business establishment.
Are you a featured business, start-up or government agency that is looking for reliable VoIP Providers that can provide you with VoIP phone systems along with the right set of tools and software to streamline your communications? You couldn't have a better choice than VoIPTech Solutions. We offer you VoIP phone systems with robust and fully-functional software that not only improves your team collaboration and workflow, but also brings a whole new dimension to your current organizational structure. With us, you get international phone numbers in over 165 countries. Our paid VoIP MInutes plan starts at $10 per month and goes up to $20 per month. Our featured VoIP services come with an extensive range of features to meet your business requirements. Sign Up and get FREE $5 credit today! To get more information about our VoIP plans, you can contact us anytime at: +91-6746828203.