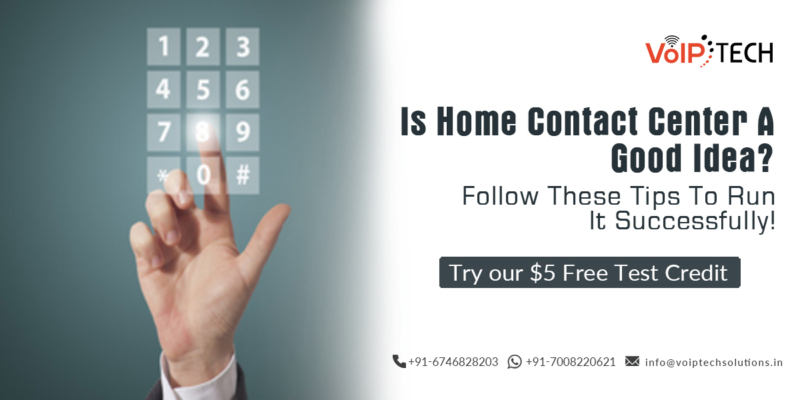 Running a contact center is definitely a wise investment, you can also call it a great entity. Unless you pay the rent for a large building or buy office space for contact center operation. No matter the business you are into, providing sales or support or doing both is foremost. For that, you need to have a physical address. It doesn't end here, you need to install extensive physical phone lines and do a lot of messy cabling, and call setup, desk, chairs, along with the required on-premise hardware and call center software. Is home Contact Center a good idea? If, yes, then how to make it successful?
Well, these days you can set up your contact center from home, thanks to today's advanced cloud-based tools. You don't need to do cabling, rent a big office space, b, and all – all that you need is a call center software to run a virtual contact center. No matter what you deal with, you can run a call center irrespective of the service types, from any part of the world — from the comfort of your own home.
The VoIP technology here makes everything easy, adding new extensions & virtual numbers to your dashboard. The way you manage your agents or resources involved in the support system can turn the tide in your favor. As a result, you can run your virtual call center without any hassle. Follow These Tips To Run It Successfully:
Create a vision and set goals: In order to achieve big, first of all, you need to learn how to be patient with the customers. As call centers are the front line to deal with the customers, agents need to master the art of patience and be convincing at the same time. Dealing with repetitive customer queries, not so pleasing voices all day can be really difficult – sometimes it's boring and sometimes it's a brainer. Keeping your team motivated and enthusiastic can serve your best interest.  
Consider these ideas whichever applicable in order to keep your team motivated to achieve end-goals:
You can take advantage of Video Conferencing tools to host virtual team meets, and broadcast important messages. When was the last time a call center manager had direct interaction with the team under one single platform? No, not really! You can address it all with a single message that can also be used for quality and training purposes later on. 

You should share the required information on a larger scale. Whether it's related to a product release part or add-on services, you need to give them a proper roadmap that they can follow to handle the calls. Because of the more technical prowess, they get and having supporting documents that eventually help agents to do a better job in answering queries with a greater satisfaction rate. They feel more confident and empowered, knowing that they have background support with them.  

You need to visualize the marketing scenario and virtualize the process. Not just your call center operation, but future capabilities as well. Just set your priorities and have data visualizations in place to determine the output.
Recruit fresh talents and train them for remote working: There will be situations or geopolitical circumstances that will force or require a sudden shift to remote working. In order to maintain the same productivity level, you need to possess a slightly different skill set.
Teams that want success on any given day need to learn self-management and how to perform in adverse conditions. Their problem-solving capabilities, situation awareness, and proactive communication skills will play a crucial role in providing a great customer experience. Your training procedure must include:
Keep your team size and call center architecture in mind, and find appropriate places where the new hires would fit in. 

Keep it normal and easygoing

Make sure you do have a backup in place in case of technical failures. Training your agents with a quick reference troubleshooting guide that tells them how to deal with technical problems by themselves would be helpful. How? The guide would tell them if the situation arises, what they should first, and later part will be taken care of with the expert.

How to get the much-needed information — in this digital age having easy access to customer data and other related things will make the job easier.

They must know how to ask for help in the middle of a call. Some queries need to exert intervention, so being able to connect with the right person can get you out of the situation. 
Supervision and End-to-end Support: Reading out the same script, and keep repeating the process throughout the day/week can be very boring sometimes, especially when the call volume is very high. Despite the fact that it's somehow repetitively thrown, you can bring in new things to keep the atmosphere alive.
It is a collective effort of the management and staff. You can use the latest call monitoring tools combined with high-end software to avail an insight into the ongoing calling process and the functionalities of end-users. The call center metrics allow you to define the strengths and weaknesses of different individuals and the scope for improvement. This way you can know what to do and how to do it in order to keep productivity high.
Be Available for Help: Different people have different perspectives and dealing with them can be tough at a given time — as you literally have no idea where the call can lead you. When no one is around to help, sometimes an agent might feel the pressure of addressing a particular query in work from home setting. It can give agents a nightmare. What they need is a helping hand from their senior prom. Do make sure you have the tools that they can use to connect with the experts. It is also a learning experience to deal with adverse situations.
Definitely, the future of any call center operation is virtual. Having the right work-home setup is no less than a jackpot. Agents can work and function as that of their office space while enjoying the flexibility of their home atmosphere. No office rent, huge bills, and headache – you couldn't have asked for anything else. Now, you must be thinking how? Well, all these are perfectly possible and highly productive. Familiar tools will be there but their use will be different – that's all. 
Are you an emerging venture or enterprise, looking for a reliable call center software provider? VoIPTech Solutions is the right door for you. Our network is spread over 165 countries around the globe. Our paid VoIP Minutes plan starts at $10 per month and goes up to $20 per month. Our VoIP solutions come with an extensive range of features to meet your business requirements. Sign Up and get FREE $5 credit today! For more info, call: +91-6746828203.