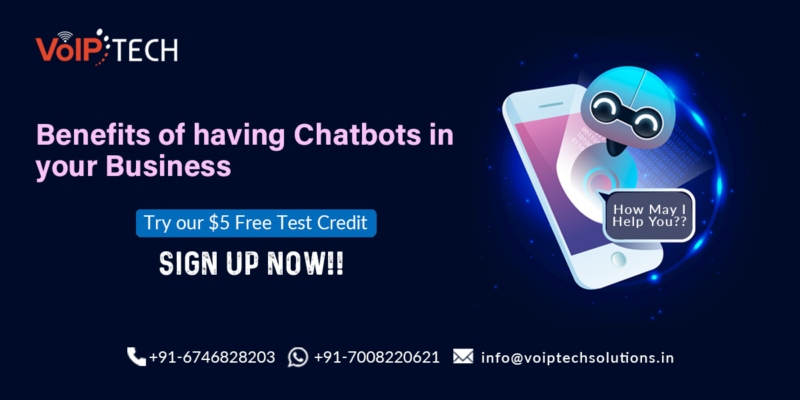 Have you ever thought about integrating chatbots for your contact center? And how it could be a great asset for your contact center? Well, it's a big YES! We all know that in this digital world, only just to enable smooth conversation with their potential leads most of the companies completely rely on the contact center. And at any point in time with an increasing number of subscribers and callers cloud contact centers might reach a stage of exhaustion. And it might even get hard for the agents to keep up with the growing customer expectations. 
However, many tech experts believe that chatbots are everywhere today and we have merely scratched the surface in this field. And almost 85% of customer interaction will be handled by chatbots.  
What Exactly Is A Chatbot? 
Well, a chatbot is nothing but a robot that chats or exchanges texts with you. Or in simple words, you can say that through a message application a chatbot aims to give people information. 
However, for visitors to your website, as opposed to having them rummaging through the website and wasting precious time chatbots make accessing information a lot easier. Generally, Chatbots are typical of two types – One is AI Chatbots and another one is Rule-based Chatbots. While the latter is more conversational with natural language processing abilities, the former is more precise with preset answers. Isn't it really cool? 
Chatbots – Then & Now
Always keep in mind that chatbots showcase an equally fascinating evolution just like the evolution of man. And undoubtedly there's still a lot more to explore! 
Today, it's important to keep up with and maintain customer happiness with customers on digital platforms growing exponentially. And the customer support strategy goes to the next level with chatbots in business. And you're missing out on a lot if you don't have a chatbot for your business.  
Therefore for a better customer experience, agents, chatbots are trained to deliver better engagement. However, these conversational agents also help businesses analyze data by understanding the user's intent.
Most businesses are understanding the benefits of chatbots only now and incorporating such advancements to their sites and social media in spite of being around for a long time. Moreover, it affects the rate of conversion in a positive way when a well-optimized chatbot is integrated into a company's website. 
How Chatbots Benefit Your Business?
Below are the various benefits of chatbots, among which some really stand out:
With chatbots in the picture, scalability is a lot more efficient. A chatbot can focus on customers and assist them at all times with a software code in place, which allows businesses to save costs on investing in people to do the same job. 
To focus on the more productive aspects of their job chatbots help company employees. For instance, instead of reaching out to teammates or setting a template, in the event of a company facing many requests, a company can resort to letting their well-built chatbot carry out customer support-related activities. 
For businesses, standardization is one of the main benefits of a chatbot. And a chatbot does not require additional training or grooming to get used to the procedure post designing and programming. However, without going through a training period and serving a greater number of people a chatbot can directly start handling customer support while increasing the company's productivity saving enough time.
Following the same routine 24X7, chatbots perform tasks seamlessly. They make little to no mistakes and become the most reliable choice for customer services and support with an uninterrupted flow. 
When they manage to provide a good customer experience which translates to increased loyalty and retention it makes a difference to entrepreneurs and organizations, for each customer while also improving more revenue with services personalized. 
Enhancing User Experience – Chatbots and Your Business :
However, prompting companies to add more elements to their business model to continue to improve user experience it's safe to say that a typical user's expectations on any app or website have grown and continue to rise. 
They are still considered fairly novel as they continue to evolve and have grown to become an integral part of the user experience often referred to as conversational five decades ago. Moreover, it is important to implement chatbots and reap in their various benefits for customers to perceive your business as a tech-savvy organization and one that's ahead of competitors. 
However, we help take your communication to the next step which will improve your business' overall efficiency at VoIPTech Solutions. So what are you waiting for? Have a chatbot developed for your business, equipped to get in touch with us today for faster processing, answers, and results!
Being the stakeholder in this industry, VoIPTech Solutions incorporates a dynamic service which is the Contact Center. We believe in providing the best Contact Center at the most economical price. Or we can say that providing a Contact Center for customer ease. For more info, please call: +91-8800221713. For more info, please visit our website: https://voiptechsolutions.in/.